ARIZONA INVITATIONAL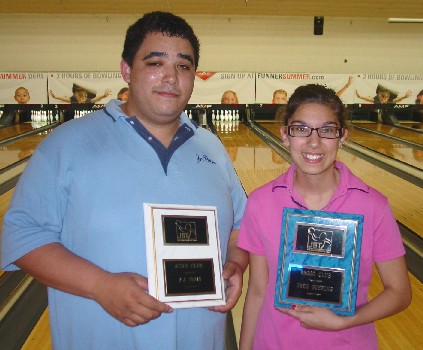 champs Jordan Plunkett & Taylor King
Jordan Plunkett and Taylor King earned $1,000 scholarships each as champions of the 2010 JBT Arizona Invitational Tournament, hosted by AMF Peoria Lanes.
Bowlers rolled 5 qualifying games on the tricky Viper pattern. The top 11 scorers joined five exempt bowlers from the season-long points list in a thrilling triple-elimination matchplay contest. In the scratch division, Washington's Jordan Plunkett continued the best stretch of his JBT career by leading qualifying to earn the top matchplay seed. He remained unscathed through 5 matchplay rounds as the only undefeated bowler. With eight bowlers left in round six, Plunkett gave Randy Cote his second loss, #6 Tyler Cruz gave #13 Kris George his second loss, #2 Jess Gagliardi eliminated Anthony Tripi, and #9 Kyle King ousted #8 Zach Martinez.
With six bowlers left alive, Plunkett ousted George, Cote eliminated Cruz, and King eliminated Gagliardi. The next two rounds were essentially round-robins with Gagliardi and then King eliminated, setting up a title match where Cote would have to beat Plunkett twice to win the title.
Cote looked to be in control of the first match, but a 9th frame greek church ended up giving Plunkett a chance to strike in the first ball of the tenth frame for the win. As he has so many times, Jordan was up to the task, throwing the strike and winning the match 221-213 for the major title and accompanying $1,000 scholarship.
Whereas the top scratch seeds fared well overall in matchplay, handicap's bracket was the opposite, with #16 Taylor King and #15 Danny Varholdt, two exempt bowlers who needed that exemption to reach matchplay, emerging as the last undefeated bowlers. They played each other in round four, with Varholdt winning to give Taylor her first loss. By round seven, five bowlers remained, and in that round #2 Kristen Lee earned a bye, while #6 Randi Speiler eliminated #3 JJ Hall, and King played- guess who?- Varholdt, this time with Taylor giving Danny loss #1.
In round nine, Lee was eliminated in 4th place, creating a stepladder situation where King and Speiler, now with two losses, would play each other, with the winner playing Varholdt for the title. King beat Speiler 217-209 in the first match, setting up the ultra-appropriate title match between Taylor and Danny.
King, the all-conference points leader, consolidated that lead with a clean game 223-174 win over Varholdt in the title match for the title, her first major, and a $1,000 scholarship. Taylor, sometimes overshadowed by big brother Kyle, is having a great season of her own, in position to be the all-conference handicap Bowler of the Year. Meanwhile, Varholdt's $500 was great consolation, but so was the fact that the runner-up points sealed the Arizona points title for him.
Huge thanks to the whole crew at Peoria for a terrific job hosting Invitational weekend. Just shy of $10,000 in scholarships were awarded to bowlers under age 22 from all over the Western United states this weekend alone. Want in on all the fun? Check out our schedule page, and we'll see you at a JBT event very soon!
AZ Invitational- final results and optional scholarship winners
6/20/2010
Arizona Conference
Scratch Division
rank
name
prize
1
Jordan Plunkett
$1,030
2
Randy Cote
$500
3
Kyle King
$410
4
Jess Gagliardi
$245
5
Tyler Cruz
$235
6
Kris George
$160
7
Zach Martinez
$75
8
Anthony Tripi
$75
9
Zach Herbert
$75
10
Jacob Smith
$105
11
Matt herbert
$155
12
Cameron Smith
$80
13
Riley Dempsey
$120
14
Labriel Leach
$110
15
Chris Varholdt
$110
16
Nick Lee
$100
17
Aaron Foshie
18
Rebeca Reguero
19
Joe Lewandowski
20
Zach Simon
$15
21
Mark Myers
22
Kyle Karpovich
$25
23
Courtney Dutton
24
Joey Mogavero
25
Justin Givler
26
Kylee Bonneville
27
Dan Hansen
28
Mark Curtis
29
Sam Amaral
30
Andy Holick
31
Allie Ijams
32
Deven Johnston
Handicap Division
rank
name
prize
1
Taylor King
$1,170
2
Danny Varholdt
$600
3
Randi Speiler
$300
4
Kristen Lee
$200
5
JJ Hall
$150
6
Derek Acuff
$220
7
Chrystelle Marshall
$75
8
Tyler Boe
$110
9
Steven Acuff
$135
10
Aaron Watkins
$75
11
Marina Stever
$125
12
Brittany Kolatzny
$50
13
Kayla Endicott
$50
14
Savannah Carr
$110
15
Travis Johnson
$130
16
Daniel Cotton
$50
17
Maura Swaim
18
Britni Glasspool
$30
19
Linsey Ailport
20
Michael Bonkowske
21
Megan Carlson
$75
22
KJ Martinez
23
Kayla Goad
24
Blake Kalaf
25
Jared Boscarino
26
Duane Browning
27
Megan LaPrell
$15
28
Brooke Martinez
29
Derek Iozzio
$40
30
Jacob Potts
31
Trevor Roberts
32
Gillian Coyle
33
Bethany Baker
$15
34
John Brooks
$15
35
Kelsey Rhodes
36
Adam Lebbs
$15
37
Alex Pellegrino
38
Alexis Atkin
$15
39
Stacey Lamb
40
Kyle Thompson
$15
41
Jake Childers
42
Kody Dixon
43
Steven Cheatham
44
Cortez Schenck
45
Brandon Turner
46
Jacob Lebbs
47
Marcella Magallanez
48
Dominic Luna
49
Ryan Zent
50
Cassie Collins
51
Rane Lacona
52
James Adams
53
Valry Swaim
54
Zach Friend
55
Nick Wade
56
Jeff Anderson
Scratch High Games:
Plunkett 288
King 278
C Smith 270
Z Herbert 268
George / Plunkett 266
Handicap High Games:
Stever 306
Kolatzny 288
T Johnson 285
D Acuff 281
Speiler 280
Round Leaders (5 pts. Each)
Scratch
Handicap
Reguero
Speiler
Plunkett
D Acuff
Z Herbert
D Acuff
Plunkett
Kolatzny
Plunkett
D Acuff
High Female:
K Lee +18
Reguero -8
Dutton -17
Kolatzny -27
Speiler -44
TOTAL AWARDED THIS EVENT: $7,355