BEDROXX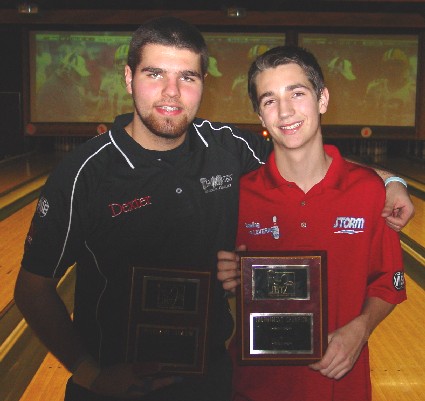 champs Kyle King & Derek Acuff
Kyle King closed to within five wins of the all-time lead, while Derek Acuff ended a victory drought with win #3, in exciting JBT action at Tucson's Bedroxx.
In contrast to the previous day (we're all about contrast), it took a 212 average to make the scratch cut on this day, a full 50 pins per game higher than on the previous day's sport shot. Mark Curtis kept up the day's theme with a big 268-216 win over Labriel Leach in round one of the scratch division stepladder finals. King then took over, edging Curtis 205-194, and following with a 235-217 win over Riley Dempsey to reach the title match.
Top seed Nick Lee had absolutely owned this tournament, averaging over 250 in qualifying and holding onto the lead for the finals. He and Kyle bowled a high scoring, entertaining title match that came down to the tenth frame. Needing a mark to win, Kyle left the 2-10, while Lee got the first strike- he'd need one more to win if Kyle missed the split. Instead, King calmly picked up the split to seal a 244-238 win and his amazing 37th career JBT title.
Michael Bonkowske and Danny Varholdt each put on a show to open the handicap division stepladder finals, with Bonkowske emerging with a 271-260 win. Bonkowske then got by Daniel Cotten 228-188, but Daniel wasn't too upset, as his day had already been made by previously shooting the only 300 of the day, the first perfecto of his career. Michael thus advanced to play good friend John Brooks, and Brooks showed no regard for the friendship (just kidding) in a 240-230 win over Bonkowske to advance to the title match.
Top seed Derek Acuff had destroyed the lanes all day, including a 290 scratch game, to earn the top seed. He found himself in big trouble, however, against the consistent Brooks, who led after seven frames. Acuff turned it on just in time though, striking out from there for an exciting 233-225 win and the victory, the third of his JBT career.
Andy Holick and Maura Swaim felt the impact of the Impact Challenge, picking up $25 scholarships for making the semifinals- please visit Impact Bowling at 99th Ave and Bell in Phoenix for the best service, support, and supply around!
Over $1,400 in scholarships were awarded at the event to bowlers under 22 of all averages. Thanks as always to the whole crew at Bedroxx for hosting our Tour- and for the waterfall! Want in on all this fun and excitement? Check the schedule on our website, and come on out to the next JBT event, it's really that simple!
Bedroxx- final results and optional scholarship winners
1/10/2010
Arizona Conference
Scratch Division
rank
name
prize
1
Kyle King
$390
2
Nick Lee
$100
3
Riley Dempsey
$60
4
Mark Curtis
$40
5
Labriel Leach
$30
6
Matt Herbert
$15
7
Rebeca Reguero
8
Chris Varholdt
$45
9
Nick Armstrong
10
Anthony Tripi
11
Kyle Karpovich
$45
12
Michael Majeske
13
Andy Holick
14
Blake Kalaf
15
Zach Martinez
16
Aaron Foshie
17
Shaun Morad
18
Mike Hayes
19
Estevan Casillas
20
Gregg Kern
21
Justin Givler
22
Francisco Peralta
$15
23
Marcus Stanley
24
Tim Jacob
25
Sam Amaral
26
Alex Henniges
27
Courtney Dutton
28
Jacob Smith
29
Melissa Aguilar
30
Delano Coveris
31
William Witt
32
Tim Crosswhite
Handicap Division
rank
name
prize
1
Derek Acuff
$275
2
John Brooks
$115
3
Michael Bonkowske
$60
4
Daniel Cotton
$95
5
Danny Varholdt
$40
6
Joshua Smith
7
Rane Lacona
$30
8
Matthew Smart
9
Maura Swaim
$20
10
Gary Trubl
11
Brittany Glas
12
Trevor Roberts
13
Megan LaPrell
$15
14
Bethany Baker
15
Kristen Lee
16
Alex Pellegrino
$15
17
Taylor King
$30
18
Justice Lynch
19
Luis Peralta
$15
20
Rabakkah Gaynor
21
Erica Pursell
22
Steven Acuff
23
Cortez Schenck
$15
24
KJ Martinez
25
Danielle Stewart
26
Derek Iozzio
27
Travis Johnson
28
Brooke Martinez
29
Andrew Nicla
30
Sacanah Carr
31
Alexis Atkin
32
Gillian Coyle
33
Adam Lebbs
34
Stacey Lamb
35
Valry Swaim
36
Jared Boscarino
37
Megan Carlson
38
Chrystelle Marshall
39
Marina Stever
40
Angela Schroeder
41
Britni Glasspool
Impact Challenge Winners ($25 each)
Andy Holick & Maura Swaim
Scratch High Games:
Armstrong 279
Karpovich 279
Holick 278
Leach 268
Herbert 268
Handicap High Games:
Cotton 321
Varholdt 311
D Acuff 308
Smith Joshua 304
Smart 298
Round Leaders (5 pts. Each)
Scratch
Handicap
Holick
T Johnson
M Herbert
D Acuff
Lee
D Acuff
Lee
D Acuff
Lee
D Acuff
Lee
Cotton
Lee
D Acuff
Lee
D Acuff
High Female:
Reguero +145
King -25
Baker -33
Dutton -38
Aguila / Lee -72
TOTAL AWARDED THIS EVENT: $1,470