Crosley Lanes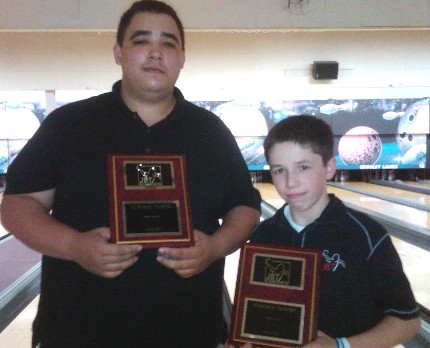 champs Jordan Plunkett & Luke Jordan
Jordan Plunkett kept on his season-long roll, while Luke Jordan dominated the day en route to his first JBT title, in exciting Pacific Northwest Conference action at Crosley Lanes.
Josh Jackson began his climb up the scratch division stepladder finals with a 238-233 win over Marshall Kent. Josh then got past Todd Hopfner 190-167, but then in the semifinal match he and Cameron Weier tied at 214, forcing our nervewracking one-shot rolloff which Jackson won 10-9 to advance to the finals.
Top seed Plunkett had led the event on the always-tricky Scorpion pattern since game four, and stayed in control the whole title match for a 220-193 win. The victory was his Pac NW-leading 9th of his JBT career, and gives him the edge for the Go Wireless Bowler of the Year award as the conference heads into its final weekend next month.
Dalton Camosso, making back-to-back finals on the weekend, began the handicap stepladder with a 199-186 victory over Kesley Abrahamsen. Kara Lieber then defeated Camosso 218-186, and followed with a 206-191 win over Nicole Stickler to reach her first career title match.
Top seed Luke Jordan is short in stature but big in talent, and ran the leaderboard here, on top after all eight games. He made a big run in the Main Event finals back in December, but had yet to win a JBT event, until now, when his 221-195 title match victory over Lieber earned him the first title of his JBT career.
Thanks to the whole crew at Crosley for a great job hosting a JBT event for the first time. Over $1,400 in scholarships were awarded to bowlers of all averages, and there's still time to get in on the fun! Check our schedules and come on out to the next JBT event, it's that simple!
Crosley Lanes- final results and optional scholarship winners
5/23/2010
Pacific Northwest Conference
Scratch Division
rank
name
prize
1
Jordan Plunkett
$200
2
Josh Jackson
$100
3
Cameron Weier
$85
4
Todd Hopfner
$60
5
Marshall Kent
$110
6
Anthony Douglas
7
Tyler Stickler
$50
8
Josh Mullen
9
Makayla Douglas
$30
10
Tanner Bouwens
11
Jeremy Witt
12
Ricky Leighton
13
Jared McNeal
14
Brandon Loyear
15
Nick Bachteler
16
Michael Paulson
17
Tristan Curtis
$75
18
Ryan Showalter
$60
19
Sam Burns
$30
20
John Jordan
$15
21
Patrick Hickok
$10
22
Alex Earle
$5
23
Katie Beismann
24
Sarah Boe
25
Daniel Steffen
$30
26
Natalie Decker
27
Cody Pike
28
Eddy Smith
29
Andrew Heritage
30
Donald Shaffer
31
Nathan Coigny
32
Catherine Rawsthrone
33
Schrader White
34
Ashli Mortensen
35
Perry Crowell
36
Steve Duncan
37
Correen Lieber
38
Kevin Tindell
Handicap Division
rank
name
prize
1
Luke Jordan
$285
2
Kara Lieber
$100
3
Nicole Stickler
$60
4
Dalton Camosso
$40
5
Kelsey Abrahamsen
$20
6
Toby Shephard
$20
7
Brittany Arndt
8
Thomas Nute
$30
9
Alan Vancleeve
10
Jacob Mullen
$30
11
Evan Pendergraft
12
Vince Bachteler
13
Tyler Satter
14
Zach Hemming
15
Jessica Bubnich
16
Megan Green
17
Connor Gracia
18
Bri Hemming
$15
19
Tyler Boe
$15
20
Derek Johnson
21
Kevin Obrist
22
Brittany Yoke
23
Zane Hays
24
Corbin Morgan
25
Kimberly Satter
26
Kolby Crowell
27
Aaron Yoon
28
Cassie Laughlin
29
Kjerstin Richards
30
Nick Bruketta
31
Robert Altieri
Scratch High Games:
Jackson 265
Hopfner 263
Kent 257
Mullen 254
Hickock, Plunkett 247
Handicap High Games:
N Stickler 277
Mullen 262
Jordan 254
N Stickler 248
Jordan, Vancleeve 243
Round Leaders (5 pts. Each)
Scratch
Handicap
J Mullen
L Jordan
Hickok
L Jordan
Curtis
L Jordan
Plunkett
L Jordan
Plunkett
L Jordan
Plunkett
L Jordan
Plunkett
L Jordan
Plunkett
L Jordan
High Female:
M Douglas -75
Beismann -109
S Boe -127
Decker -136
Bubnich -168
TOTAL AWARDED THIS EVENT: $1,445