Traci Warren Memorial Open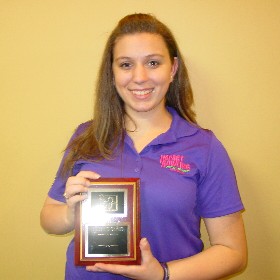 champs Zack Herbert & Steven Cheatham; Women's Series champ Rebeca Reguero
Two JBT veterans picked up their third JBT titles each in exciting Arizona Conference action at the Traci Warren Memorial Open, hosted by AMF Deer Valley Lanes.
Nick Lee opened up the scratch division stepladder finals with a 194-190 squeaker over Mark Curtis Jr. Kylee Bonneville then turned the tables on Lee with a 211-201 victory. Herbert then followed with a 208-183 win to advance to the title match.
Top seed Kyle King, making his amazing 100th career top-5 finish, was looking to continue his recent JBT hot streak, but Herbert promised to be a tough challenge, having rolled the high game of the day with a 299 in qualifying. The title match was a back and forth affair, and Herbert's clutch finish forced King to strike to win. Unfortunately for Kyle, his attempt was very un-Kyle like, and as a result a stunned Zack claimed his first scratch and third overall victory with the 234-220 win.
An eight-bowler handicap stepladder finals began with Taylor King rolling 232 to edge fine efforts from Jose Cortes (228) and Savannah Carr (222). Taylor (Kyle's sister, by the way) was clutch again in round two, as her 236 advanced over more well-bowled games by ben Meils (225) and Brooks Gould (212). In an all-female semifinal, Brooke Martinez came up with a 240 to stop King (201) and Brittany Kolatzny (214) to reach the title game.
Top seed Steven Cheatham had dominated the event, held in his home house, for most of the day, and after a slow start, made a great move mid-match to pull away from Martinez, making her first finals. Steven's 227-206 win earned him his third career JBT victory as well.
On a day where we remembered Traci Warren, a talented JBT bowler we lost way too soon, it's appropriate to have a JBT Women's Series event. In that title match, Rebeca Reguero earned her second Women's Series title of the season with a 218-193 win over Alicia Sullivan.
Ashley Benicki and Andy Garriott picked up $25 scholarships each as winners of the Impact Challenge, courtesy of Impact Pro Shop, located at 99th Ave and Bell Rd in Phoenix. Please visit them and say thanks!
Over $1,600 in scholarships were awarded to bowlers of all ages and averages. Thanks to the whole crew at Deer Valley for hosting us. Want in on all this fun and action? Get yourself down to the next JBT event, it's as simple as that!
Traci Waren Memorial Open- final results and optional scholarship winners
11/14/2009
Arizona Conference
Scratch Division
rank
name
prize
1
Zach Herbert
$200
2
Kyle King
$160
3
Kylee Bonneville
$60
4
Nick Lee
$40
5
Mark Curtis
$85
6
Kevin Saunders
$120
7
Anthony Tripi
8
Andy Garriott
$25
9
Colton Munger
10
Matt Herbert
$30
11
Riley Dempsey
12
Labriel Leach
13
Zach Martinez
14
Jordan Plunkett
$30
15
Aaron Foshie
$15
16
Rebeca Reguero
$25
17
Kyle Karpovich
$25
18
Mike Kremer
19
Jeff Williams
20
Brandon Dunson
21
Alicia Sullivan
22
Justin Givler
23
Chris Varholdt
24
Joseph Lewandowski
25
Allie Ijams
26
Jared Billman
27
Alexander Carpenter
28
Jory Koizumi
29
Kris Maglunog
30
Tony Marin
31
Blake Kalaf
32
Shane Valleau
33
Jeff Anderson
Handicap Division
rank
name
prize
1
Steven Cheatham
$230
2
Brooke Martinez
$100
3
Taylor King
$120
4
Brittany Kolatzny
$60
5
Brooks Gould
$65
6
Ben Meils
$55
7
Jose Cortes
$30
8
Savannah Carr
$70
9
Ashley Benicki
$25
10
Alex Pellegrino
$15
11
Marina Stever
$15
12
Rane Lacona
13
Stephen Haanpaa
14
Steven Acuff
$30
15
Joey Longo
16
Valry Swaim
17
Travis Johnson
18
Alexis Atkin
19
Brandon Longo
20
Dori Jaffess
21
MacKenzie Butler
22
Lindsey Ailport
23
Danny Varholdt
24
Megan Carlson
25
Matthew Lombardi
$15
26
Kristen Lee
27
Trevor Roberts
28
Jake Childers
29
Maura Swaim
30
Andrew Nicla
31
Jeffrey Schultz
32
Becki Meils
33
Daniel Cotton
$30
34
Kayla Goad
35
Shawn Thomas
36
Ashley Collins
37
Bethany Baker
$15
38
Anthony Benicki
39
Kody Dixon
40
Krystal Gray
41
Jeff Weyrauch
42
Megan LaPrell
43
Carson Richards
44
Britini Glasspool
45
Derek Acuff
46
Sandy Truman
47
Josue Chavez
48
Jenni Cahn
49
Kyle Smith
50
AJ Estes
Impact Challenge Winners ($25 each)
Ashley Benicki & Andy Garriott
Scratch High Games:
Z Herbert 299
Tripi 279
Curtis 268
Z Herbert 265
Lee 265
Handicap High Games:
T King 290
Longo 285
Lacona 284
Carr 275
Ben Meils, Cheatham 272
Round Leaders (5 pts. Each)
Scratch
Handicap
Lee
Jaffess
Z Herbert
Jaffess
Z Herbert
Cheatham
Curtis
Cheatham
King
Cheatham
Z Herbert
Cheatham
Z Herbert
Cheatham
King
Cheatham
High Female:
Reguero +53
Sullivan +1
jaffess -9
Ijams -17
Kolatzny -53
TOTAL AWARDED THIS EVENT: $1,690