Hazel Dell Lanes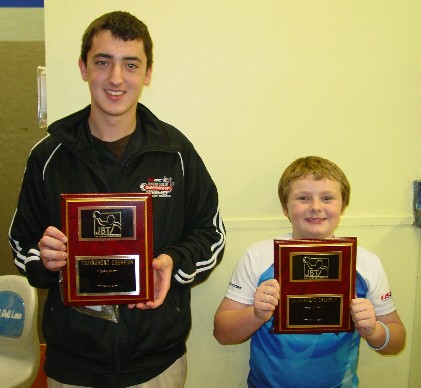 champs Marshall Kent & Timothy Kelly
Marshall Kent, Yakima WA, and Timothy Kelly, Vancouver WA, picked up victories in exciting JBT Pacific Northwest Conference action at Husted's Hazel Dell Lanes.
Brandon Dunson opened up the scratch division stepladder finals with a 222-161 victory over Tyler Cruz. Kent then took over, edging Dunson 211-206 in round two, and following with a 178-165 grindout against Lucas Stone, to advance to the title match.
Top qualifier Jordan Plunkett took over the tournament lead with a 710 semifinal set, which was impressive on the PBA Scorpion condition, which really challenged the bowlers all day (a 180 average was good enough to make the scratch cut). Kent seemed to lose the momentum he had been riding with early struggles in the title match, while Plunkett put together an opening triple. However, the second half of the match was the opposite story, as Kent retook the lead in the ninth frame, and sealed the match with a tenth frame strike. His 208-186 win was good for the third title of his JBT career. It's his second win of the season, matching Jordan for the lead in that category, which will become all-important when Bowler of the Year time comes around later this season.
The handicap division stepladder finals opened with a nail-biting first match, as Brandon Barry opened his last five frames, but the first five were good enough to hang on to a 216-212 win over Courtney Nikolas. Brittany Arndt then dispatched Barry 237-207. Kyle Jonas, a winner earlier this season at Acme, then beat Brittany 220-206 to reach the title match.
Top qualifier Timothy Kelly is yet another living example of the JBT slogan "any age, any average". The nine year-old, in his first year of bowling in the Hazel Dell youth league, held his own all day long against the bigger boys and girls, nabbing the top seed for the finals. Sometimes newer bowlers succumb to the pressure of a JBT title match, but not Kelly, as he just missed rolling the high game of his LIFE in a 244-173 rout of Jonas for the victory. Timothy (and all bowlers finishing in the top 5) now qualify for the JBT Pac NW Invitational, held next June with a $1,000 top scholarship prize per division.
Thanks as always to the crew at Hazel Dell for a fine job hosting us. Over $1,400 in scholarships were awarded to bowlers of all averages- want in on the fun? Check the schedules and all the other information at www.bowljbt.com, and come on out to the next JBT event, it's as simple as that!
Hazel Dell Lanes- final results and optional scholarship winners
11/21/2009
Pacific Northwest Conference
Scratch Division
rank
name
prize
1
Marshall Kent
$200
2
Jordan Plunkett
$145
3
Lucas Stone
$60
4
Brandon Dunson
$50
5
Tyler Cruz
$50
6
Sarah Boe
$30
7
Cameron Weier
$125
8
Makayla Douglas
9
Jeremy Witt
10
Eddy Smith
11
Josh Jackson
$45
12
Schraeder White
13
Nick Stone
14
Tristan Curtis
15
Eryk Jensen
16
Perry Crowell IV
17
Josh Baumgardner
18
Thomas Nute
19
Todd Hopfner
20
Cody Pike
21
Patrick Hickok
22
Colton Munger
23
Brandon Nylund
24
Max Cooper
25
Ryan Showalter
26
Jared McNeal
27
John Jordan
28
Sam Burns
29
Katie Beismann
30
Cody Stone
31
Natalie Decker
32
Anthony Douglas
$50
33
Josh Mullen
34
Matt Lewis
35
Tyler Porter
36
Kevin Tindell
37
Sam Parks
38
Ryan Jamrog
39
Luke Arronson
40
Sam Clemens
Handicap Division
rank
name
prize
1
Timothy Kelly
$200
2
Kyle Jonas
$100
3
Brittany Arndt
$90
4
Brandon Barry
$40
5
Courtney Nikolas
$135
6
Ben Taylor
7
Toby Shepherd
$45
8
Evan Pendergraft
$15
9
Robert Altieri
10
Emily Benthusen
11
Ryan Laird
12
Nicole Stickler
$15
13
Connor Gracia
14
Ashton Coigny
15
Kjerstin Richards
16
Cory Camacho
17
Luke Jordan
18
Jacob Mullen
19
Tyler Boe
20
Bri Hemming
21
Kelsey Abrahamsen
22
Zach Hemming
23
Ryan Nikolas
24
Quinton Miller
$5
25
Kolby Crowell
26
Linsey Leveque
27
Katryn Comeau
28
Craig Dodd
Scratch High Games:
Kent 278
Dunson 269
White 266
Jackson 258
Crowell 255
Handicap High Games:
Pendergraft 247
Pendergraft 239
Jonas 235
Laird 233
Arndt 232
Round Leaders (5 pts. Each)
Scratch
Handicap
Boe
Taylor
Crowell
Taylor
L Stone
Taylor
L Stone
Taylor
L Stone
Taylor
L Stone
Taylor
Plunkett
Kelly
Plunkett
Kelly
High Female:
Douglas +8
Boe -2
Nikolas -129
Beismann -160
Decker -163
TOTAL AWARDED THIS EVENT: $1,485