Holiday Bowl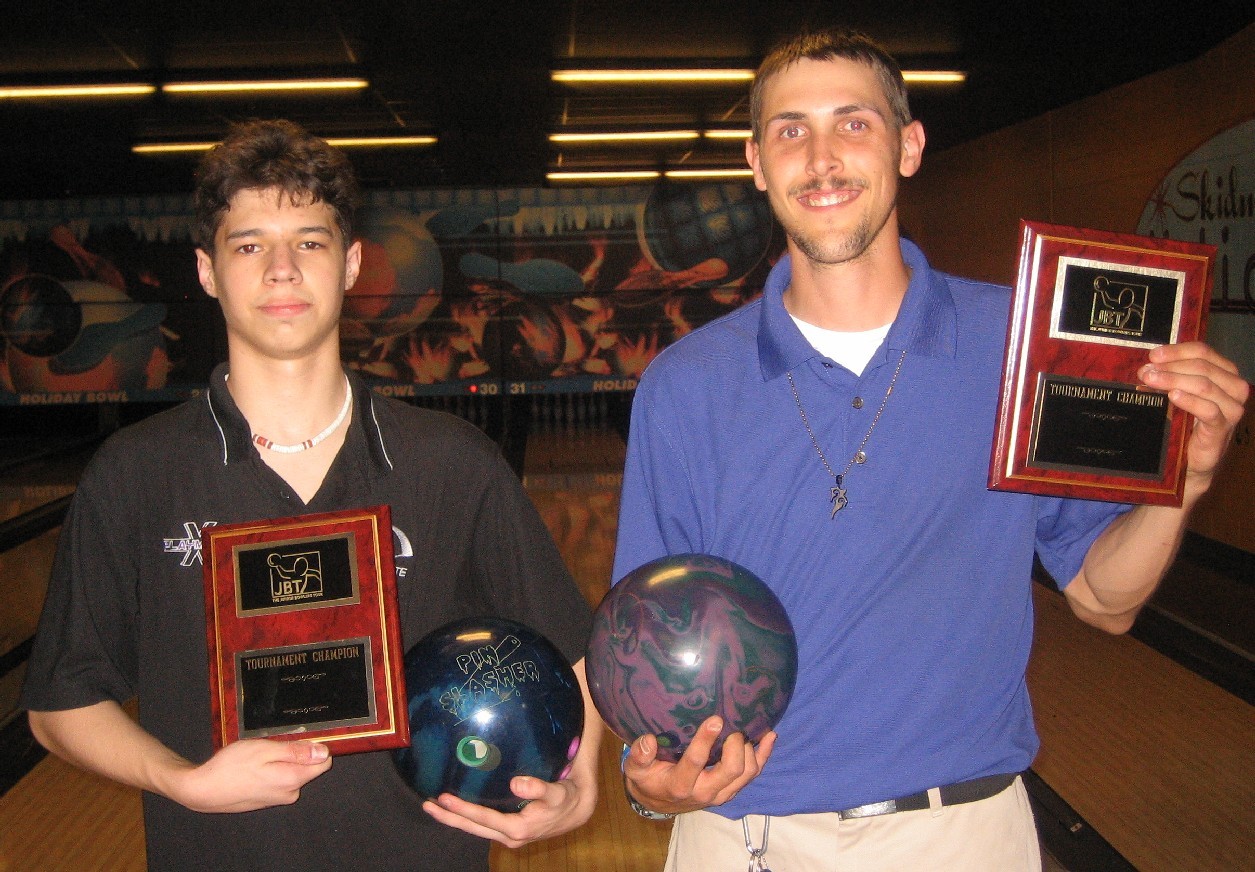 champs Alex Yoder & William Enstminger
William Entsminger and Alex Yoder opened up the 2009-2010 JBT NM-TX Conference season with convincing wins at Skidmore's Holiday Bowl in Albuquerque.
Troy Gaudette opened up the scratch division stepladder finals with a 204-171 win over Arizona's "Iceman", Labriel Leach. Gaudette, a West Texas A&M college bowler, then beat Ryan Scheer 202-166, and followed with a 184-163 win over A&M teammate Seth Rutledge, to reach the title match.
Top seed Entsminger had led the event since game four, and the defending NM-TX Bowler of the Year left no doubt as to the result of this match, as he strung the first ten strikes for a 289-173 win, the second victory of his JBT career.
Josh Helmick began the handicap division stepladder finals with a 197-187 squeaker over Tim Baribeau. Seth Jaramillo, apparently recovered from his multiple injuries riding various vehicles, then defeated Helmick 214-204, and followed with a 246-230 thriller over Sam Zermeno, to reach the title match.
Top seed Alex Yoder led not just his family (two brothers also bowled, and dad Paul is one of New Mexico's best bowlers) but the event, and much like Entsminger, came up with a huge title match performance to back up his already outstanding day. His 267-208 win was good for his first career JBT title.
Both Alex and William rolled to their wins using Ebonite equipment, earning an extra $100 bonus from our great title sponsor. Over $1,700 in scholarships were awarded to the field- want in on all this fun and excitement for all ages and averages? Come on out to the next JBT event, it's as simple as that!
Holiday Bowl- final results and optional scholarship winners
9/12/2009
NM-TX Conference
Scratch Division
rank
name
prize
1
William Entsminger
$420
2
TJ Gaudette
$160
3
Seth Rutledge
$90
4
Ryan Scheer
$40
5
Labriel Leach
$30
6
Carlos Mendez
7
Jess Gagliardi
8
William Yoder
9
Matt Helmick
10
Gregg Kern
$15
11
Diego Lucero
12
Tommy Crites
13
Hannah Stedman
14
Dalton Hooker
15
Cody Mansfield
16
Wendy Shelton
17
Nick Lee
18
Tevynn Laws
19
Billy Read
20
Charlie Elliott
21
Jacob Gill
22
Timmy Crites
$10
23
Eric Sanford
24
Michael Call
Handicap Division
rank
name
prize
1
Alex Yoder
$360
2
Seth Jaramillo
$100
3
Sam Zermeno
$90
4
Josh Helmick
$60
5
Tim Baribeau
$65
6
Jonah Seawright
$40
7
Mike Romero
$30
8
Cassie Bacoccini
$60
9
Bailey McFarland
10
Michael Yoder
11
Tyler Allen
12
Dillon Bridge
13
Jacob Shehan
14
Lauren Jaramillo
$10
15
Roger Johnson
16
Ethan Brandt
$15
17
Olivia Silva
$15
18
Peter Cane
$15
19
Marcos Armijo
20
Brandyn MacPhee
21
Dominic Cuomo
$45
22
Taylor Quintana
23
Shaneice Williams
24
Jerry Carter
25
Jonathan Lawson
26
Fernando Delarosa
$15
27
Cheyenne Polen
28
Stephanie Barela
$15
29
Ryan Doan
30
Lacey Shelton
31
Tonia Barela
32
Jaedyn Fuqua
33
John Yoder
34
Elizabeth Romero
$15
35
Samantha McFarland
36
Andrew Esparza
37
Reanne Quesada
38
Jared DuBois
39
Sophie Diaz
40
Olivia Stedman
41
Shawna Bellman
42
Joseph Trujillo
43
Austin Eddington
Scratch High Games:
Entsminger 289
Lucero 279
Mendez 279
Scheer 267
Tom Crites 267
Handicap High Games:
Seawright 291
B McFarland 280
A yoder 279
A Yoder 275
Jaramillo 260
Round Leaders (5 pts. Each)
Scratch
Handicap
W Yoder
B McFarland
Scheer
B McFarland
Scheer
A Yoder
Entsminger
A Yoder
Entsminger
A Yoder
Entsminger
A Yoder
Entsminger
A Yoder
Entsminger
A Yoder
High Female:
Stedman -10
W Shelton -24
B McFarland -55
Bacoccini -143
O Silva -147
TOTAL AWARDED THIS EVENT: $1,725