Holiday Bowl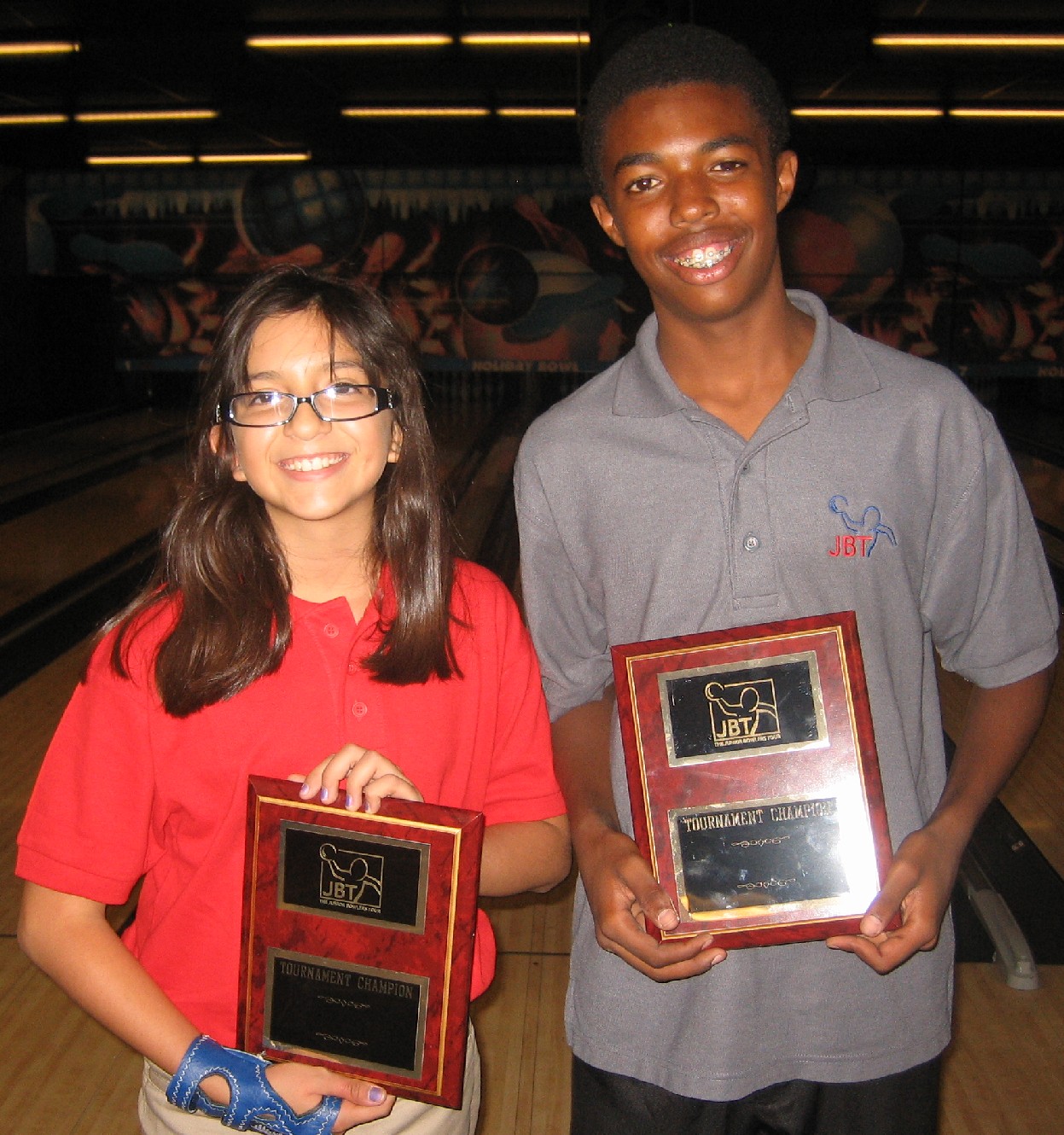 champs Klarice Medina and Ahkeen Williams
Ahkeen Williams and Klarice Medina captured their fist JBT titles each in exciting JBT NM-TX Conference action at Skidmore's Holiday Bowl.
The ultra-demanding US Open pattern was laid out for the bowlers, putting an emphasis on shotmaking and the spare game all day long. Matt Helmick, always tough on the tougher shots, opened the scratch division of the stepladder finals with a 206-156 win over Colorado's Jess Gagliardi. Helmick then beat Ryan Scheer 205-166, as Scheer enjoyed back-to-back 4th place finishes on the weekend. Helmick then got past Jacob Gill, making his first scratch finals, 178-137, to reach the title match.
Williams, a successful handicap division bowler for many years, was also bowling his first event as a full-time scratch division bowler, and he debuted impressively, finishing as the only bowler plus (+9) after eight grueling games, to nab the top seed. In a back and forth title match, Ahkeen escaped with the 185-180 victory, and his first JBT title, becoming one of the youngest scratch division winners in JBT history- way to go!
Elizabeth Romero opened up the handicap division finals with a 202-184 win over Santiago Withers. Olivia Silva then bested Romero 230-208, before Medina stopped Silva 212-195, to reach the title match.
Top seed Andrew Esparza had come tantalizingly close to victory before, and gained the top seed after 8 games to get just one game away from victory. However, in a low-scoring finale, Klarice escaped with a 184-182 victory, and her first JBT title. At an 88 average, Medina again proves that any age and any average can win JBT events!
Thanks to everyone at Holiday for another fine job hosting our Tour. Over $1,500 in scholarships were awarded at this event- want in on all this fun and excitement? Come on out to the next JBT event, it's as simple as that!
Holiday Bowl- final results and optional scholarship winners
9/13/2009
NM-TX Conference
Scratch Division
rank
name
prize
1
Ahkeen Williams
$205
2
Matt Helmick
$100
3
Jacob Gill
$75
4
Ryan Scheer
$40
5
Jess Gagliardi
$70
6
Gregg Kern
$35
7
Aaron Raymond
8
Tommy Crites
$55
9
William Yoder
$45
10
Eric Sanford
$15
11
Dan Romero
$15
12
Charlie Elliott
13
Hannah Stedman
14
Timmy Crites
15
Wiliam Entsminger
$10
16
Diego Lucero
17
Mike Romero
18
Nick Lee
19
Labriel Leach
20
Dalton Hooker
$15
21
Wendy Shelton
22
Billy Read
23
Tevynn Laws
24
Brandon Gill
25
Sara Vargas
26
Andrew Muro
Handicap Division
rank
name
prize
1
Klarice Medina
$300
2
Andrew Esparza
$145
3
Olivia Silva
$105
4
Elizabeth Romero
$105
5
Santiago Withers
$65
6
Samantha McFarland
$40
7
Peter Cane
$30
8
Marcos Armijo
$35
9
Dillon Bridge
10
Ethan Brandt
11
Fernando Delarosa
12
Ryan Fast
13
Tylor MacPhee
14
Shawna Bellman
15
Lacey Shelton
16
Tim Baribeau
17
Josh Helmick
18
Taylor Quintana
19
Tonia Barela
20
Stephanie Barela
21
Trevor Pedroncelli
22
Brandyn MacPhee
23
Cheyenne Polen
24
Jerimiah Cruz
25
Dominic Cuomo
$5
26
Susan Kurzeka
27
Bailey McFarland
28
Reanne Quesada
29
Olivia Stedman
30
Sam Zermeno
$30
31
Jonah Seawright
32
Ryan Doan
Scratch High Games:
Raymond 244
Kern 232
Williams 232
Kern 224
Scheer, Sanford 218
Handicap High Games:
Fast 265
Withers 250
Silva 244
Delarosa 243
Baribeau 241
Round Leaders (5 pts. Each)
Scratch
Handicap
Tim Crites
Silva
Williams
Fast
Gagliardi
Medina
Gagliardi
Withers
Gagliardi
Silva
Gagliardi
Medina
Williams
Medina
Williams
Esparza
High Female:
Stedman -130
Silva -144
W Shelton -200
B McFarland -204
S Barela -260
TOTAL AWARDED THIS EVENT: $1,540