NARROWS PLAZA BOWL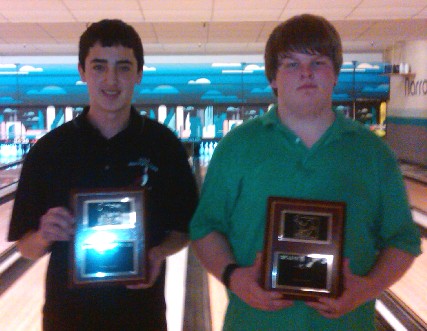 champs Marshall Kent & Jeff Brown
Marshall Kent and Jeff Brown captured JBT titles in exciting Pacific Northwest Conference action at Narrows Plaza Bowl.
Ryan Showalter opened the scratch division stepladder finals with a 219-198 win over Patrick Hickok. Jordan Plunkett then came up with the first 8 strikes to tie the high game of the day on the Kegel Broadway pattern, with a 268-212 win over Showalter. Jordan cooled down in game three and Tristan Curtis took advantage for a 188-170 win, advancing to the title match.
Top seed Marshall Kent took over in the semifinals to grab the top seed. In a close title match, Kent defeated Curtis 202-191 for the victory, his third of the season and fourth of his JBT career.
In the handicap stepladder opener, Brittany Arndt defeated Kelsey Abrahamsen 224-183. Arnt rolled on in round two with a 234-172 win over league teammate (and recent JBT champ) Nathan Coigny. The semifinal match against Jeff Brown was a thriller that ended in a 203 tie. In the two-shot rolloff, Brown escaped 54-44 to reach his first title match.
Top seed Kyle Jonas grabbed the top seed after a big game eight, and was looking to avenge an early season title match loss. However, Brown remained tough in his title match debut, and he came away with the 201-188 win and his first JBT title.
Thanks to the staff at Narrows Plaza for a great job hosting a JBT event for the first time- definitely not the last. Over $1,200 in scholarships were awarded to bowlers of all averages- want in on all this fun? Check our schedule out, and come on down to a JBT event soon, it's that simple!
Narrows Plaza Bowl- final results and optional scholarship winners
2/13/2010
Pacific Northwest Conference
Scratch Division
rank
name
prize
1
Marshall Kent
$215
2
Tristan Curtis
$160
3
Jordan Plunkett
$70
4
Ryan Showalter
$125
5
Patrick Hickok
$25
6
Brandon Dunson
7
Tyler Cruz
$15
8
Nick Bachteler
9
Ricky Leighton
10
Perrry Crowell
11
Steve Duncan
12
Sam Burns
$15
13
Colton Munger
14
Schrader White
15
Chris Kirk
16
Sarah Boe
17
Todd Hopfner
$15
18
Kevin Tindell
19
Cameron Weier
$15
20
Josh Jackson
21
Josh Mullen
22
Travis McAllister
23
Eddy Smith
24
Jeremy Witt
25
Casey Jamrog
26
Correen Lieber
27
Anthony Douglas
28
Katie Beismann
29
Brandon Nylund
30
Max Cooper
31
Thomas Nute
Handicap Division
rank
name
prize
1
Jeff Brown
$200
2
Kyle Jonas
$100
3
Brittany Arndt
$60
4
Kelsey Abrahamsen
$80
5
Nathan Coigny
$35
6
Tyler Boe
7
Zane Hays
8
Bri Hemming
$90
9
Zach Hemming
10
Evan Pendergraft
$30
11
Tanner Clemens
12
Robert Altieri
13
Andy Herrmann
14
Craig Dodd
15
Thomas Nylund
16
Kyle Hays
17
Connor Gracia
18
Justin Shea
19
Toby Shepherd
20
Luke Jordan
$25
21
Vince Bachteler
22
Jacob Mullen
23
Brett Scott Jr
24
Megan Green
25
AJ Scott
26
Quinton Miller
Scratch High Games:
Plunkett 268
R Showalter 268
Kent 267
Hickok 260
R Showalter 258
Handicap High Games:
J Brown 279
Jonas 256
N Coigny 249
Jonas 246
Jonas 245
Round Leaders (5 pts. Each)
Scratch
Handicap
Hickok
T Nylund
Cruz
N Coigny
Showalter
J Brown
Showalter
J Brown
Show / Cruz/ Curtis
J Brown
Kent
J Brown
Kent
J Brown
Kent
Jonas
High Female:
S Boe -74
Lieber -193
Beismann -227
Abrahamsen 239
Arndt -244
TOTAL AWARDED THIS EVENT: $1,275