Oasis Lanes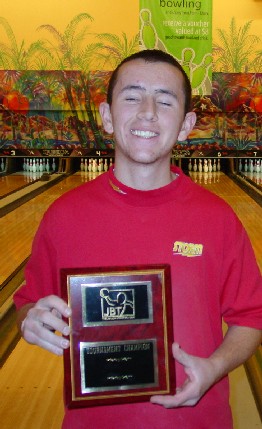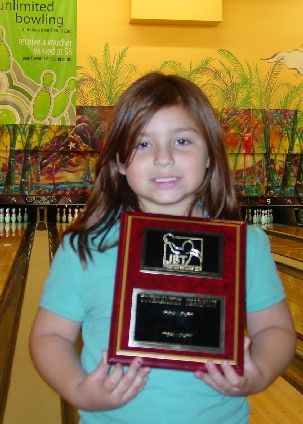 champs Matt Helmick & Alyvia Quintana
Matt Helmick and Alyvia Quintana can now call themselves JBT champions, thanks to surviving over all others in exciting action at Oasis Lanes in New Mexico - Texas Conference JBT action.
Helmick grabbed the lead with a 241 5th game on the demanding 2009 USBC Masters lane pattern, and after getting through early rounds, faced his friend, high school teammate, and previous day's champion Ryan Scheer in one semifinal. Needing a mark to win, Scheer left a heartbreaking 4-10 split which he could not convert, giving a stunned Helmick the 188-184 win. In the other semifinal, William Entsminger, who pulled a Houdini of his own to survive an earlier round, left no doubt this time witha 217-202 win over Jess Gagliardi, to set up the finale.
Entsminger has owned Oasis, his home center, in recent years, making numerous title matches, but never breaking through for a win here. It looked for sure that this would be the time to erase that anomaly from the defending Bowler of the Year's record, needing a mark in the tenth frame to win. Instead, after leaving a 9-pin, William stunned himself, the crowd, Matt, and everyone else by just barely missing the spare, handing Helmick the 191-188 win and his first career JBT title. On a day where the tough lanes produced some chippy behavior, no loss was more crushing than this one, yet William was the first to warmly congratulate the talented and up-and-coming Helmick on his first win, an act of sportsmanship that needs to not go unnoticed in the competitive environment of the JBT.
Fifteen handicap division survivors were eventually whittled down to six, and in that round Johnny Pacheco, the last hope for the guys and yesterday's runner-up, fell to Tonia Barela 216-173. Bailey McFarland came up with the high handicap game of the day to eliminate Mary Russell 252-182, and in the last match in that round, a battle of the Quintana sisters saw Alyvia pull out a 226-208 win over big sister Taylor.
In the ensuing round of three, Quintana (228) and Barela (217) eliminated McFarland (193), setting up the title match. In the finale, Barela jumped out to a strong start, making up most of the handicap difference by the sixth frame, but good shots down the stretch from Alyvia and some opens from Tonia prevented her from making up the rest, and in the end it was Quintana emerging with the 217-203 win and the title. The win was the first of Alyvia's JBT career, and at just seven years old, again proves that any age and any average can win JBT events!
Want in on all this fun and action? Come on out to the next JBT event, it's as simple as that!
Oasis Lanes- final results and optional scholarship winners
10/11/2009
NM-TX Conference
Scratch Division
rank
name
prize
1
Matt Helmick
$200
2
Wiliam Entsminger
$180
3
Ryan Scheer
$80
4
Jess Gagliardi
$30
5
Kyle King
$30
6
Labriel Leach
7
Tim Crites
8
Nick Lee
9
Billy Read
10
Rebeca Reguero
$25
11
Mike Romero
$5
12
Ahkeen Williams
13
Tom Crites
Handicap Division
rank
name
prize
1
Alyvia Quintana
$200
2
Tonia Barela
$125
3
Bailey McFarland
$50
4
Taylor Quintana
$30
5
Mary Russell
$20
6
Johnny Pacheco
7
Aurora Popple
$15
8
Ryan Doan
$15
9
Joe Baldonado
10
Stephanie Barela
$45
11
Dillon Bridge
$15
12
Ryan Fast
13
Fernando Delarosa
14
Dallas Ehlert
15
Lacey Shelton
16
Jeff Russell
17
Seth Jaramillo
18
Josh Helmick
19
Samantha McFarland
20
Andrea Jaramillo
21
Andrew Esparza
22
Olivia Silva
23
Jacob Valdez
24
Erick Rosas
Scratch High Games:
Gagliardi 243
Helmick 241
Lee 237
King 228
Helmick 228
Handicap High Games:
B McFarland 252
J helmick 251
T barela 245
T Quintana 241
Baldonado 239
Round Leaders (5 pts. Each)
Scratch
Handicap
Gagliardi
Doan
Lee
T Quintana
Lee
T Quintana
Gagliardi
T Quintana
Helmick
T Quintana
High Female:
B McFarland -61
Reguero -139
T Quintana -222
A Popple -223
L Shelton -241
TOTAL AWARDED THIS EVENT: $1,040