THE ORLEANS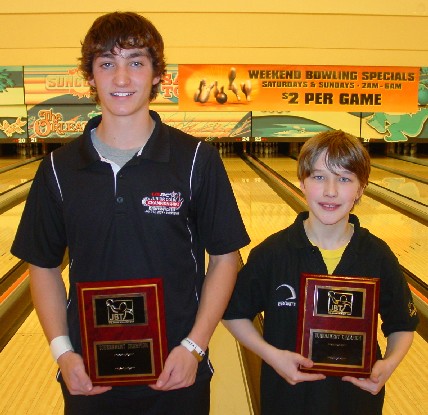 champs Kenny Benoit & Nicholas Pollak
Two bowlers captured their first JBT titles in exciting JBT Mojave Conference action at The Orleans.
The scratch division, like the previous day, had an infusion of nationwide talent, with many bowlers in town for Main Event and Team Trials. They, along with the JBT regulars, tore up the Orleans house pattern, with a 215+ average needed just to finish in the top half. Flordia's Matt Ezrol opened up the scratch division of the stepladder finals with a 258-243 win over Californian Tony Rose, who broke through for his first scratch finals. Ezrol kept striking in round two, defeating Dallas Leong (the 5-game leader at over +250) 247-206, and followed with the high game of the tournament in a 288-191 stomping of newly minted Team USA member Devin Bidwell to reach the title match.
Top qualifier Kenny Benoit, Topeka KS, had grabbed the lead in the semifinals, but found himself in a tough battle with Ezrol, who looked totally locked in on this pair. Kenny struck on his first ball in the tenth, forcing Matt to do the same. Unfortunately for Ezrol, a 4-pin stood, and Benoit claimed the 234-228 win and his first JBT title.
Jonny Gutierrez opened up the handicap finals with a 240-211 win over Marina Stever. Nicholas Pollak then took over, defeating Gutierrez 258-219, and following with a 234-209 victory over Kennison Andrews to reach the title match.
Top seed Ian Hanuscin used a big game eight to leap into the lead ahead of a logjammed field that had only 50 pins between first and ninth going into the final game. He looked to be in control of the title match as well, but needing a mark in the tenth frame to win, left an unfortunate big-four split, giving the excitable Pollak the 209-202 win and his first career JBT title.
Thanks as always to everyone at The Orleans for a great job hosting our Tour. Over $1,600 in scholarships were awarded to bowlers of all ages and averages- want in on the fun? Check out our schedule, pick an event, and come on down!
The Orleans- final results and optional scholarship winners
12/20/2009
Mojave Conference
Scratch Division
rank
name
prize
1
Kenny Benoit
$245
2
Matt Ezrol
$250
3
Devin Bidwell
$60
4
Dallas Leong
$110
5
Tony Rose
$45
6
Matt Herbert
$45
7
Dan Hansen
$45
8
Geoffrey Young
9
Brad Hansen
$30
10
Scott Englehart
11
Eric Hatchett
12
Allie Ijams
13
Brian Ballard
14
Rebeca Reguero
15
Kyle King
16
Jess Gagliardi
17
DJ Sloan
18
Lana Lycan
19
Matt Tuckfield
20
Zack Hattori
21
Christina Waldron
22
Melissa Huether
23
Kyle Jones
24
Brandon Owen
25
Ryan Howard
26
Matt Robbins
27
Zachary Ford
Handicap Division
rank
name
prize
1
Nicholas Pollak
$200
2
Ian Hanuscin
$115
3
Kennison Andrews
$165
4
Jon Gutierrez
$65
5
Marina Stever
$55
6
Aaron Watkins
$60
7
Kyle Andrews
$65
8
Brandon Duffy
9
James Nolan
10
Nick Willis
$45
11
Paul Huether
12
Donovan Koff
13
Drew Stern
$15
14
Jennah Hahn
15
Jakle Childers
16
Shane Courtney
17
Justin Claspell
18
Samantha Meyers
19
Randi Speiler
20
Tyler Ottenschot
$10
21
Jacob Potts
22
Douglas Csanyi
23
Trevor Roberts
24
Taylor King
25
Casey Nagamine
26
Megan Carlson
27
Dakota Nitz
28
Katelyn Scott
29
Alkexandra Dammeier
$10
30
James Gabour
31
Justin Patten
$5
32
Gabriella Weis
33
Blake Krajniak
Scratch High Games:
Ezrol 288
Bidwell 279
Bidwell 268
Leong 268
3 tied with 267
Handicap High Games:
Hanuscin 292
Gutierrez 282
Pollak 281
Pollak 280
Kyle Andrews 277
High Females:
Ijams +104
Reguero +91
Stever +56
Lycan +22
Waldron -11
Round Leaders (5 pts. Each)
Scratch
Handicap
1
Bidwell - Leong
Ken. Andrews
2
Leong
Andrews - Pollak
3
Leong
Watkins
4
Leong
Watkins
5
Leong
Ken. Andrews
6
Benoit
Ken. Andrews
7
Benoit
Kyle Andrews
8
Benoit
Hanuscin
TOTAL AWARDED THIS EVENT: $1,655