AZ BAKER SHOOTOUT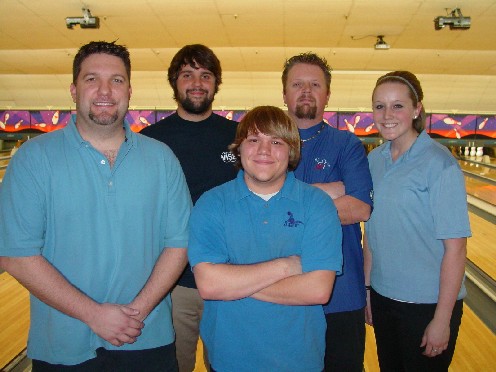 champs Brett Wolfe, Chris Varholdt, JD Sweet, Rusty Rickett, and Allie Ijams
Great stories abounded at the AZ Baker Shootout, and "3 Shades Of Blue" had five of them, combining to capture the title in terrific all-Baker action at AMF Christown.
5-person Baker, used extensively in high school and especially college bowling, requires teammates to roll two frames each, combining to form one game. This creates a noisy, wonderful atmosphere not found elsewhere in bowling. After 12 games of qualifying, the top 12 teams advanced to best 2-of-3 matchplay. "DK's" team of Kyle King, Steven Black, Kris George, Matt Jones, and Trevor Roberts easily led qualifying, but in the momentum-filled world of Baker, a 246-243 game one loss in their first match spelled eventual defeat to 3 Shades of Blue, whose roster was highlighted by 2002 USBC Masters champ Brett Wolfe.
In semifinal matches, 3 Shades needed only 2 Games (one of which was a tournament high 289) to sweep the all-Tucson team of "Slow Hook It", a good-natured jab against fireballer teammate Nick Lee. The other semi went the distance, as "Hef's Homies" (a team filled with past Baker champs) and "Bowling With Leverage" (captained by 6-time regional champ Dave Leverage) went at it. Leverage's tenth frame double in the tenth sealed a 220-210 game three win to advance against 3 Shades for the title.
Despite two very competitive games by Leverage (Derek Acuff, Riley Dempsey, Jim Dempsey, Charlie Goulet, and David), 3 Shades of Blue turned everyone else 5 shades of green with envy to win 2-0 and capture the title, thus turning themselves 5 shades of red with blushing excitement. The aforementioned great stories? JD Sweet and Chris Varholdt both captured long awaited first career JBT titles. Allie Ijams' legend continued to grow as one of the best female JBT bowlers all-time with her 5th title (all scratch). Rusty Rickett continued to have a more successful JBT career as an adult than a junior, winning his 2nd title (his first came in the T of C), and Wolfe filled that glaring hole in his bowling resume by adding JBT champ to the list.
Thanks to everyone at Christown for doing a great job helping us to host one of the most fun events of the season. Over $1,400 in scholarships were awarded to the junior participants, and the JBT would like to thank all the over-22 bowlers and alumni who took the time to bowl with us over the weekend. Want in on all this fun? Come on out to the next JBT, it's really that simple!
AZ Baker Shootout- final results and optional scholarship winners
12/13/2009
Arizona Conference
rank
name
prize
1
3 Shades of Blue
$500
JD Sweet ($166)
Allie Ijams ($166)
Chris Varholdt ($166)
Brett Wolfe
Rusty Rickett
2
Bowling With Leverage Black
$300
Derek Acuff ($100)
Riley Dempsey ($100)
Charlie Goulet ($100)
Jim Dempsey
David Leverage
3
Hef's Homies
$175
Jimmy Hefley ($59)
Cameron Smith ($59)
Darcie Staggs ($59)
Matt Jones
Mike Cross
4
Slow-Hook It
$150
Nick Lee ($75)
Kristen Lee ($75)
Keith Dommer
Dwight Burns
Steven Stalter
5
DK Shaved Kats
Kris George ($71)
Trevor Roberts ($71)
Kyle King ($71)
Steven Black
Matt Jones
6
Hakuna Matata
Rebeca Reguero
Dennis Klein
Marina Stever
Matt Robbins
Clancy DeGroot
7
2/5 < 5
Courtney Dutton
Chris Weyrauch
Rachel Carr
Rane Lacona
Craig Spencer
8
Where's The Handicap?
Brian Weyrauch
Eric Rubin
Jeff Weyrauch
Jeff Millmier
Carlton Aspin
9
Squadoosh
Bethany Baker ($3)
Bryanna Caldwell
Randy Cote ($3)
Geoffrey Young ($3)
Miguel Lopez ($3)
10
Our Lefty Was Late
Daniel Cotton
Greg Garbera
Kylee Bonneville
Zach Martinez
John Vournas
11
Ferocious 5'4"s
Dori Jaffess
Jory Koizumi
Chad Miyashoro
Savahna Porter
Alex Carpenter
12
Flamin' Bananas
Brian Ballard
Chad Swiman
Lana Lycan
Susy Monteith
Taylor King
13
Team 13
Theo Douthit
Lindsey Ailport
Shawn Peters
Tyson Lewis
Jason VanBodegon
14
Team V
Kayla Goad
Maura Swaim
Valry Swaim
Tiffany King
Karen Butler
15
Team 15
Steven Acuff
Jenni Cahn
Mike Kremer
Brian Hirsch
John Evans
16
Team Red Bull
Kyle Karpovich
Estevan Casillas
Daniel Varholdt
Blake Kalaf
Jeff Anderson
17
Team 17
Chris McHenry
Chris Gardner
Labriel Leach
Ashley Collins
Kameron Stickney
18
Big G
Joe Reguero
Josh Childers
Jake Childers ($9)
Matt Herbert ($9)
Kyle Jones ($9)
19
4 Alaskas & 1 Brooklyn
Savannah Carr
Pamela Perez
Cody Taylor
Jared Billman
Mike Lantz
20
Brian Ditched Us
Steven Cheatham
Travis Johnson
Alexis Atkin
Nick Wade
Brian Green
Mike Swaim
TOTAL AWARDED

THIS EVENT: $1,430