TOWN & COUNTRY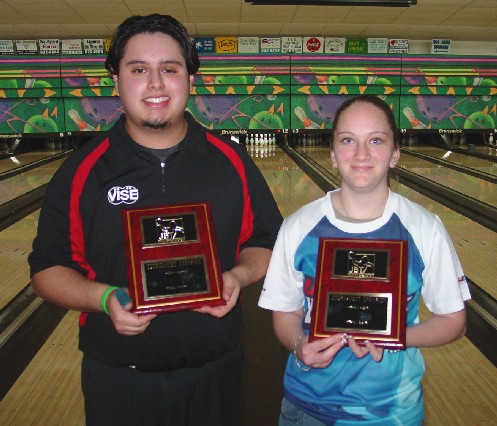 champs Jess Gagliardi & Stacia Cilley
Jess Gagliardi and Stacia Cilley kicked off a new decade in fine fashion, with wins in exciting JBT NM-TX Conference action at Roswell's Town & Country Entertainment.
Christina Waldron looked unstoppable as she won three matches in the scratch stepladder finals to get to Gagliardi. She began with a 235-220 over fireballer Nick Lee in round one. In an all-female round two, Christina beat Hannah Stedman 224-203, and followed with a 226-183 win over first-time scratch finalist Travis Turner to reach the title game.
Top seed Gagliardi had absolutely owned this event, averaging over 240 in qualifying to coast to the number one seed. However, he had his hands full with Waldron, who was throwing good shots and brimming with confidence. Unsurprisingly, it was a strike-fest in the finale, but unfortunately for Waldron she was the one to blink first, missing a 7-pin in the ninth frame that was the difference in a 247-245 win for Gagliardi, who claimed the 4th win of his JBT career.
Alonzo Richardson opened up the 8-bowler handicap stepladder finals with a 228 game that eliminated Kendra Jones (188) and Olivia Stedman (162). Joe Palma then blasted a 247 to win round two over Richardson (218) and Shawn Perry (202). Palma was good again in the semifinals, as his 240 beat Tim Baribeau (218) and Bailey McFarland (227) to reach the title match. Despite two girls making the scratch finals, McFarland, at 12 years old, was the highest average female of the day, averaging over 210!
Top seed Stacia Cilley had the early lead in qualifying, and regained it in the last semifinal game. She countered Palma's strike barrage with a long string of her own, shooting 235 scratch in the final for a 272-243 win and her first career JBT title.
Thanks as always to Brian Casaus and the great staff at Town & Country for a wonderful hosting job at this traditional new year's event. Over $1,500 in scholarships were awarded to bowlers age 22 & under of all skill levels- want in on the fun? Check out our schedule page and come on down to a JBT event soon- it's really that simple!
Town & Country- final results and optional scholarship winners
1/2/2010
NM-TX Conference
Scratch Division
rank
name
prize
1
Jess Gagliardi
$435
2
Christina Waldron
$100
3
Travis Turner
$50
4
Hannah Stedman
$30
5
Nick Lee
$20
6
Ryan Scheer
7
Dalton Hooker
8
Billy Read
$15
9
Robbie Alley
10
Tim Crites
11
Ahkeen Williams
12
Tom Crites
13
Wendy Shelton
14
Brandon Dye
15
Seth Jaramillo
$5
Handicap Division
rank
name
prize
1
Stacia Cilley
$200
2
Joseph Palma
$125
3
Bailey McFarland
$100
4
Tim Baribeau
$75
5
Alonzo Richardson
$60
6
Shawn Perry
$70
7
Kirstie Jones
$40
8
Olivia Stedman
$55
9
Lacey Shelton
$30
10
Arielle Palma
11
Hunter Palma
$15
12
Scott Green
13
Ross Scroggins
$45
14
Tonia Barela
$45
15
Jeff Russell
16
Andrew Esparza
$15
17
Sophie Diaz
18
Tad Scott
19
Alyvia Quintana
20
Will Scroggins
21
Cyera Quintana
22
Austin Masterson
23
Shelby Chenoweth
24
Jonah Kennon
25
Raeanna Romero
26
Alex Baker
27
Taylor Quintana
28
Kendra Jones
29
Cheyenne Masterson
30
Devan Charboneau
31
James Scott
32
Stephanie Barela
$10
33
Kara Casaus
$15
34
Josh Salazar
35
Mary Russell
36
Krista Casaus
37
Ben Stedman
38
Zachary Armstead
39
Kyla Casaus
40
Krishawna Casaus
41
Daniel Aguilar
42
Ernesto Franco
43
Kristina Casaus
44
Chris Lewis
45
Kameron Kennon
46
Gary Lozano
$5
47
Ryan Casaus
48
Alyssa Williams
49
Mason Holman
50
Joseph Dominguez
Scratch High Games:
Gagliardi 279
H Stedman 267
Lee 266
Scheer 259
Turner 258
Handicap High Games:
S Perry 292
A Richardson 280
A Palma 270
Cilley 269
J Palma 268
Round Leaders (5 pts. Each)
Scratch
Handicap
Scheer - Hooker
Cilley
Scheer
Cilley
Scheer
Shelton
Gagliardi
McFarland
Gagliardi
McFarland
Gagliardi
Cilley
Gagliardi
Cilley
Gagliardi
Cilley
High Female:
McFarland +55
H Stedman +6
Waldron -8
Cilley -81
W Shelton -51
TOTAL AWARDED THIS EVENT: $1,560