TRIANGLE BOWL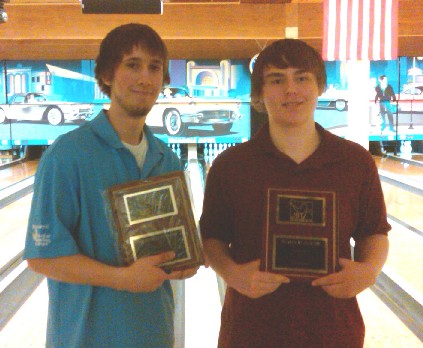 champs Jared McNeal & Thomas Nute
Jared McNeal and Thomas Nute captured JBT titles in exciting Pacific Northwest Conference action at Longview's Triangle Bowl
John Jordan opened the scratch division stepladder finals with a thrilling 247-244 win over Cameron Weier. Jordan Yoke then continued his JBT hot streak with a 231-187 win over Jordan. Yoke then got past another bowler on a tear lately, Marshall Kent, 225-161, to reach the title match.
Top seed McNeal teamed with Yoke (and Jordan's dad) to win the Pac NW Doubles back in December, and as often happens betweens opponents who are friends, the match was a little lower scoring. In the end, McNeal earned a 192-183 win, capturing his first JBT singles title, and 2nd overall JBT title. McNeal's 299 game was also the highest of the event.
Nute climbed the ladder en route to his second career title. He began with a 242-193 win over Kolby Crowell. He then got past Milwaukie champ Aaron Yoon 262-221, and then in another high scoring match got past Dalton Camosso 263-244 to reach the final.
Top seed Tyler Boe had enjoyed one of his best JBT events, leading since game four, but Nute was riding what proved to be an unstoppable wave of momentum. Thomas fired another big strike string en route to a 259-173 defeat of Boe for the victory, and a 1026 four-game total (with pins) in the stepladder.
Thanks as always to Beau and the staff at Triangle Bowl for hosting our events, as well as allowing us to delay our start time in cooperation with WSUSBC's Pepsi qualifier- many kids got to bowl both events thanks to his flexibility. In all, over $1,300 in scholarships were awarded to bowlers of all averages- want in on the fun? Come on down to the next JBT event on our schedule- it's really that simple!
Triangle Bowl- final results and optional scholarship winners
3/13/2010
Pacific Northwest Conference
Scratch Division
rank
name
prize
1
Jared McNeal
$230
2
Jordan Yoke
$100
3
Marshall Kent
$60
4
John Jordan
$40
5
Cameron Weier
$60
6
Jordan Plunkett
$15
7
Tristan Curtis
$15
8
Todd Hopfner
9
Perry Crowell IV
$30
10
Nick Bachteler
11
Colton Munger
12
Patrick Hickok
$15
13
Katie Beismann
14
Schrader White
15
Jared Goiri
16
Alex Earle
17
Brandon Dunson
18
Tyler Cruz
$55
19
Danaka Heekin
20
Anthony Douglas
21
Ryan Harris
$15
22
Thomas Locke
23
Josh Jackson
24
Sarah Boe
$15
25
Matt Lewis
26
Jeremy Witt
27
Josh Mullen
28
Makayla Douglas
29
Shay Thompson
30
Steve Duncan
31
Kevin Tindell
32
Brittney Yoke
33
Correen Lieber
34
Kevin Tindell
Handicap Division
rank
name
prize
1
Thomas Nute
$245
2
Tyler Boe
$130
3
Dalton Camosso
$60
4
Aaron Yoon
$95
5
Kolby Crowell I
$55
6
Ashton Coigny
$30
7
Jacob Mullen
$20
8
Evan Pendergraft
9
Vince Bachteler
10
Connor Gracia
11
Luke Jordan
12
Jessica Bubnich
13
Cody Nelson
14
Alex Paschal
15
Travis McAllister
16
Sara Harris
17
Ryan Gallagher
18
Ryan Laird
$15
19
Quinton Miller
20
Kelsey Abrahamsen
$15
21
Toby Shepard
$10
22
Mitch Brown
23
Brandon Nylund
$30
24
Kyle Hays
25
Bri Hemming
26
Brittany Arndt
27
Zane Hays
28
Zach Hemming
29
Kevin Obrist
30
Max Cooper
31
Harley Dahlquist
32
Zack Betz
33
Dakota Roeder
34
Jeff Brown
35
Thomas Nylund
Scratch High Games:
McNeal 299
McNeal 279
Yoke 279
Kent 279
Hopfner 268
Handicap High Games:
A Coigny 305
Yoon 276
Pendergraft 275
T Boe 269
Crowell 268
Round Leaders (5 pts. Each)
Scratch
Handicap
Goiri
A Coigny
Goiri
A Coigny
Kent
A Coigny
Kent
T Boe
McNeal
T Boe
McNeal
T Boe
McNeal
T Boe
McNeal
T Boe
High Female:
Beismann +25
Heekin -44
Boe -86
Bubnich -114
Douglas -137
TOTAL AWARDED THIS EVENT: $1,340