VISTA ENTERTAINMENT CENTER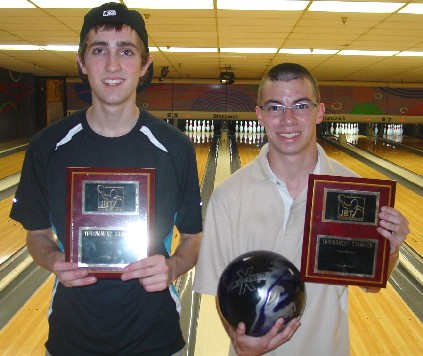 champs Jimmy Hefley & Eric Demo
Jimmy Hefley and Eric Demo captured exciting wins in JBT Southern California Conference action at Vista Entertainment Center.
Kyle King, looking for title #40 of his JBT career, opened up the scratch division stepladder finals with a 186-130 win over first-time finalist Harold Hill Jr. King then got by 15-time champ Cameron Smith 230-214. The semifinal match against 7-time champ Devin Bidwell was a classic. The two Junior Team USA members both put up the first seven strikes, but it was King who ended up coming away with the 277-257 win to advance to the title match.
Top seed Jimmy Hefley continues his great relationship with Vista, having won his first JBT title here two years ago, and dominating this event to grab the top seed. Things looked bleak for him through seven frames of the title match, though, as he trailed by over 30 pins. Hefley showed true grit by striking out from there, though, including all three in the 10th on a tricky left lane, to force Kyle to go strike-spare to tie and double to win. King was unable to get the first hit, and Hefley celebrated the dramatic 217-203 win, and his 4th career JBT title.
Jacob Camacho opened up the handicap division stepladder finals with a huge game, defeating Kirk Chui 282-231. Jake Francisco, part of the always successful Admiral Robinson crowd, then edged Camacho 210-204. Points leader Wesley Low then defeated Francisco 225-220 in a thriller to reach yet another title match (and making it 3 out of 4 two-handers in the two title matches!).
Top seed Eric Demo had taken some time off from JBT to work on his game, and the effort paid off magnificently here, as he roared to the top seed. He showed no fear of the unstoppable express train that Wesley's been lately, and bowled a great game for a 243-219 win and his very long awaited first career JBT title.
Thanks to the great crew at Vista, which has made some great improvements, for hosting our Tour. Over $1,700 in scholarships were awarded to bowlers of all averages. Want in on the fun? Check out our schedule and come on out to the next JBT event, it's as simple as that!
Vista- final results and optional scholarship winners
2/27/2010
Southern California Conference
Scratch Division
rank
name
prize
1
Jimmy Hefley
$350
2
Kyle King
$140
3
Devin Bidwell
$75
4
Cameron Smith
$70
5
Harold Hill Jr
$30
6
Zach Martinez
7
Charlie Hair
8
Victor Berge
9
Steven Manier
$30
10
Brad Hansen
11
Andre Hernandez
12
Armando Garcia
13
Justin Lou
14
Ben Canfield
15
Lana Lycan
16
AJ Garcia
17
Preston Fukumizu
18
Riley Dempsey
19
Mark Curtis
20
Anthony Cruz
21
Ryan Howard
22
Mark Mansfield
23
Rebeca Reguero
24
Mark Myers
25
Dan Hansen
Handicap Division
rank
name
prize
1
Eric Demo
$300
2
Wesley Low
$130
3
Jake Francisco
$75
4
Jacob Camacho
$75
5
Kirk Chui
$110
6
Samantha Meyers
$125
7
Anthony Cando
8
Harley Sweigart
$45
9
Derek Acuff
10
Brandon Turner
$25
11
Carol Chui
12
Tanner Long
13
Isaiah Cleveland
$30
14
Jake LaChappa
15
Rance Dvorak
$15
16
Elias Torres
17
John Wright
18
Kyle Andrews
19
Karlie Loop
$5
20
Marquin Allison
21
Brooke Martinez
22
Randi Speiler
23
Jonathan Braun
24
Jacob Potts
25
Kennison Andrews
$50
26
Justin Brown
27
David Fritz
28
Brittany Kolatzny
29
Justin Sakurai
$15
30
Taylor King
$10
31
Drew Stern
32
Billy Dacanay
33
Michael Ma
34
KJ Martinez
35
Oscar Chan
36
Alex Zwingmann
37
Eric Lee
38
Luke Holley
39
Vincent Nolan
40
Robert Sanchez
41
Matthew Zweig
42
Ashley Dunn
43
Alex Bissett
Scratch High Games:
King 277
Canfield 269
Martinez 264
Smith 262
Berge 258
Handicap High Games:
Demo 292
Cleveland 289
Wright 287
D Acuff 285
Camacho 282
Round Leaders (5 pts. Each)
Scratch
Handicap
Martinez
Low
Martinez
Low
Martinez
Low
Martinez
K Chui
Hefley
Low
Hefley
Demo
Hefley
Low
Hefley
Demo
High Female:
Lycan -4
Loop -555
Meyers -76
Reguero -100
Speiler -111
TOTAL AWARDED THIS EVENT: $1,730