STRIKE ZONE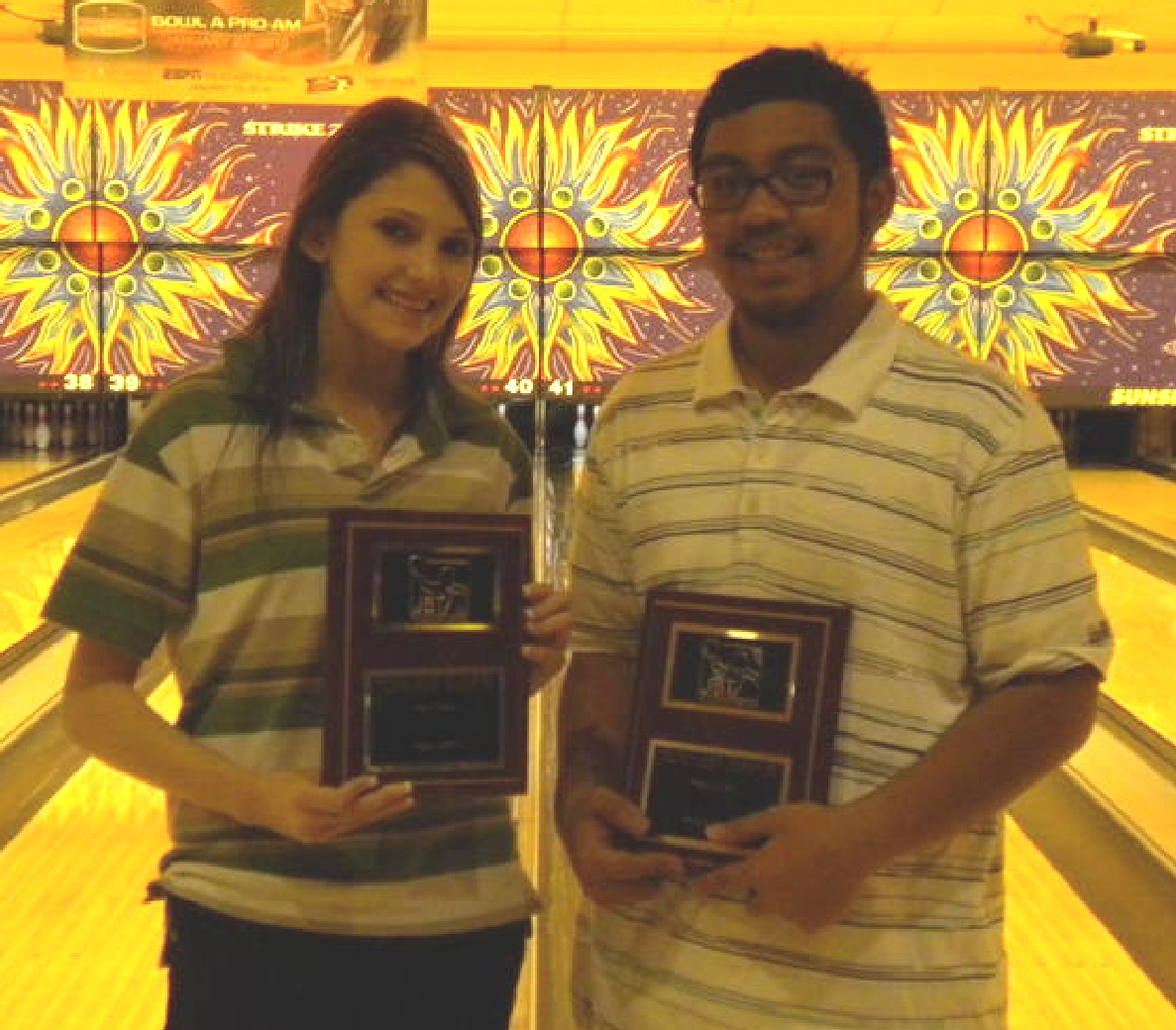 champs Darcie Staggs & Jordan Ferrer
Jordan Ferrer and Darcie Staggs both have previous JBT titles, but not the kinds they won this weekend, in exciting Mojave Conference action at Sunset Station's Strike Zone.
The scratch division saw the debut of our "Pick Yer Poison" format, designed to address the statistical anomaly of the lowest seeds seemingly constantly beating the highest seeds in matchplay formats. After the cut to the top 16, the #1 seed had their choice of playing anyone they chose in the round of 16, thus 'picking their poison'. Kris George was the qualifying leader on the Kegel Winding Road pattern, and went aggressive with his choice, going after #3 seed and current Tour dominator Kyle King. It turned out to be a wise choice, as Kris won the match 2 games to 1, eliminating a major threat. Overall though, it was still a coin flip for the higher seeds, as they went 4-4 in round one.
George picked UNLV teammate Logan Kennedy in round two, and came away with a two-game sweep to advance. Also winning were #2 seed Ferrer over #9 Allie Ijams, #14 Eric Hatchett over #6 Lana Lycan, and #8 Ryan Howard over #16 Chase Nadeau. In one-game semifinal matches, George axed Hatchett 234-183, while in a low-scoring battle, Ferrer edged Howard 168-161 to set up the finale.
Ferrer, the 2005 Mojave Invitational champion, has had a good career since entering the scratch division, but had yet to break through for a scratch division win. He had a good lead against George, but left a 6-7-10 in the 9th frame, the last thing you want to do against the always-tough Kris. However, Ferrer made the split to shut out George, and the 203-172 final tally was good for his 4th career JBT title.
Brian Grupe lost to Steven Acuff in the previous day's stepladder finals, but avenged himself today with a 216-186 win over Acuff to open up the handicap finals today. Randi Speiler then got by Grupe 215-194, before Staggs came in to defeat Randi 209-162 to reach the title match.
There's no way to sugarcoat it, top seed Kevin Weis had struggled in JBT this season, but that struggle emphatically ended at this event, leading four rounds to qualify first. Meanwhile, Staggs is a 2-time JBT winner, but both of them in our Baker Team events, so she was in the unusual position of having to try and win on her own. In the title match, it was Darcie who remained in control, and the 211-183 win was good for her first singles win, and 3rd overall title of her JBT career.
Thanks as always to the crew at Strike Zone for hosting our Tour. Over $1,300 in scholarships were awarded to bowlers of all averages- want in on the fun? Check out the schedule and come on out to the next JBT event, it's that simple!
Strike Zone- final results and optional scholarship winners
1/31/2010
Mojave Conference
Scratch Division
rank
name
prize
1
Jordan Ferrer
$200
2
Kris George
$190
3
Ryan Howard
$60
4
Eric Hatchett
$30
5
Lana Lycan
$30
6
Allie Ijams
$5
7
Logan Kennedy
8
Chase Nadeau
9
Kyle King
$120
10
DJ Sloan
11
Andy Reynoso
12
Zach Ford
13
Teddy Lucente
$15
14
Cory Keraly
$5
15
Brad Hansen
16
Riley Dempsey
17
Zack Hattori
18
Brandon Owen
19
Dallas Leong
20
Rebeca Reguero
$15
21
Tony Rose
22
Brian Weyrauch
23
Melissa Huether
24
Dan Hansen
25
Tim Jacob
26
Matt Robbins
Handicap Division
rank
name
prize
1
Darcie Staggs
$200
2
Kevin Weis
$100
3
Randi Speiler
$95
4
Brian Grupe
$65
5
Steven Acuff
$90
6
Andrew Kellogg
$20
7
Joe Gerenscer
$34
8
Aaron Watkins
9
Dylan Lucas
$15
10
Douglas Csayni
11
Katelyn Scott
12
Samantha Meyers
$45
13
Ian Hanuscin
14
Paul Huether
15
Gabriella Weis
16
Derek Acuff
17
Aubrey Calabrese
$15
18
Trevor Roberts
19
Marina Stever
20
Drew Stern
21
Dakota Nitz
22
Nathan Hanuscin
23
Jacob Potts
24
Austin Signoretti
25
Brittany Kolatzny
26
Jonny Gutierrez
27
Tyler Ottenschot
$15
28
Brandon Duffy
29
Justin Claspell
30
James Nolan
31
Taylor King
32
James Gabour
33
Nick Pollak
Scratch High Games:
Ferrer 279
King 279
George 257
Sloan 257
Lycan 254
Handicap High Games:
Lucas 276
Weis 266
Speiler 265
Staggs 263
Kellogg 260
High Females:
Lycan -34
Speiler -53
Ijams -59
Staggs -66
Reguero -145
Round Leaders (5 pts. Each)
Scratch
Handicap
1
Sloan
Kellogg
2
Lycan
Speiler
3
George
Speiler
4
George
Staggs
5
George
Staggs
6
Weis
7
Staggs
8
Weis
TOTAL AWARDED THIS EVENT: $1,344