MIDNIGHT MADNESS OVERNIGHT MARATHON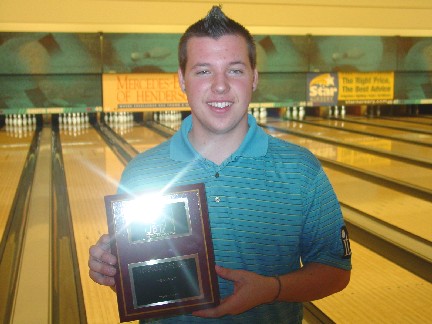 champ Riley Demspey
Riley Dempsey capped off an exhausting but extremely successful weekend by capturing the championship of the JBT Midnight Madness Overnight Marathon hosted by South Point.
After 8 games on the brutal Kegel Turnpike pattern, the top 16 bowlers advanced to triple elimination matchplay (a 181 average was enough to get you in!). Top seed Jakob Butturff, the only under-22 bowler to average over 200 for qualifying, promptly lost his first two matches to sink into an 0-2 hole, but recovered to win his next two to earn a much needed round-5 bye. #2 seed Dempsey and #3 Nick Lee had a much easier time, with zero and one loss respectively through five rounds.
Eventually only Nick, Riley, Jordan Katz, and Jakob remained standing. In round 9, Butturff eliminated Katz, while Dempsey gave Lee his second loss. This gave Jakob a rare second bye, while Dempsey won his second straight game against Nick, eliminating him in third place (Nick also made the long drive from Sunday's JBT event in New Mexico- see below!). Buttruff thus needed to beat Dempsey twice to win the title, and the first game went down to the late frames. Needing a atrike to stay alive, Jakob left a solid-8 which effectively ended the match, and the 212-184 decision was good for the 11th title of Riley's exploding JBT career.
It's a memorable win in many ways: a whopping $500 first place prize, winning on a grueling shot against tough competition, but most noticeably because he won his 10th title roughly 36 hours earlier- in Albuquerque. After finishing 3rd in Sunday's event, he and other lunatics drove the 600+ miles to bowl this event (we love our lunatics). Three events, three top 5s, two titles, three states, and two time zones, in roughly 62 hours- now that's JBT dedication at its best, and obviously well worth it for Riley!
Steven Villanueva captured the simultaneous 22-and-over sweeper event at an impressive +220. He rolled all 8 games over 200, obviously the only bowler to do so, far outpacing runner-up Chuck Mogavero.
Thanks to everyone who participated in one of the most unique events of the JBT season, and the South Point staff for helping to make the event possible. Over $2,000 in prizes were awarded- want in on your share? Come on out to the next JBT event, it's as simple as that!
Midnight Madness- final results and optional scholarship winners
2/21/2010
Mojave Conference
Scratch Division
rank
name
prize
1
Riley Dempsey
$500
2
Jakob Butturff
$320
3
Nick Lee
$200
4
Jordan Katz
$150
5
Chase Nadeau
$100
6
Cameron Smith
$75
7
Briandon Owen
$60
8
Dallas Leong
$30
9
Zack Hattori
10
Jordan Ferrer
11
Nate Leavitt
11
Ryan Jacobson
12
Brad Hansen
$75
13
Dan Hansen
14
Nicholas Pollak
15
Mike Kremer
16
Joshua Liebowitz
18
Teddy Lucente
19
Tony Rose
20
Robert Atherton
21
Mark Caparas
22
Paul Huether
23
Joey Mogavero
24
DJ Sloan
$15
25
Garrett Schweers
$15
26
Mark Curtis
27
Ian Hanuscin
$60
28
Kayla Goad
$60
29
Randi Speiler
30
Brandon Duffy
31
Logan Kennedy
32
Eric Hatchett
33
Jordan Ono
34
Michael Butz
35
Lindsey Ailport
36
Dylan Lucas
37
Aaron Watkins
38
Aubrey Calabrese
39
Veronica Schleicher
40
Kyle Chambers
22 & Over
1
Steven Villanueva
$300
2
Chuck Mogavero
$150
3
Toby Sambueno
4
Theo Douthit
5
Andy Reynoso
6
Chris Aldeguer
7
Rene Aburto
8
Shawn Gibbs
9
Ricky Overton
10
Andy Holick
11
Cayson Coyle
Scratch High Games:
D Hansen 245
D Hansen 244
B Hansen 244
Butturff 243
Katz 242
TOTAL AWARDED THIS EVENT: $2,205