Bowl El Paso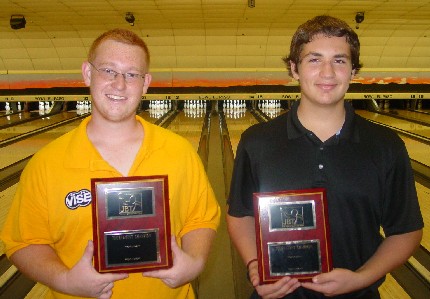 champs Gregg Kern & Steven Acuff
Gregg Kern won his first scratch title, while Steven Acuff steamrolled through the weekend, in exciting JBT NM-TX Conference action at Bowl El Paso.
Our always exciting 'survivor' format features low-bowler out action, pair by pair throughout the center. The scratch division was whittled down to six bowlers, and in those matches Kern beat Rebeca Reguero 243-183, Kevin Ives edged Billy Read in a 238-234 thriller, and Chris Brown eliminated Nick Lee 229-199. Lee had done his damage, though, firing the weekend's only 300 the game before.
This set up a three way, three state semifinal, and Arizona's Kern (231) and New Mexico's Brown (216) edged Texas' Ives (209) to set up the title match. In that game, Kern was in control until a late missed spare, but Brown returned the open the very next frame, and Gregg was able to cruise to a 224-193 win, the first scratch title of his JBT career, and third overall.
Handicap bowlers were eventually carved down to four survivors, and in those matches Samantha McFarland beat Lacey Shelton 203-173, and Steven Acuff beat first-time finalist Rolando Posada 222-207 (Steven and Rolando had just combined to oust Rolando's sister Geny in fifth place).
In the ensuing title match, Steven had lots of pins to make up against McFarland, and just like the day before, got off to a hot start (this time the front seven) to make up the difference quickly. Amazingly, despite that it was still a match at the end as Samantha more than held her own, also bowling a way over average game. Eventually though, Acuff's tenth frame spare sealed the deal, and his 246-223 win earned him a spot in the elite group of handicap bowlers to win back to back titles in one weekend, the 4th and 5th titles of his JBT career.
Samantha's big sister Bailey avenged the McFarland family in the JBT Women's Series title match, presented by Impact Bowling. The talented 13 year-old beat top women's qualifier Reguero 212-179 for the Women's Series title and a shot at a $500 bonus at the JBT Impact Bowling Girls Invitational.
Thanks as always to Bowl El Paso for a fine job hosting our Tour. Over $1,100 in scholarships were awarded to bowlers of all averages- want in on the fun? Come on out to the next JBT event, it's that simple!
Bowl El Paso- final results and optional scholarship winners
9/11/2010
NM-TX Conference
Scratch Division
rank
name
prize
1
Gregg Kern
$200
2
Chris Brown
$100
3
Kevin Ives
$80
4
Billy Read
$30
5
Rebeca Reguero
$35
6
Nick Lee
7
Aaron Foshie
8
Labriel Leach
9
Jacob Gill
10
William Entsminger
$85
11
Riley Dempsey
$45
12
Paul Carper
13
Jacob Wright
$15
14
Ryan Scheer
$15
15
Leo Guzman
16
Derek Acuff
17
Tevynn Laws
18
Andrew Esparza
19
Bailey McFarland
$50
20
Ryan Fast
21
Seth Jaramillo
22
Ahkeen Williams
23
Scott Wiley
24
Janeyl Carper
25
Sam Zermeno
26
Cody Franke
27
Amber Robinson
Handicap Division
rank
name
prize
1
Steven Acuff
$225
2
Samantha McFarland
$100
3
Lacey Shelton
$50
4
Rolando Posada
$30
5
Geny Posada
$20
6
Luis Cintron
$30
7
Fernando Delarosa
$15
8
Sophie Diaz
9
Taylor Quintana
10
Aurora Popple
11
Ryann McMurtrie
12
Savannah Carr
$30
13
Nick Sanchez
14
Alyssa Williams
15
Micayla Scheer
16
Kaitlynn McMurtrie
17
Ina Parrent
$10
18
Roman Red
$15
19
Ryan Doan
20
Jeff Russell
21
Joleigh Murphy
Scratch High Games:
Lee 300
Entsminger 268
Ives 257
Foshie 257
Foshie 257
Handicap High Games:
Shelton 263
Acuff 258
Delarosa 249
Acuff 246
Delarosa 244
Round Leaders (5 pts. Each)
Scratch
Handicap
Kern
R McMurtrie
Kern
L Shelton
Read
L Shelton
Foshie
L Shelton
Foshie
S Acuff
High Female:
Reguero +17
McFarland -96
Carper -143
Shelton -143
Diaz -169
TOTAL AWARDED THIS EVENT: $1,190