So Cal Baker Shootout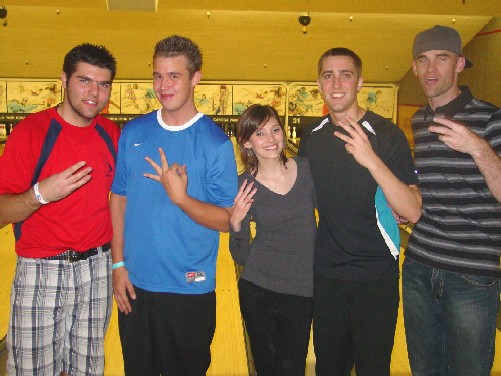 champs Kyle King, Matt Jones, Darcie Staggs, Jimmy Hefley, & Ken McElvaney
It was a 3-peat at almost 3 AM for Dahdoul Textiles, as the talented team of Kyle King, Ken McElvaney, Darcie Staggs, Jimmy Hefley, and Matt Jones won its third straight So Cal Baker Shootout, hosted by Canoga Park Bowl.
As part of a marathon singles-doubles-team weekend, the event began at 9 PM with 12 baker-style qualifying games, followed by the top 12 teams playing in best 2-of-3 matchplay. "El Teamo Name-o" qualified numero uno, but got upset-o by the #9 seeded "2 Kevs, 2 Steves, and a Wes" in the round of eight, while #2 Dahdoul swept #5 Scott's Pro Shop.
In the round of 4, Dahdoul kept rolling with a 2-0 win over #7 "The Power Rangers", while #4 "It Is What It Is" stopped "2 Kev's" run with a 2-1 squeaker that came down to the final frame of the 185-178 game three win.
Baker is great in that it is a truly team form of bowling, and team chemistry was vital as the clock wound into the wee hours, the lanes dried out, and the thumbs fried out. While the team of John Struckman, Kyle Duster, Jeremy Glover, and adults Matt Harris and Mike Villareal gave it all they had, the Dahdoul team was nearly flawless in a 2-0 win, and earned the three-peat. Will the Dahdoul Textiles team outlast Dahdoul Textiles itself? Find out next year when they go for four!
Thanks to Canoga Park for being able to host this unusually timed and exciting event, which awarded over $1,100 in scholarships to bowlers of all ages and averages. If you want in on the unique fun only JBT offers, check out our schedule and come on down to an event, it's that simple!
So Cal Baker Shootout- final results and optional scholarship winners
12/4/2010
Southern California Conference
rank
name
prize
1
Dahdoul Textiles Inc.
$500
Jimmy Hefley ($167)
Kyle King ($171)
Darcie Staggs ($167)
Ken McElvaney (a)
Matt Jones (a)
2
It Is What It Is
$250
John Struckman ($84)
Kyle Duster ($84)
Jeremy Glover ($134)
Matt Harris (a)
Mike Villareal (a)
3
The Power Rangers
$125
Steven Acuff ($25)
Lindsey Ailport ($25)
Labriel Leach ($25)
Kayla Goad ($25)
Curtis Lindeman ($25)
4
2 Kevs, 2 Steves & a Wesley
$125
Wesley Low ($42)
Steven Manier ($42)
Kevin Jones ($42)
Kevin Valmonte (a)
Stephen Lindsey (a)
5
El Teamo Name-o
$100
Cameron Smith ($20)
Bethany Baker ($20)
James Hawkins ($20)
Valerie Riggin ($20)
Riley Demspey ($20)
6
We're Fancy Huh?
Matt Cormack
Aaron Steinberg
Scott Friedman
Taylor King
Kevin Gross
7
Scott's Pro Shop
Jordan Kraye
Brandon Kraye
Scott Kraye
Mark Myers
Wishtoyo Vasquez
8
Del Rosa Lanes
Dave Wodka
Nicole Ellison
Terrence Robinson
Parker Brooks
Zachary Smith
9
Team 9
Travis Hewitt
Jeff Spiesman
Ronnie Fujita
Mark Curtis
Zoren Hartfield
10
The Cuties
Jamie Spector
Zach Martinez
Aaron Foshie
Brooke Martinez
Alicia Sullivan
11
The Vinny Nolans
Vincent Nolan
Isaiah Clevelnad
Jacob Camacho
Brittany Kolatzny
Ben Canfield
12
Hemet Hustlers
Mark Mansfiedl
Michael Creek
Eric Ruger
Courtney Brown
Bryan Rondeau
13
Team 13
Courtney Dutton
Rachel Carr
Chris Weyrauch
Brian Weyrauch
Cortez Schenck
14
Camarillo Bowl
Michael Ma
Scott Poddig
Jordan Bibby
Thomas Addison ($10)
Dan Addison
15
Captain Crunch
Kirk Chui
Brandon Turner
Luke holley
Derek Acuff
David Turner
16
Team 16
Travis Zehntner
Mik May
KJ Martinez
Mark Knapp
James Knapp
17
MSC
Kyle Andrews
Kennison Andrews
Chris Andrews
Nick Vinyard
Samantha Vinyard
18
Young Guns
Mark Hugelmaier
Kyli Selley
Chris Hefner
Jordan Eres
Alex Bissett
TOTAL AWARDED THIS EVENT: $1,161