SO CAL INVITATIONAL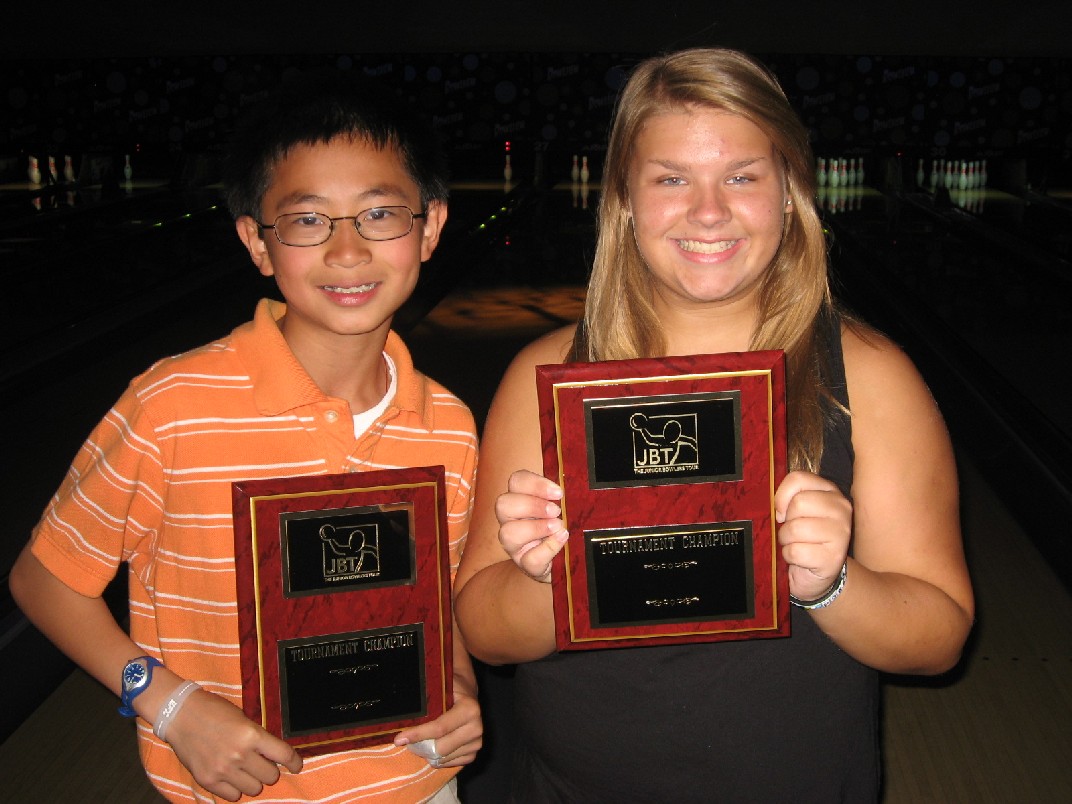 champs Wesley Low & Shauna Schultz
Wesley Low and Shauna Schultz earned $1,000 scholarships each as champions of the JBT Southern California Conference Invitational tournament, hosted by Montclair's newly remodeled Bowlium Lanes.
Proving once again that age is not the determining factor of success in our events, 14 year-old Low becomes our youngest scratch major tournament champion, beating a field of talented bowlers as old as 22 on the way to the title. After 5 games on a very demanding lane condition where a 178 average was enough to qualify for the 16-bowler triple-elimination matchplay, 17 year-old Adam Dubia was the leader, and he breezed through the early rounds of matchplay with only one loss through seven rounds. Wesley was undefeated through five rounds before Adam handed him his first loss in round six.
Eventually only Low, Dubia, and Derek Acuff remained standing, all with two losses each. In what thus became the semifinal match, Low eliminated Acuff 213-195, setting up the fitting title match between the two best players of the day. Though a brilliant 4-10 conversion appeared to give Dubia some momentum mid-game, Low countered that with a 5-bagger, and confidently rode that to a 233-208 win, and the fifth title of his JBT career for the little guy with a huge future ahead of him. Adam earned $500 for second, Acuff won $300 for third, Steven Manier finished fourth for $275, and Ben Canfield rounded out the top five for $150.
Schultz qualified #11 for the 16-bowler handicap finals, and then caught fire in the triple-elimination matchplay, going undefeated through the first six rounds before losing to #1 seed Tyler Wolff, who was outstanding all day, but needed to beat Shauna to stay alive in that round. In other matches that round, #9 KJ Martinez eliminated #14 Luke Holley, and #3 Alex Bissett eliminated #10 seed and handicap points champion Kayla Goad. In round eight, Schultz eliminated Martinez and Bissett eliminated Wolff, setting up a title match situation where Bissett would have to beat Shauna twice to win the title.
It looked like Alex was going to win the first game to force a decider, but after a shaky mid-game, Shauna rebounded with marks in her final four frames to swipe the game back 211-201 and win the title, the first of her career, and the $1,000 scholarship windfall. Bissett settled for $500 for second, Wollf earned $300 for third, Martinez (making yet another major event top-5) pocketed $200 for fourth, and Goad, also having a fantastic year, earned $150 for fifth.
Thanks again to Herbert and the Bowlium staff for another terrific job hosting our Tour. Over $6,800 in scholarships were earned by our Invitational qualifiers- think about that as you plan for the 2011-12 season, which kicks off in September. Check out our website, www.bowljbt.com, for all the details, tell a friend or twenty, and get in on the best under-22 action around!
So Cal Invitational- final results and optional scholarship winners
6/4/2011
Southern California Conference
Scratch Division
rank
name
prize
1
Wesley Low
$1,040
2
Adam Dubia
$500
3
Derek Acuff
$30
4
Steven Manier
$275
5
Ben Canfield
$150
6
Labriel Leach
$100
7
Kevin Jones
$75
8
Luis Perez
$120
9
Chris Hefner
$120
10
Cameron Smith
$150
11
Mark Myers
$175
12
Jordan Ferrer
$50
13
Joe Lewandowski
$80
14
Aaron Foshie
$65
15
Mark Curtis
$80
16
Kirk Chui
$50
17
Joey Chuo
$15
18
Ryan Peden
19
Brandon Turner
20
Scott Boyle
21
Ronnie Fujita
22
Dan Patty
23
John Struckman
24
Valerie Riggin
25
Kyle Duster
26
Nick Vinyard
27
Ashley Dunn
28
Mark Mansfield
29
Jimmy Hefley
$15
30
Curtis Lindeman
31
Riely Chin
32
Zach Martinez
33
JD Sweet
Handicap Division
rank
name
prize
1
Shauna Schultz
$1,000
2
Alex Bissett
$500
3
Tyler Wolff
$300
4
KJ Martinez
$200
5
Kayla Goad
$250
6
Luke Holley
$180
7
Eric Demo
$75
8
Marguerite Evans
$135
9
Samantha Meyers
$190
10
Jake Francisco
$75
11
Mark Hugelmaier
$125
12
Vincent Nolan
$65
13
Cortez Schenck
$185
14
Steven Acuff
$50
15
Randi Speiler
$65
16
Jacob Camacho
$90
17
Brittany Kolatzny
18
Jamie Spector
19
Matt Zweig
20
Alexis Atkin
$15
21
Ricardo Mendoza
22
Kennison Andrews
23
Brooke Martinez
24
Isaiah Cleveland
25
Kyli Selley
$5
26
Jenny Phandanouvong
$5
27
Kyle Andrews
28
Drew Stern
$15
29
Michael Ma
30
Carol Chui
31
Leah Zweig
32
Dillon Alugostoski
33
Elias Torres
34
Robert Lim
35
BJ Harlan
36
Bryan Rondeau
37
Ryan Breland
38
Joey Paglia
39
Zoren Hartfield
39
Savannah Carr
Scratch High Games:
Canfield 267
Jones 267
Canfield 257
Turner 255
Manier 251
Handicap High Games:
Evans 280
Meyers 268
Kolatzny 264
Meyers 258
Francisco 255
Round Leaders (5 pts. Each)
Scratch
Handicap
Canfield
Bissett
Canfield
Acuff
Jones
Meyers
Jones
Meyers
Dubia
Wolff
High Female:
Meyers -96
Goad -102
Kolatzny -122
Riggin -142
Spector -148
TOTAL AWARDED THIS EVENT: $6,885