Cactus Bowl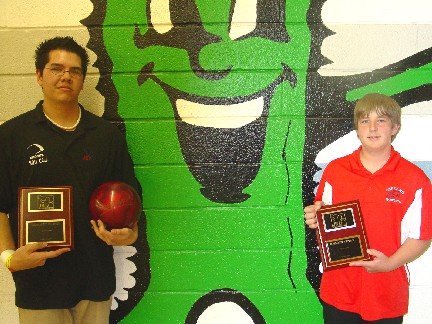 champs Nick Lee & John Patterson, and a giant happy pickle
Nick Lee and John Patterson captured JBT titles in exciting Arizona Conference action at Tucson's venerable Cactus Bowl.
Scratch division bowlers enjoyed the 'mulligan' format, where you get 3 'do-overs' to strategically use throughout qualifying, and earn one more each for making the semifinals and finals. In an all-California battle to open the scratch stepladder finals, Mark Curtis outstruck Matt Cormack 247-236. Curtis remained on a roll, beating Timothy Jacob 259-222, ending a fine day for Jacob which included the two highest games of the tournament (298 and 279) and leading 6 of the 8 rounds. Kyle King then mulliganed Curtis into submission 259-212, having to use three of them to finally string enough to win.
Top seed Nick Lee took over in the semifinals with a big series, but struggled early in the title game. Uncharacteristically, though, Kyle did too, both of them burning off all remaining mulligans by the middle of the game. In the end, though, Nick had enough left for a 204-183 win, and the 5th title of his excellent JBT career. Lee made the most of our sponsorship opportunities, throwing Ebonite equipment for a $100 bonus, and wearing the EFX performance bracelet for another $25.
The handicap division bowled the standard format, and Drew Stern opened up the stepladder finals with a 211-163 win over Pac NW bowler Alan Vancleeve. Cortez Schenck, a recent winner in Roswell, showed the winning form again in a 251-242 thriller over Stern. John Patterson then escaped with a 189-184 win over Schenck that came down to the final shot, advancing to the championship game.
Top seed Cassie Collins dominated the tournament, starting out red-hot and hanging on for the top seed. Patterson's late triple made a close match between Cassie and him come down to the tenth frame, where Collins left an unfortunate 5-7 which she was unable to convert, resulting in a 203-196 win for Patterson, and the first title of his JBT career.
Thanks as always to Dale Schnell and the crew at Cactus, a longtime supporter of JBT, for hosting the event, which awarded over $1,700 in scholarships to all ages and averages. Want in on the fun? Come on out to the next JBT, it's that simple!
Cactus Bowl- final results and optional scholarship winners
1/22/2011
Arizona Conference
Scratch Division
rank
name
prize
1
Nick Lee
$355
2
Kyle King
$230
3
Mark Curtis
$60
4
Tim Jacob
$40
5
Matt Cormack
$20
6
JD Sweet
7
Zach Martinez
$30
8
Delano Coveris
9
Josh Wester
10
Kyle Karpovich
$15
11
Jacob Smith
$60
12
Riley Dempsey
$35
13
Tim Crosswhite
14
Chris Brown
15
Jarrod Davenport
16
Derek Iozzio
17
Bryan VanSickle
18
Michael Bolnick
19
Jaron Jaeger
20
Tyler Boe
21
Michael Majeske
22
Sam Amaral
23
Tristan Carlson
24
Nigel Shemanski
25
Jay Bricker
26
Cade Shemanski
27
Labriel Leach
28
Erica Pursell
29
Marcus Stanley
$5
Handicap Division
rank
name
prize
1
John Patterson
$200
2
Cassie Collins
$100
3
Cortez Schenck
$195
4
Drew Stern
$120
5
Alan Vancleeve
$35
6
Brooke Martinez
$15
7
Blake Kalaf
$15
8
Alex Pellegrino
9
Dakota Thompson
10
Jake Hilton
11
Danny Varholdt
12
Corbin Hirsch
13
Marina Stever
$15
14
Kayla Goad
15
Samantha Meyers
16
KJ Martinez
$45
17
Valry Swaim
18
Alexis Atkin
19
Britni Glasspool
20
Dominic Luna
21
Brittany Kolatzny
22
Bethany Baker
23
Peter Fonvergne
24
Ryan Zent
$30
25
Gillian Coyle
26
Austin Likens
27
Jacob Digiacomo
28
Megan Carlson
29
Kristen Lee
30
Krystal Gray
Scratch High Games:
Jacob 298
Jacob 279
Curtis 279
Crosswhite 279
Iozzio 279
Handicap High Games:
Pellegrino 288
Collins 275
Kalaf 273
Vancleeve 268
Schenck 265
Round Leaders (5 pts. Each)
Scratch
Handicap
Iozzio - Jacob
Pellegrino
Jacob
Collins
Jacob
Collins
Jacob
Collins
Jacob
Collins
Jacob
Collins
Lee
Collins
Lee
Collins
High Female:
Martinez even
Goad -30
Stever -53
Collins -54
Pursell -64
TOTAL AWARDED THIS EVENT: $1,710