Gold Coast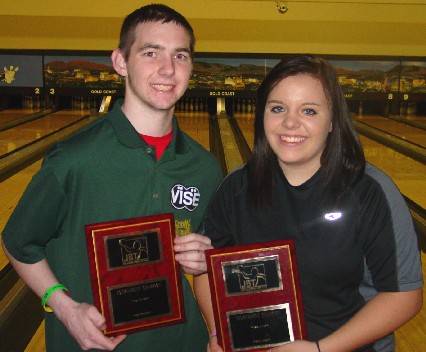 champs Mark Myers & Kayla Goad
Mark Myers and Kayla Goad, each winners two weeks ago in San Diego, doubled their pleasure in Las Vegas with another win each in exciting JBT Mojave Conference action at Gold Coast Bowling Center.
Teddy Lucente opened up the scratch division stepladder finals with a 183-180 squeaker over Rane Lacona. Lucente then got by Dallas Leong 209-182. In a tight semifinal match, Teddy's tenth frame double forced Myers to get the first strike, and a fortunate carry gave Mark the 227-224 win and a return trip to the title game.
Top qualifier (and Mark's cousin) Riley Dempsey continued his torrid early-season pace by leading the field on the always-tricky Chameleon pattern. However, he was unable to get comfortable on the title match pair, while Myers' powerful two-handed delivery was shredding racks, and Mark's 213-171 win was good for the 3rd title of his JBT career.
Kevin Mette made his first handicap stepladder finals a success with a 246-187 over Jhared Gonzalez in round one. Aubrey Calabrese, who led the middle portions of the event, then defeated Mette 203-187, to ensure that girls finished 1-2-3 in today's event. Goad then bested Aubrey 195-185 to reach the championship game.
Top seed Brittany Kolatzny has been having a great start to the 2010-11 campaign, including a Women's Series win, but is still looking to break through for the first regular singles title. However, Kayla usually is tough to beat at Gold Coast, and this held true in the title game, as Goad remained in control for the 215-176 win and the 4th title of her excellent JBT career.
Kayla and Mark both racked up bonus prizes by using our sponsor's products: Kayla with Ebonite bowling balls and both Kayla and Mark with EFX performance bracelets.
Thanks as always to the crew at Gold Coast for hosting our event, which awarded over $1,400 in scholarships to bowlers of all average under age 22. Want in on the fun? Come on down to the next JBT event, it's that simple!
Gold Coast Lanes- final results and optional scholarship winners
11/14/2010
Mojave Conference
Scratch Division
rank
name
prize
1
Mark Myers
$225
2
Riley Dempsey
$100
3
Teddy Lucente
$50
4
Dallas Leong
$70
5
Rane Lacona
$30
6
DJ Sloan
7
Dan Hansen
$90
8
Brad Hansen
$60
9
Aaron Foshie
10
Zack Hattori
11
Jordan Ferrer
12
Nick Vinyard
$15
13
Justin Givler
14
Zac Hochman
15
Jordan Katz
16
Kris George
17
Joey Mogavero
18
Derek Acuff
19
Eric Hatchett
20
Lana Lycan
21
Logan Kennedy
$15
22
Curtis Lindeman
23
Ian Hanuscin
24
Zach Martinez
25
Gregg Kern
26
Tony Rose
27
Branson Owen
28
Nate Leavitt
Handicap Division
rank
name
prize
1
Kayla Goad
$325
2
Brittany Kolatzny
$100
3
Aubrey Calabrese
$125
4
Kevin Mette
$40
5
Jhared Gonzalez
$30
6
Matt Dragovich
$20
7
Brandon Duffy
8
Andrew Guba
9
Austin Signoretti
10
Michael Ma
11
Amanda Ailport
$30
12
Aaron Watkins
13
Isaiah Cleveland
14
Tyler Ottenschot
$15
15
Cortez Schenck
$35
16
Samantha Meyers
$35
17
Marina Stever
$15
18
James Gabour
19
Gabriella Weis
20
Nathan Hanuscin
21
Anthony Chavarria
22
Lindsey Ailport
23
Kyle Andrews
24
Nicholas Pollak
25
Savannah Carr
$5
26
KJ Martinez
$30
27
Randi Speiler
28
Brooke Martinez
29
Vincent Nolan
$15
30
Kennison Andrews
$15
31
Justin Villla
32
Nicholas Lopez
33
Taylor King
34
Xavier Washington
Scratch High Games:
B Hansen 278
Lucente 276
Foshie 257
Lacona 255
Leong, Hattori 254
Handicap High Games:
Watkins 282
Gonzalez 264
Calabrese 263
Kolatzny 260
Ky. Andrews 251
Round Leaders (5 pts. Each)
Scratch
Handicap
Hattori
Kolatzny
Dempsey
Kolatzny
Myers
Calabrese
Myers
Calabrese
Sloan
Calabrese
Dempsey
Calabrese
Dempsey
Kolatzny
Dempsey
Kolatzny
High Female:
Kolatzny +45
Calabrese -12
Goad -25
A Ailport -70
Stever -94
TOTAL AWARDED THIS EVENT: $1,475