Golden Pin Lanes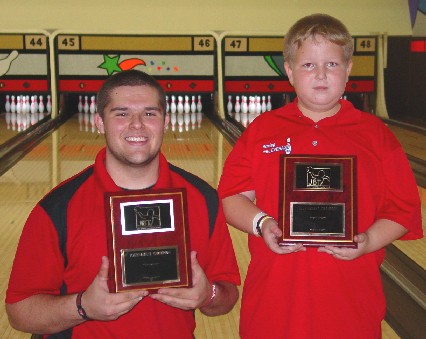 champs Aaron Foshie & Corbin Hirsch
Aaron Foshie and Corbin Hirsch had all the right antidotes en route to victories in our exciting 'pick yer posion' format, as the JBT visited Tucson's Golden Pin Lanes.
After a cut to the top 16 after 5 games on the challenging 2010 USBC Nationals pattern, higher seeded bowlers had their choice of which bowler they wanted to face in best 2 out of 3 matchplay. Scratch division top seed Foshie averaged over 218 for five games, and was the only bowler averaging 200 after qualifying. He got past Rane Lacona and Joe Lewandowski, who is always tough at Golden Pin, to reach the final four. #2 Gregg Kern and #3 Justin Givler also defended their seeds, while #6 Riley Dempsey rounded out the semifinalists. In one game semifinal matches, Dempsey ousted Kern (making his third straight top-5 in 3 weeks in 3 different conferences) 198-144, while Foshie eliminated Givler 177-153 to set up the finale.
Dempsey is continuing an outstanding beginning to the 2010-11 campaign with yet another title match, but Foshie had the best look all day, and made a great move to continue the great look as the shot started to transition, and he beat Dempsey 228-193 for the title. It was the 2nd scratch win and 6th overall of the talented righty's JBT career.
Top seed James Burke led all five qualifying games in the handicap division, then fought off #13 Jared Boscarino in round one of pick yer poison to move on. #2 Kristen Lee was upset by #10 Valry Swaim in the opener though, as was #4 Cortez Schenck in three tough games by #14 Danny Varholdt. In the nest round, Swaim defeated Varholdt 2 games to 1, Burke swept #15 Josh Molloy 2-0, #9 Hirsch ousted #6 Nick Skalicky 2-0, and #12 Ryan Zent snuck by #3 Bethany Baker 2-1 in match that came down to the final frame.
In single game semifinal matches, Hirsch beat Zent 240-225 in a high scoring affair, while in a match that can't be described in any other way than a struggle, Burke beat Swaim 170-128 to advance to the title match.
The title game was a close game throughout as both bowlers were eager for their first title. A tenth frame open ended James' fine day, though, and the 217-210 win for Hirsch gave him the championship. It was also a landmark win for the Tour, as Corbin becomes the first child of a JBT SW alumni (season 1 bowler Brian) to win a JBT event, hopefully the start of the second generation of JBT stars!
Thanks as always to the venerable Golden Pin Lanes for hosting our Tour. Almost $3,000 in scholarships were awarded this weekend alone to bowlers of all averages age 21 and under- want in on the fun? Then come on out to the next JBT event, it's that simple!
Golden Pin- final results and optional scholarship winners
11/7/2010
Arizona Conference
Scratch Division
rank
name
prize
1
Aaron Foshie
$285
2
Riley Dempsey
$130
3
Gregg Kern
$50
4
Justin Givler
$45
5
Joe Lewandowski
$20
6
Kylee Bonneville
7
Labriel Leach
8
Jacob Smith
9
Brandon Webster
$15
10
Curtis Lindeman
11
Rane Lacona
$15
12
Marcus Stanley
$15
13
Leo Guzman
$15
14
Nick Lee
15
Michael Bolnick
16
Zach Martinez
17
Tim Crosswhite
18
Kyle Karpovich
19
Rebeca Reguero
$15
20
Derek Acuff
21
Mark Curtis
22
Courtney Dutton
23
Deven Johnston
24
Sam Amaral
25
Daniel Cotton
26
Tim Jacob
Handicap Division
rank
name
prize
1
Corbin Hirsch
$225
2
James Burke
$120
3
Valry Swaim
$60
4
Ryan Zent
$50
5
Bethany Baker
$70
6
Nick Skalicky
$30
7
Danny Varholdt
$20
8
Joshua Molloy
9
Kristen Lee
10
Cortez Schenck
$15
11
Brooke Martinez
$45
12
Derek Iozzio
$15
13
Marina Stever
14
Alexis Atkin
15
Jared Boscarino
16
Kyle Thompson
$30
17
Zachary Rapp
18
Courtney Piazza
$5
19
Britni Glasspool
$15
20
Maura Swaim
21
Alex Pellegrino
$30
22
Steven Acuff
23
Isaiah Cleveland
24
Blake Kalaf
$15
25
Dennan Boscarino
26
Lindsey Ailport
27
Brittany Kolatzny
28
Stacey Lamb
$15
29
Morgan Rapp
30
Dakota Thompson
31
Kayla Goad
32
Cassie Collins
33
Savannah Carr
$5
34
Jacob DiGiacomo
35
Matt Smart
$45
36
AJ Estes
37
Joshua Smith
38
Amanda Ailport
39
Steven Acuff
Scratch High Games:
Kern 255
Foshie 247
Lindeman 238
Lacona 235
Lewandowski 234
Handicap High Games:
Schenck 273
Baker 261
Schenck 259
Martinez 258
Zent 258
Round Leaders (5 pts. Each)
Scratch
Handicap
Kern
Burke
Kern
Burke
Foshie
Burke
Foshie
Burke
Foshie
Burke
High Female:
Lee -38
Baker -50
Stever -99
B Martinez -115
Kolatzny -151
TOTAL AWARDED THIS EVENT: $1,415