HARLEY'S CAMARILLO BOWL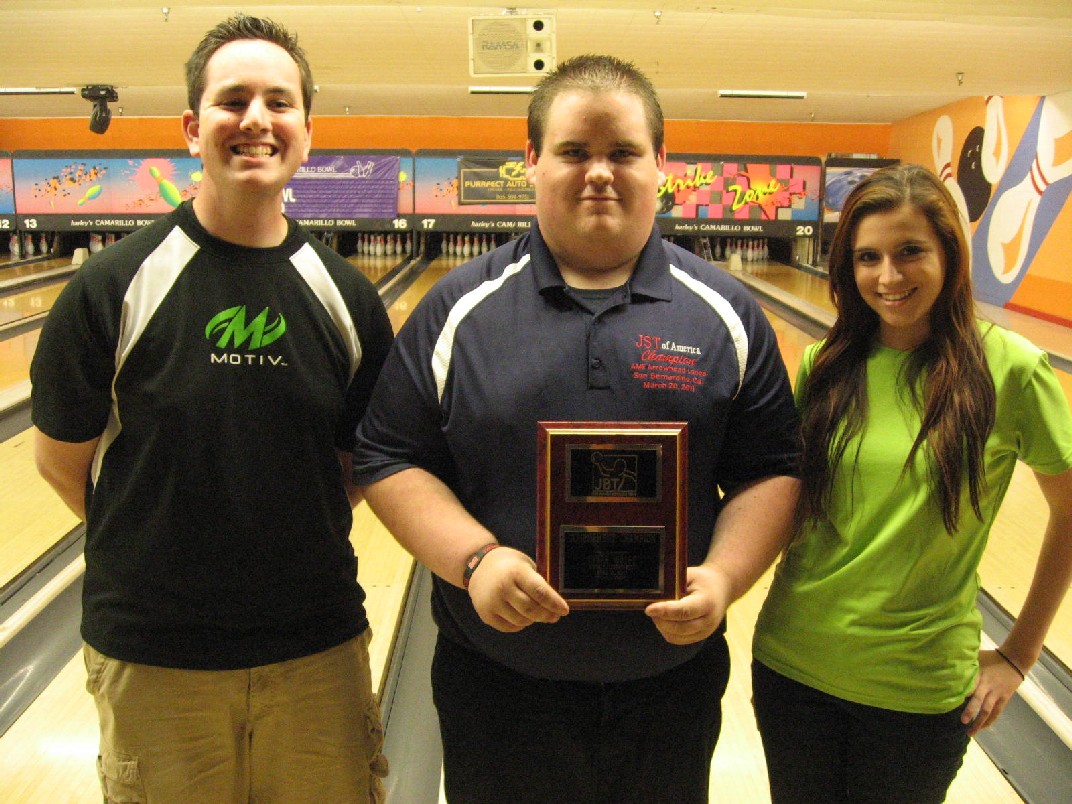 Champs Scott Boyle & Mark Hugelmaier with Women's Series winner Brooke Martinez
Scott Boyle and Mark Hugelmaier topped high scoring fields to capture singles titles, while Brooke Martinez joined the Women's Series champions list, in exciting JBT Southern California Conference action at Harley's Camarillo Bowl.
Ryan Peden, who earlier fired a 299 game, began a climb up the scratch division stepladder finals with a 200-195 squeaker over Curtis Lindeman, who had the other 299 game of the day. Ryan then got past Joe Lewandowski 246-156, and followed with a 218-184 win over Wesley Low, who had gone a whopping +448 for his 8 previous games.
Top seed Scott Boyle made a legitimate run at both our 5 and 8 game scoring records, eventually ending at +284 for five (9th best all-time), and +481 for eight (7th best all-time). However, the scores were lower in the stepladder as the shot started to burn out, and that followed suit in the championship game. In the end, Scott was able to piece together a 215-192 win, good for the first JBT title of the talented Northern California bowler's career, which among other things included a win at Team USA trials earlier this year.
Bryan Rondeau qualified for the Invitational by making the stepladder, and then opened the ladder with a 221-193 win over Brooke Martinez. Ricardo Mendoza then defeated Rondeau 216-202. Mark Hugelmaier then continued his hot streak with a 224-213 win over Mendoza to reach another championship game.
Top seed Leah Zweig had by far the best day of her JBT career, leading six of the eight rounds. Unfortunately for her, she was not able to continue the torrid pace in the final game, while Hugelmaier was able to cruise to a 234-173 win. The title was the fourth of the season for Mark, leaping him into the top five in points with one regular season event left.
Brooke Martinez captured her first career JBT Women's Series title with a 223-191 win over Valerie Riggin. Brooke can now earn an extra $500 if she wins the Girls Invitational this July, courtesy of Impact Bowling Pro Shop, a proud sponsor of JBT events.
Over $1,300 in scholarships were earned at our first visit to this center, which did a great job hosting us. Want in on all this fun? Get on down to our next event, that's all there is to it!
Harley's Camarillo Bowl- final results and optional scholarship winners
4/30/2011
Southern California Conference
Scratch Division
rank
name
prize
1
Scott Boyle
$215
2
Ryan Peden
$100
3
Wesley Low
$210
4
Joe Lewandowski
$95
5
Curtis Lindeman
$40
6
Mark Myers
7
Riely Chin
8
Cameron Smith
9
Valerie Riggin
10
Ronnie Fujita
11
Dan Patty
12
Luis Perez
13
Ben Canfield
14
Blake Paris
15
Steven Manier
16
Derek Acuff
17
Matt Davis
18
Mark Curtis
19
Aaron Foshie
20
Justin Sims
21
Zach Martinez
22
David Shaefer
23
Labriel Leach
24
Ashley Dunn
25
Travis Hewitt
26
Robert Gutierrez
Handicap Division
rank
name
prize
1
Mark Hugelmaier
$200
2
Leah Zweig
$100
3
Ricardo Mendoza
$60
4
Bryan Rondeau
$50
5
Brooke Martinez
$135
6
Randi Speiler
$45
7
Luke Holley
$15
8
Clint Strawmyer
9
Stephen Fentiman
10
Alexis Atkin
11
Samantha Meyers
$75
12
Marguerite Evans
$15
13
Chelsea Houston
14
Courtnrey Briwn
15
Vincent Nolan
16
KJ Martinez
17
Brittany Kolatzny
18
Rance Dvorak
19
Jacob Camacho
20
JustinPatten
$5
21
Steven Acuff
22
Drew Stern
$20
23
Matt Zweig
$50
24
Zoren Hartfield
25
Cortez Schenck
26
Joel Rosen
27
Isaiah Cleveland
28
Shauna Schultz
29
Kayla Goad
30
Michael Ma
31
Stephen Fentiman
32
Chelsea Houston
33
Joel Rosen
34
Mark Hugelmaier
35
Marguerite Evans
36
Marina Stever
37
Steven Acuff
38
Rance Dvorak
39
Zoren Hartfield
40
Aaron Friedland
Scratch High Games:
Peden 299
Lindeman 299
Lewandowsk 288
Perez 285
Boyle 279
Handicap High Games:
L Zweig 271
Meyers 266
Holley 265
Holley 261
L Zweig 261
Round Leaders (5 pts. Each)
Scratch
Handicap
Lindeman
Zweig - Holley
Boyle
Hugelmaier
Lewandowski
L Zweig
Low
L Zweig
Boyle
L Zweig
Boyle
L Zweig
Boyle
L Zweig
Boyle
L Zweig
High Female:
Riggin +56
B Martinez +53
Dunn +15
Kolatzny -5
Speiler -10
TOTAL AWARDED THIS EVENT: $1,330