Hazel Dell Lanes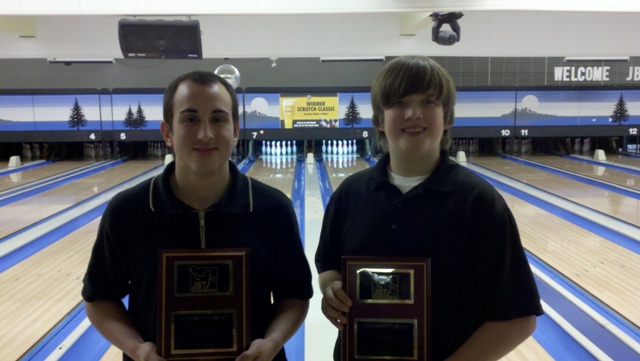 champs Jordan Gonzales & Kolby Crowell
Jordan Gonzales won his first JBT title, while Kolby Crowell I won title II to kick off MMXI in exciting Pacific Northwest Conference action at Hazel Dell Lanes.
Gonzales won four consecutive matches to climb the ladder to victory. He began with a 227-217 win over Cameron Weier. Jordan followed with a 202-165 win over Ray Nugent, and followed with a 267-257 thriller over Schrader White, who wowed the crowd on a high-scoring day with the highest scoring of all, firing a perfect 300 in game eight, and the 257 gave him 821 for his last three games of the day, not a series but still one of the best 3-game performances we've seen, but Gonzales had the answer and advanced to the title match.
Top seed Brandon Loyear was enjoying the best event of JBT career, leading a tournament for the first time with the help of a 290 game in qualifying. However, he was unable to get locked in in the last game, and while Jordan slowed down as well, he had enough left in the tank for a 189-176 win and the first title of his JBT career.
Alan Vancleeve opened up the handicap division stepladder finals with a 248-224 win over Luke Jordan. Vancleeve rolled on with a 220-201 victory over Aaron Yoon, and followed with a 249-231 strike-fest against Alexa Lanning to reach the title match.
Top seed Kolby Crowell, fresh off a win in the Doubles in December, outpaced the very high scoring field to grab the top seed. He continued on that roll in the finale, while Vancleeve started to falter, and the 230-190 result gave him the second title of his JBT career.
Thanks as always to the staff at Hazel Dell for a great job hosting our Tour. Over $1,300 in scholarships were awarded- want in on the fun? Come on down to the next JBT event, it really is that simple!
Hazel Dell Lanes- final results and optional scholarship winners
1/2/2011
Pacific Northwest Conference
Scratch Division
rank
name
prize
1
Jordan Gonzales
$215
2
Brandon Loyear
$100
3
Schrader White
$75
4
Ray Nugent
$60
5
Cameron Weier
$65
6
Darren Stanley
$75
7
Patrick Hickok
$20
8
Gabe Bogner
9
Tyler Boe
$30
10
Perry Crowell IV
11
Leea Haworth
12
Tristan Curtis
$30
13
Zach hemming
14
Anthony Douglas
$10
15
Jared McNeal
16
Lucas Ferrando
17
Ryan Nikolas
$15
18
Michael Paulson
19
John Jordan
20
Cody Pike
$15
21
Donald Shaffer
22
Nick Armstrong
23
Evan Pendergraft
24
Sam Burns
$10
25
Derek Johnson
26
Jeremy Witt
$30
27
Matt Lewis
28
Robert Altieri
29
Jess Saxton
30
Katie Beismann
31
Dalton Camosso
32
Tyler Stickler
33
Kevin Tindell
34
Courtney Nikolas
35
Alex Earle
36
Caleb Scott
37
Josh Mullen
38
Travis Smart
39
Courtney Couch
40
Thomas Nute
Handicap Division
rank
name
prize
1
Kolby Crowell
$230
2
Alan Vancleeve
$100
3
Alexa Lanning
$60
4
Aaron Yoon
$55
5
Luke Jordan
$30
6
Jamilah Ousley
$35
7
Jacob Mullen
8
Tessa Friason
9
Kelsey Abrahamsen
$15
10
Jordan Kent
$45
11
Shawn Terwillegar
12
Nicole Stickler
$10
13
\Megan Green
14
Erika Gustin
15
Elisabeth Couch
16
Kevin Obrist
17
Zoe Mahn
18
Molly Camosso
19
Kimberly Gustin
20
Kara Lieber
21
Nick Devlin
22
Sea Aira Sweeney
23
Kyler Crevier
24
Becky Davidson
25
Trevor Gates
26
Jaeger Krause
27
Bri Hemmiong
28
Theresa Kelly
29
Chloe Curtis
30
Cody Crowell
31
Madison Crockett
Scratch High Games:
White 300
Loyear 290
Ferrando 290
Nugent 287
Altieri 268
Handicap High Games:
Vancleeve 305
Ousley 287
K Crowell 283
K Crowell 273
Terwillegar 267
Round Leaders (5 pts. Each)
Scratch
Handicap
Weier
Terwillegar
Z Hemming
Vancleeve
D Stanley
Vancleeve
D Stanley
Vancleeve
D Stanley
K Crowell
J Gonzales
K Crowell
Loyear
K Crowell
Loyear
K Crowell
High Female:
Haworth +83
A Lanning +47
T Friason +21
Beismann +7
C Nikolas -20
TOTAL AWARDED THIS EVENT: $1,350
powerbowl not yet included