Holiday Bowl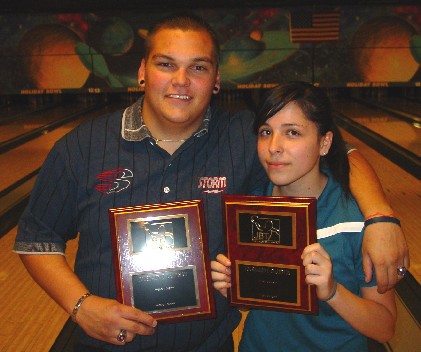 champs Paul Carper & Sophie Diaz
Two JBT veterans put on dominant performances to capture long awaited titles in exciting NM-TX Conference action at Holiday Bowl.
A challenging condition tested the bowlers all day long, with a 180 average more than enough to make the semifinals in scratch. The opening match of the semifinals was typical of that pace, with Tim Crites sneaking past Jacob Wright 158-148. Previous day's champion William Entsminger then beat Crites 225-175, and followed with a 206-186 win over first time scratch finalist Chris Brown to reach the title match.
The previous two weekends had the same bowler winning back to back titles in scratch (Tyler Cruz in Washington, Zach Martinez in Arizona), but to make it a three-peat, he'd have to get past top seed Carper, who led the tournament wire-to-wire, and was the only player to average over 200 in qualifying. Paul was in control of the title match, but the hard-charging Entsminger clawed his way back in it with late strikes. After Carper finished at 234, William had the chance to double to win, but when his first shot didn't strike, a relieved Paul claimed his first career scratch title, third of his season, and first since the 2003 Invitational- now that's a long-awaited win!
JBT newcomer Bradley Harvey opened the handicap division stepladder with a 193-176 win over Joseph Trujillo, setting up the always interesting situation of playing his twin brother and fellow newcomer Zachary in round two. This time, Zachary won the match 211-185, and he rode that momentum to a 205-176 win over Brittany Leiby to advance to the title match.
Top seed Sophie Diaz had led the event since the second game, and was looking to avenge some title match losses when she'd been in the same situation, most recently at Big Rock last season. Sophie remained in control the entire match, but a tenth frame open did give Harvey an opportunity to strike out in the tenth to tie. This was a nearly impossible task for anybody on the tough conditions laid out today, and when Zach was unable to pull off the miracle, Diaz had a 214-193 win and the 4th title of her excellent JBT career, while the Harvey family wrapped up an impressive debut with Zachary's runner-up finish.
Thanks to everyone at Holiday for another great job hosting our Tour. Over $1,200 in scholarships were awarded to bowlers of all averages age 21 and under- want in on the fun? Check out our schedule and come on down!
Holiday Bowl- final results and optional scholarship winners
9/12/2010
NM-TX Conference
Scratch Division
rank
name
prize
1
Paul Carper
$260
2
William Entsminger
$215
3
Chris Brown
$50
4
Tim Crites
$45
5
Jacob Wright
$35
6
Hannah Stedman
$30
7
Jacob Gill
8
Ryan Scheer
9
Wendy Shelton
$15
10
Josh Helmick
11
Ahkeen Williams
$15
12
Ryan Fast
$15
13
Aaron Raymond
14
Billy Read
15
Danny Cobine
16
William Yoder
17
Roger Johnson
18
Tom Crites
19
Tim Baribeau
20
Amber Robinson
21
Scott Wiley
22
Janeyl Carper
23
Seth Jaramillo
24
Marcos Armijo
25
Sara Vargas
26
Peter Cane
27
Tevynn Laws
28
Kirk Russell
Handicap Division
rank
name
prize
1
Sophie Diaz
$200
2
Zachary Harvey
$130
3
Brittany Leiby
$80
4
Bradley Harvey
$30
5
Joseph Trujillo
$20
6
Joey Balistreri
7
Jerimiah Cruz
$20
8
Lacey Shelton
9
Sam Zermeno
10
Robert Sample
11
Olivia Stedman
12
Tonia Barela
13
Joey Grant
14
Nick Sanchez
15
Olivia Silva
$30
16
Nicole Gallaegos
17
Micayla Scheer
18
Fernando Delarosa
$15
19
Stephanie Barela
20
Ben Stedman
21
Amberose Eddington
22
Ryan Doan
23
Jonah Seawright
24
Jerry Carter
Scratch High Games:
Raymondy 267
Entsminger 255
Wright 236
Cobine 231
Carper 239
Handicap High Games:
Diaz 270
J Cruz 247
Zermeno 240
Grant 239
Sample 237
Round Leaders (5 pts. Each)
Scratch
Handicap
Carper
Sample
Carper
Diaz
Carper
Diaz
Carper
Diaz
Carper
Diaz
Carper
Diaz
Carper
Diaz
Carper
Diaz
High Female:
H Stedman -68
W Shelton -96
S Diaz -96
O Stedman -176
Robinson -201
TOTAL AWARDED THIS EVENT: $1,205