BRC Kyrene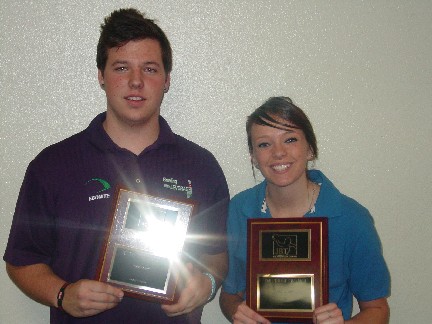 champs Riley Dempsey & Lindsey Ailport
Riley Dempsey and Lindsey Ailport dethroned two King Kyles to capture titles in exciting JBT Arizona Conference action at BRC Kyrene.
Mark Curtis opened up the scratch division stepladder finals with a 216-205 win over Rane Lacona. Curtis then got by first-time scratch finalist Travis Johnson 191-178, before Dempsey stopped Curtis 260-212 to advance to the title match.
Top seed Kyle King put on one of his all-time best JBT performances, rolling 300 in game five to complete a +313 five-game total, fourth best all-time. He coasted to the top seed from there, but had a tough title match opponent in Dempsey, expected to be one of Kyle's main challengers in Arizona this season. Going into the 8th frame, both bowlers were on big strings which kept pressure on the other, but a 10th frame solid-10 spelled doom for Kyle, while Dempsey put on his best title match performance in a 268-236 win. The victory was the fifth of Dempsey's JBT career.
Brittany Kolatzny opened a high-scoring handicap finals with a 253 game that beat Bethany Baker (229) and Justice Lynch (198) in round one. Brittany amped it up even more in round two, as her 275 beat Danielle Stewart (241) and Gillian Coyle (211). Lindsey Ailport then turned the tables on Kolatzny with a big 261, defeating Brittany (232) and Sandy Truman (198) to advance to the championship game.
Top qualifier Kyle Thompson opened the event with a 279 scratch game and never looked back, flirting with JBT scoring records by game four and easily grabbing the top seed for the finals. However, a determined Lindsey wasn't backing down, and when Kyle struggled a bit with some high hits, Ailport took advantage for the 236-214 win and a long-awaited first title of her JBT career.
Thanks as always to the crew at Kyrene for hosting our Tour where it all began back with tournament #1 in 1996 (this is tournament #773). Over $1,500 in scholarships were awarded to bowlers of all averages- want in on the fun? Come on out to the next JBT event, it's as simple as that!
BRC Kyrene- final results and optional scholarship winners
9/25/2010
Arizona Conference
Scratch Division
rank
name
prize
1
Riley Dempsey
$200
2
Kyle King
$335
3
Mark Curtis
$60
4
Travis Johnson
$30
5
Rane Lacona
$45
6
Labriel Leach
7
Curtis Lindeman
8
Sam Amaral
9
Justin Givler
10
Brian Weyrauch
11
Martika Cabezas
12
Kyle Karpovich
13
Zach Martinez
14
Derek Acuff
15
Marcus Stanley
16
Jordan Hastings
17
Joe Lewandowski
18
JD Sweet
19
Deven Johnston
20
Rebeca Reguero
21
Daniel Cotton
22
Derek Iozzio
23
Delano Coveris
Handicap Division
rank
name
prize
1
Lindsey Ailport
$200
2
Kyle Thompson
$160
3
Brittany Kolatzny
$75
4
Sandy Truman
$60
5
Gillian Coyle
$95
6
Danielle Stewart
$55
7
Bethany Baker
$45
8
Justice Lynch
$20
9
Danny Varholdt
$29
10
Alyssa Lynch
11
Isaiah Cleveland
12
Kayla Goad
13
Cortez Schenck
14
Savannah Carr
$30
15
Courtney Piazza
16
Britni Glasspool
17
Megan Carlson
$60
18
Kristen Lee
19
Stanford Bunce
20
Blake Kalaf
21
Stacey Lamb
22
Deborah Huard
$10
23
Lacey Truxel
$5
24
Jacob DiGiacomo
$20
25
Morgan Rapp
26
Nick Skalicky
27
Alexis Atkin
28
Joey Sorce
29
Josue Chavez
$15
30
Rabakah Gaynor
31
Caila Macias
32
Alex Pellegrino
33
Marina Stever
34
Brooke Martinez
35
Taylor King
$15
36
KJ Martinez
37
Samantha Newton
38
Ty Pacioni
39
Vincent Nolan
40
Joshua Molloy
41
Brock Hargrove
42
Jack Parcell
43
Jared Boscarino
44
Maura Swaim
45
Ryan Zent
46
Megan LaPrell
$15
47
Steven Acuff
48
Dakota Thompson
49
Zachary Rapp
50
Alex Cox
51
Brandon Hormann
Scratch High Games:
King 300
Lacona 286
King 277
King 269
King 268
Handicap High Games:
Thompson 317
Truman 314
Baker 288
Kolatzny 275
Ailport 272
Round Leaders (5 pts. Each)
Scratch
Handicap
Curtis
Thompson
Curtis
Thompson
King
Thompson
King
Thompson
King
Thompson
King
Thompson
King
Thompson
King
Thompson
High Female:
Kolatzny +53
Baker +27
Cabezas +16
Ailport +8
Stewart -30
TOTAL AWARDED THIS EVENT: $1,579