RIVERSIDE LANES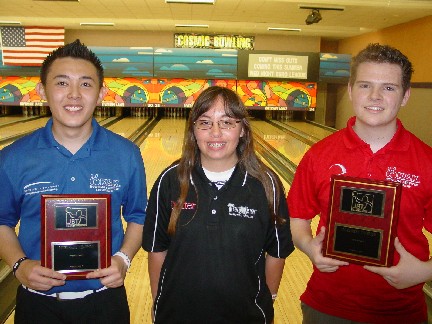 champs Dallas Leong & Paul Huether, with Women's Series champ Ashley Dunn
Dallas Leong and Paul Huether had the antidotes to all the poisons thrown at them, capturing titles in exciting dual conference JBT action at Laughlin's Riverside Lanes.
In the day's 'pick everyone's poison' format, the highest seed remaining alive of the 16 finalists got to set up everyone's matches, potentially a huge strategic advantage. On top of that, those matches used our nervewracker format, where matches tied 1-1 after two game went immediately to a tiebreaker rolloff. This produced dramatic results all through the matchplay lanes, with top scratch seed Zack Hattori managing to survive to the final four, but #1 handicap seed Brandon Duffy faltered in match one against #13 Ian Hanuscin, who ended up joining his brother, #2 seed Nathan (who took over poison-picking duties), in the final four.
In the scratch final four, #13 Kyle King roared past #2 Curtis Lindeman 276-192 and 211-176 to avoid the nervewracker. The other match was as crazy as it gets, as Hattori missed a tenth frame spare to give #5 Dallas Leong a 226-221 game one win. Dallas returned the favor in game two, missing a 10th frame spare to hand Hattori the 232-221 equalizer. Both bowlers struck on their first tiebreaker ball, but after Dallas struck on his second shot, Hattori's perfect second shot left a solid-8 pin, stunning the crowd and advancing Leong to the title match.
King crushed Dallas in the first title match game 268-225, but Leong was just as dominant in game two, winning 257-208, to set up a one-shot rolloff for the title. As the higher seed, Leong had the advantage of choosing lane and order, and after striking on his first shot, Kyle could only get 9 on a lane he had been fishing on a bit in recent frames, and the talented Leong captured the first title of his JBT career, which included bonuses from Ebonite, EFX, and Bowling Dynamics, a sponsor trifecta!
In the handicap final four, Nathan Hanuscin chose #7 Cerrell Cardines, and swept the two-hander 214-196 and 253-166, while big brother Ian fell to #9 Paul Huether 205-198 and a whopping 304-196, setting up the title match. Nathan had no choice but to 'choose' to play Paul this time, who had struggled in previous JBT appearances this season, but had no trouble with the lanes here. He continued his dominance in the title match, winning 234-167, and 228-183, capturing the 5th title of his excellent JBT career.
On top of everything else, it was also a JBT Women's Series event day. Top seed Ashley Dunn (who also led the entire scratch division early on) found herself trailing big to #2 qualifier Taylor King, but then fired off the last six strikes to take away the game 202-186, earning the first Women's Series title of her JBT career. She earns a $25 scholarship courtesy of Impact Bowling, and can turn that into a bonus $500 at the JBT Girls Invitational this July.
If you want in on this fun- and really, why wouldn't you?- check out our schedule and get yourself to a JBT event this season while there's still time!
Riverside Lanes- final results and optional scholarship winners
3/27/2011
Mojave & Arizona Conference
Scratch Division
rank
name
prize
1
Dallas Leong
$350
2
Kyle King
$110
3
Zach Hattori
$60
4
Curtis Linderman
$30
5
Labriel Leach
$30
6
Kyle Karpovich
7
DJ Sloan
8
Deven Johnston
9
Eric Hatchett
10
Kris George
$75
11
Ashley Dunn
$25
12
Jakob Butturff
13
Cameron Smith
14
Jordan Ferrer
15
Joe Lewandowski
16
Tony Rose
17
Zach Martinez
18
Brad Hansen
19
Aaron Foshie
$5
20
Nick Lee
21
Rebeca Reguero
22
Brandon Owen
23
Riley Dempsey
24
Dan Hansen
25
Josue Chavez
26
Mark Caparas
27
Derek Acuff
28
Sam Amaral
29
Veronica Schleicher
Handicap Division
rank
name
prize
1
Paul Huether
$240
2
Nathan Hanuscin
$100
3
Cerrell Cardines
$60
4
Ian Hanuscin
$50
5
Steven Acuff
$40
6
Danny Varholdt
$65
7
Jeff Goad
$20
8
Dakota Thompson
9
Brandon Duffy
10
Taylor King
$15
11
James Gabour
12
Kevin Mette
13
Lindsey Ailport
14
Alex Pellegrino
15
Jeremy Cardines
16
Bryan Phillips
17
Jack Parcell
18
Vincent Nolan
19
Corbin Hirsch
20
Megan Carlson
$50
21
Valry Swaim
22
Randi Speiler
$15
23
Donovan Koff
24
Nicholas Pollak
25
Mark Hugelmaier
$15
26
Samantha Meyers
$60
27
Savannah Carr
$45
28
Brittany Kolatzny
29
Andrew Guba
30
Drew Stern
$30
31
Marina Stever
$15
32
Alexis Atkin
33
Cortez Schenck
34
London Stein
35
KJ Martinez
$30
36
Audrey Campbell
37
Brooke Martinez
38
Kayla Goad
39
Josh Chefalo
40
Shani Snowden
Scratch High Games:
Hattori 279
Dunn 276
King 276
Lindeman 270
3 tied at 268
Handicap High Games:
P Huether 304
N Hanuscin 287
P Huether 282
Mette 281
Varholdt 275
Round Leaders (5 pts. Each)
Scratch
Handicap
Johnston
L Stein
Dunn
Varholdt
Hattori
Varholdt
Hattori
Duffy
Hattori
Duffy
High Female:
Dunn +66
King -9
Ailport -34
Reguero -55
Kolatzny -59
TOTAL AWARDED THIS EVENT: $1,515