MILWAUKIE BOWL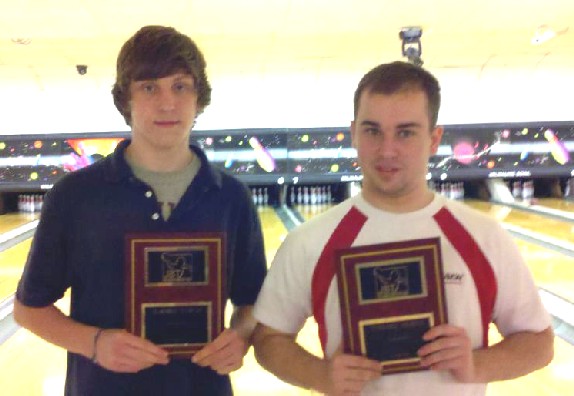 champs Brandon Loyear & Tyler Satter
Brandon Loyear tasted JBT victory for the first time, while Tyler Satter scored a very important second win, in exciting JBT Pacific Northwest Conference action at Dave Husted's Milwaukie Bowl.
Scores were very high all day long, a relative rarity in this Conference, and Perry Crowell, who rolled the event's only 300 game, came up with another big number in a 268-223 win over Cameron Weier to open up the scratch division stepladder finals. Jeremy Witt then beat Crowell 235-158. Loyear then turned the tables on Witt 227-183 to advance to the title game.
Top seed Tanner Spacey had crept up the leaderboard all day, rolling a 732 semifinal set to grab the number one spot. However, Tanner, looking for his first win, struggled in the title game, and while Brandon didn't put up a huge number, his 194-163 win was plenty good enough for the first title of his JBT career.
Ryan Laird opened up the handicap division stepladder finals with a 261-201 victory over Luke Jordan, who was making his third finals in a row, having gone back to back in Las Vegas last weekend. Brandon Myers, who led six of the eight rounds, then edged Laird 221-216. JBT rookie Aarika Paolo then beat Myers 222-190 to advance to the title match.
Top seed Satter had been slipping in points since his hot start this season, but turned it around by grabbing the lead here. Despite a good effort from newcomer Aarika, he was able to stay in control in the title game, and his 215-197 win earned him the second title of his JBT career. It also jumped him right back in the thick of the points and Bowler of the Year races with just three events left.
Thanks as always to PBA Hall of Famer Dave Husted for hosting our event, which this time awarded over $1,700 in scholarships to bowlers of all ages and averages.
Milwaukie Bowl- final results and optional scholarship winners
5/21/2011
Pacific Northwest Conference
Scratch Division
rank
name
prize
1
Brandon Loyear
$250
2
Tanner Spacey
$125
3
Jeremy Witt
$75
4
Perry Crowell
$75
5
Cameron Weier
$60
6
John Jordan
$40
7
Darren Stanley
$90
8
Tyler Cruz
$20
9
Thomas Nute
10
Josh Jackson
$50
11
Evan Pendergraft
12
Anthony Douglas
13
Correen Lieber
$50
14
Tristan Curtis
15
Alex Earle
16
Tyler Stickler
17
Cody Pike
18
Matt Bostrom
19
Sarah Boe
20
Brian Monette
21
Makayla Douglas
22
Patrick Hickok
$30
23
Tyler Boe
$40
24
Dalton Camosso
25
Schrader White
26
Catherine Rawsthorne
27
Ryan Nikolas
28
Michael Paulson
29
Josh Mullen
$10
30
Zach Hemming
31
Courtney Nikolas
32
Travis Smart
33
Andrew Hertiage
34
Robert Altieri
35
Derek Johnson
35
Darren Stanley
Handicap Division
rank
name
prize
1
Tyler Satter
$300
2
Aarika Paolo
$100
3
Brandon Myers
$70
4
Ryan Laird
$50
5
Luke Jordan
$40
6
Khalid Lucas
$55
7
Ally Paolo
8
Austin Gratzer
9
Brittany arndt
$60
10
Samantha Smart
$15
11
Mitchell Barber
$30
12
Kara Lieber
13
Jacqui Binam
14
Kyle Hays
$50
15
Kevin Obrist
16
Kjerstin Richards
$15
17
Tessa Friason
18
Connor Gracia
19
Brittany Fenwick
20
Nick Devlin
21
Toby Shepherd
22
Bri Hemming
$15
23
Kyler Crevier
24
David Scott
$30
25
Jacob Fukuyama
26
AJ Scherschel
27
Alexa Lanning
28
Nicole Stickler
29
Drew Stern
30
Kelsey Abrahamsen
31
Tre Manning
$5
32
Michelle Jensen
33
Zoe Mahn
34
Megan Green
35
Becky Davidson
36
Max Polhill
Scratch High Games:
Crowell 300
Curtis 299
Bostrom 289
Witt 280
Jordan 280
Handicap High Games:
Obrist 300
Gracia 287
Satter 287
L Jordan 286
Lucas 279
Round Leaders (5 pts. Each)
Scratch
Handicap
Crowell
K Richards
Witt
Myers
Crowell
Myers
Witt
Myers - Satter
Witt
Satter
Witt
Myers
Loyear
Myers
Spacey
Satter
High Female:
C Lieber +161
S Boe +76
M Douglas +66
C Rawsthorne +56
Nikolas -9
TOTAL AWARDED THIS EVENT: $1,570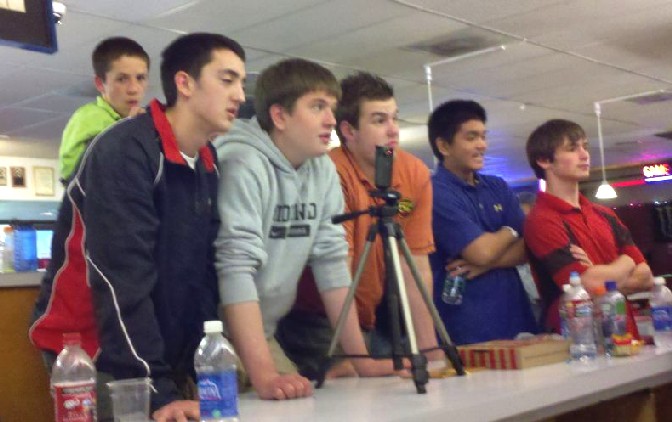 A packed recording studio- watch the videos- if you dare- on youtube!