Mira Mesa Bowl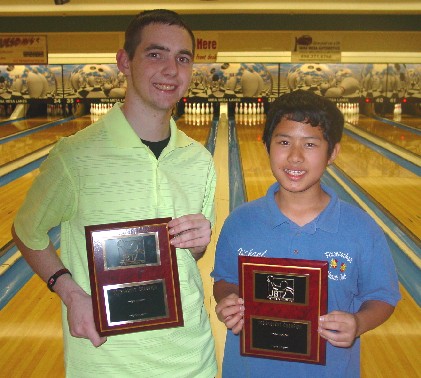 champs Mark Myers and Michael Ma
It was all about MM & MM at MMB, as Mark Myers and Michael Ma captured JBT titles at Mira Mesa Bowl in San Diego.
The field bowled on the PBA's Tournament of Champions lane condition, a low-volume but 50-foot long pattern that really challenged the bowlers, producing a very low cut in both divisions. Carol Chui snuck into the #5 position for the handicap finals, and then went on a 3-game tear, beginning with a 229-209 win over Alex Zwingmann, following with a 213-206 squeaker over Alyssa Okuniewicz, and then taking down Leann Kampley 230-209 to reach the title match.
Top seed Michael Ma took over the lead in game five, and didn't look back en route to grabbing the top seed. Carol was looking to join big brother Kirk as a JBT champion, but Ma had other ideas, finishing off his best JBT event ever with a 224-193 win to grab the first title of his JBT career.
The scratch division finals opened with a math indicative of just how tough the pattern was, as Mark Myers edged Riley Dempsey 156-155. Mark then caught some momentum, beating Wesley Low 192-179, and following with a 223-186 win over DeeRonn Booker to reach the title match.
Top seed Travis Hewitt made the trip from Northern California a success by leading the event (at -27) after five games and hanging on through matchplay for the top seed. Then, disaster struck as his arm cramped up during his warm-up shots, and got progressively worse. It was tough to watch, but a million times tougher for Hewitt of course, in severe pain but still right in the match after eight games. In the end, though, Mark had enough pins in the tenth to shut out Travis, who understandably didn't finish the game, and Myers finished the ladder-climb and earned his second career JBT title. Hats off to both Mark for the grindout bowling, and Travis for one of the gutsiest performances I've ever seen live.
Thanks as always to Mira Mesa for hosting our event, which awarded over $1,600 in scholarships to under-22 bowlers of all ages and averages. Want in on the fun? Come on out to the next JBT event, it's that simple!
Mira Mesa Bowl- final results and optional scholarship winners
10/30/2010
Southern California Conference
Scratch Division
rank
name
prize
1
Mark Myers
$225
2
Travis Hewitt
$130
3
DeeRonn Booker
$50
4
Wesley Low
$168
5
Riley Dempsey
$30
6
James Hawkins
$20
7
Kenny Beaver
$38
8
Steven Manier
9
Patrick Smith
$15
10
Cameron Smith
$45
11
Brandie Woodward
12
Jordan Ferrer
13
Tim Ursillo
14
Nick Vinyard
15
Aaron Foshie
$15
16
Brandon Turner
17
Kirk Chui
18
Rebeca Reguero
19
Andre Hernandez
20
Mark Hugelmaier
21
Victor Berge
22
Rance Dvorak
23
Derek Acuff
24
Ben Canfield
25
Ashley Dunn
26
Gary Smith
27
Shane Peck
28
Mark Curtis
29
Daniel Ploner
30
Reeza Rabara
31
David Fritz
32
Bryan Rondeau
33
Harold Hill
34
Courtney Brown
35
Mark Mansfield
36
Craig Hernandez
Handicap Division
rank
name
prize
1
Michael Ma
$200
2
Carol Chui
$130
3
Leann Kampley
$70
4
Alyssa Okuniewicz
$60
5
Alex Zwingmann
$65
6
Kevin Labar
$40
7
Cortez Schenck
$30
8
Tyler Wolff
$20
9
Jamie Spector
10
Steven Kampley
11
Megan Carlson
$105
12
Kayla Goad
13
Jonathan Braun
14
Jenny Phandanouvong
15
Shauna Schultz
16
Miranda Jones
17
Randi Speiler
18
Dylan Bock
19
Kristian Lusterio
20
Matthew Zweig
$95
21
Savannah Carr
$55
22
Marguerite Evans
23
Isaiah Cleveland
24
Samantha Meyers
25
Eric Demo
26
Jake Francisco
27
Jacob Camacho
28
Kyle Andrews
$5
29
Vincent Nolan
30
Alexis Atkin
31
Tyler Ottenschot
32
Luke Holley
33
Daniel Jacoby
34
Kennison Andrews
35
Jake LaChappa
36
Brittany Kolatzny
37
Isaac Stearns
38
Jacob Potts
39
Zoren Hartfield
40
Ricardo Mendoza
41
Harley Sweigart
42
Steven Acuff
Scratch High Games:
Low 266
Myers 244
Hewitt 244
Hewitt 242
Booker 235
Handicap High Games:
L Kampley 257
Zwingmann 243
Zwingmann 240
Okuniewicz 240
Okuniewicz 239
Round Leaders (5 pts. Each)
Scratch
Handicap
Myers
Zwingmann
Myers
Spector
Myers
Braun
Hewitt
Ma
Hewitt
Ma
Hewitt
Ma
Hewitt
Ma
Hewitt
Ma
High Female:
Carlson -134
Woodward -139
Spector -142
Goad -150
Reguero -159
TOTAL AWARDED THIS EVENT: $1,611