Narrows Plaza Bowl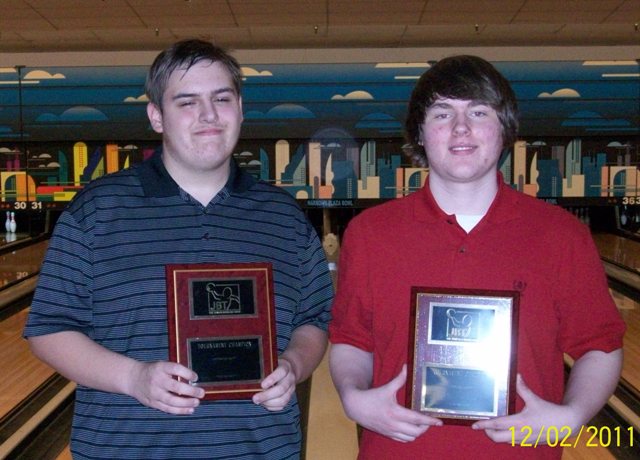 champs Darren Stanley & Thomas Nute
Darren Stanley capped off a dream day for his first career JBT title, while Thomas Nute rolled along with title #3, in exciting JBT Pacific Northwest Conference action at Tacoma's Narrows Plaza Bowl.
Nick Bachteler rocketed up the scratch division stepladder finals prior to his meeting with fellow lefty Stanley. He began with a 199-183 win over Perry Crowell IV, who finished V. Bachteler then eliminated Ryan Jamrog 226-202, and followed with a 256-217 win over Anthony Douglas to reach the final match.
Stanley earlier rolled a perfect 300 game, AND a 290 game, both in qualifying, to totally dominate the high scoring day en route to the top seed. Though Bachteler put up a heck of a fight, Darren remained completely locked in and his tenth frame mark was good for a 255-243 win and his first career JBT title.
Bri Hemming opened up the high scoring handicap stepladder finals with a 242-223 win over Connor Gracia. Nute then took over, defeating hemming 219-195, and following with a 265-223 win over Vince Bachteler, Nick's brother, to reach the title match.
Top seed Luke Jordan also had a dream day, firing the event's other 300 game in game eight, leaping into half the Tour's arms afterward, as well as leaping into the top seed for the finals. The scoring pace came down in this match, but in the end Nute outlasted Jordan 210-205 for the title, the third of the talented portsider's JBT career.
Thanks as always to the great crew at Narrows for hosting us. Over $1,200 in scholarships were awarded, so if you want your share just check out or schedule and come on down to our next stop!
Narrows Plaza- final results and optional scholarship winners
2/12/2011
Pacific Northwest Conference
Scratch Division
rank
name
prize
1
Darren Stanley
$230
2
Nick Bachteler
$100
3
Anthony Douglas
$130
4
Ryan Jamrog
$60
5
Perry Crowell IV
$85
6
Jared McNeal
$30
7
Tyler Cruz
$20
8
Patrick Hickok
$30
9
Catherine Rawsthorne
10
Tanner Spacey
11
Casey Jamrog
12
Tristan Curtis
$15
13
Schrader White
14
Coreen Lieber
15
Ray Nugent
16
Makayla Douglas
17
Josh Jackson
$15
18
Ryan Showalter
$15
19
Alex Earle
20
Leea Haworth
21
Tyler Stickler
22
Craig Dodd
23
Sam Burns
24
Sarah Boe
$5
25
Quinton Miller
26
Matt Lewis
27
Robert Altieri
28
Cameron Weier
29
Josh Mullen
30
Sean Chesterfield
31
Jeremy Witt
32
Shawn Terwillegar
$5
33
Ricky Leighton
34
Zach hemming
35
Courtney Couch
36
Makenzie Cherne
37
Tyler Boe
38
Katie Beismann
39
Eddy Smith
40
Evan Pendergraft
Handicap Division
rank
name
prize
1
Thomas Nute
$230
2
Luke Jordan
$100
3
Vince Bachteler
$50
4
Bri Hemming
$70
5
Connor Gracia
$20
6
Zoe Mahn
$60
7
Kjerstin Richards
8
Alan Vancleeve
9
David Scott
10
Jacob Grimes
11
Andy Herrmann
$5
12
Tyler Satter
$15
13
Kelsey Abrahamsen
14
Jamilah Ousley
15
Max Polhill
16
Nicole Stickler
17
Kolby Crowell
18
Kyle Hays
19
Jacob Mullen
20
Toby Shepherd
21
Blaire Crutchley
22
Kara Lieber
23
Trevor Gates
Scratch High Games:
Stanley 300
Stanley 290
A Douglas 279
M Douglas 275
Stanley, Terwillegar 268
Handicap High Games:
L Jordan 322
Gracia 283
L Jordan 267
Herrmann 261
V Bachteler 260
Round Leaders (5 pts. Each)
Scratch
Handicap
Stanley
D Scott
Nugent
D Scott
McNeal
D Scott
Stanley
Mahn
Stanley
V Bachteler
Stanley
Nute
Stanley
V Bachteler
Stanley
L Jordan
High Female:
Rawsthorne +82
Lieber +54
Haworth +52
M Douglas -1
S Boe -18
TOTAL AWARDED THIS EVENT: $1,290