Narrows Plaza Bowl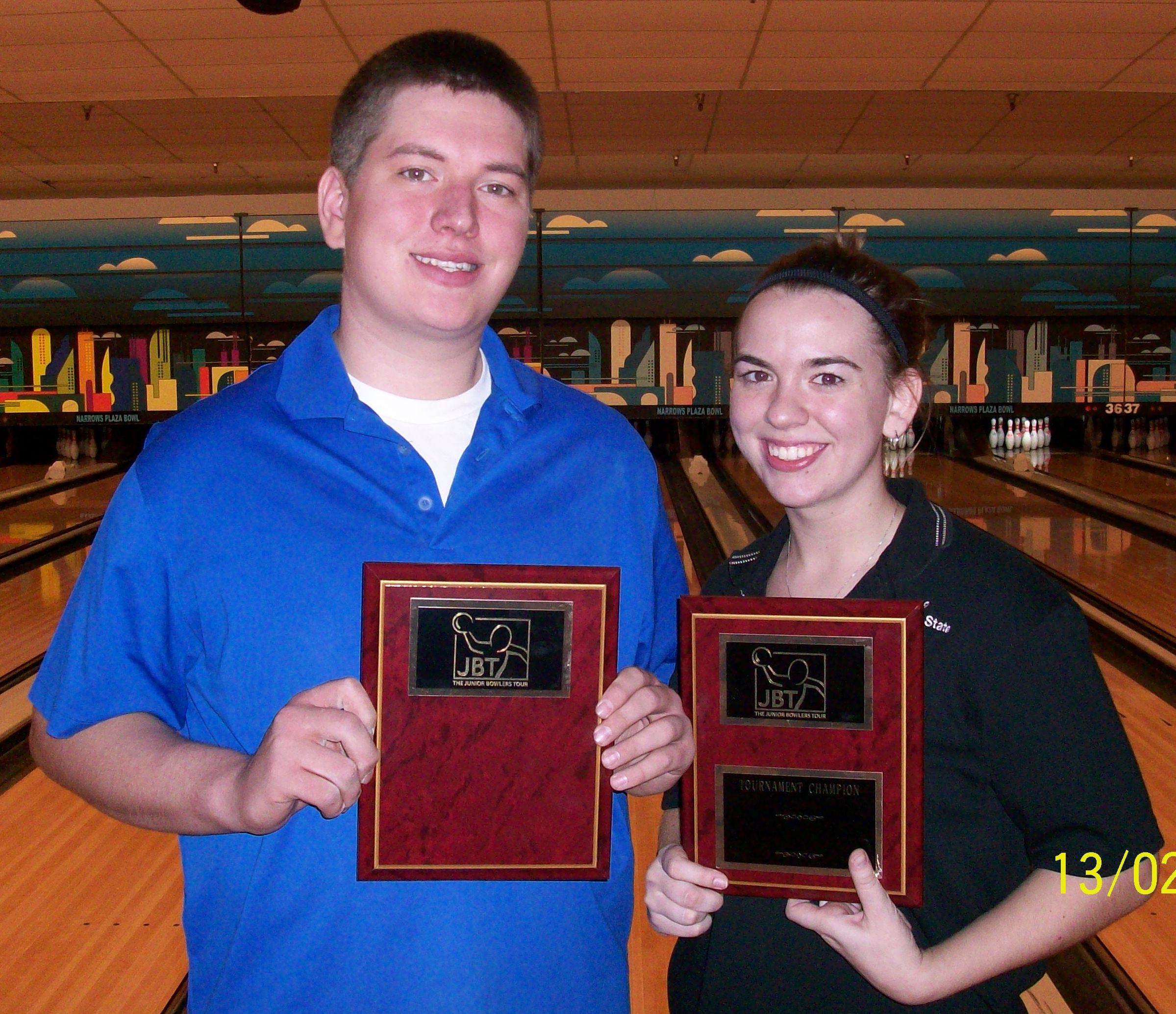 champs Perry Crowell IV & Kjerstin Richards
Perry Crowell IV and Kjerstin Richards made double points victories at Narrows Plaza even bigger by both capturing the four event mini-series at Narrows as well, in exciting Pacific Northwest Conference JBT action.
Makayla Douglas made her first scratch finals of the season a success with a 210-178 win over Jeremy Witt in round one. In an unrelated, all-Douglas round two, Anthony Douglas beat Makayla 223-185. Crowell then upended Anthony 227-158 to advance to the title match.
Scores were generally lower today on Kegel's Broadway pattern than they were on the Stone Street pattern, but don't tell that to top seed Marshall Kent, who dominated at over +300 for eight games. However, a determined Crowell was too tough in the title match. Perry beat Marshall 231-213, good for the second title of his JBT career.
Richards climbed the ladder for her 2nd career JBT victory. She opened with a 231-212 win over the always tough Zoe Mahn. She then beat John Ildefonso 229-183, and followed with a 239-190 win over Luke Jordan, who made the finals both days this weekend, to advance to the title match.
Top seed Khalid Lucas stayed consistent all day to top a low-scoring handicap field, but had no answer for Kjerstin, who despite a lower score herself still had plenty for a 192-166 win and the championship. Both Richards and Crowell had the best overall results from the four JBT events hosted by Narrows Plaza this year, earning a bonus package that included an Ebonite ball, JBT shirt and towel, and a bowling party generously donated by Lee and the great crew at Narrows Plaza, who did a great job filling in the February date, as well as every time we visit!
Over $1,400 in scholarships were earned at this important tournament- want in on this unmatched level of fun and prizes? Check out our schedule and don't miss the next JBT event, that's all there is to it!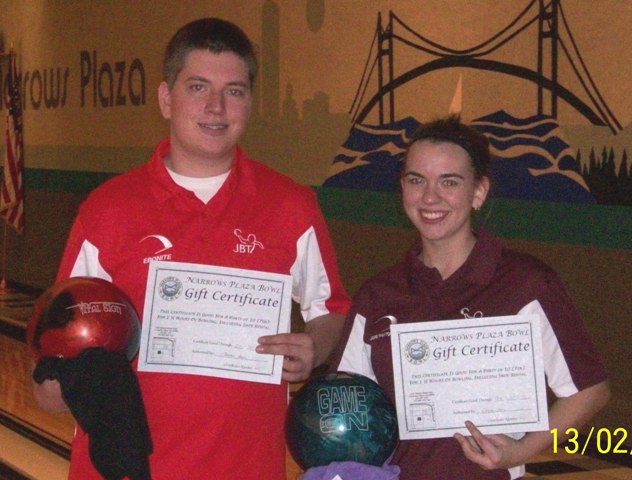 Perry and Kjerstin with their terrific bonus prize packages!
Narrows Plaza- final results and optional scholarship winners
2/13/2011
Pacific Northwest Conference
Scratch Division
rank
name
prize
1
Perry Crowell IV
$300
2
Marshall Kent
$200
3
Anthony Douglas
$90
4
Makayla Douglas
$75
5
Jeremy Witt
$95
6
Jared McNeal
$40
7
Patrick Hickok
$30
8
Sean Chesterfield
$20
9
Shawn Terwillegar
10
Cameron Weier
11
Schrader White
12
Eddy Smith
13
James Bretthaver
14
Tyler Cruz
15
Makenzie Cherne
16
Catherine Rawsthorne
17
Alex Earle
18
Quinton Miller
$5
19
Tyler Boe
20
Courtney Couch
21
Tristan Curtis
22
Matt Lewis
23
Darren Stanley
24
Evan Pendergraft
25
Brandon Dunson
26
Josh Mullen
27
Ray Nugent
28
Ryan Showalter
29
Payden Stumpf
30
Ryan Jamrog
31
Josh Jackson
32
Sam Burns
33
Tanner Spacey
34
Nick Bachteler
35
Sarah Boe
36
Michael Paulson
37
Craig Dodd
38
John Jordan
39
Daniel Hansen
40
Tyler Stickler
41
Zach Hemming
42
Casey Jamrog
43
Katie Beismann
44
Steve Duncan
45
Coreen Lieber
46
Ricky Leighton
47
Leea Haworth
Handicap Division
rank
name
prize
1
Kjerstin Richards
$215
2
Khalid Lucas
$95
3
Luke Jordan
$100
4
John Ildefonso
$30
5
Zoe Mahn
$35
6
Connor Gracia
7
Thomas Nute
$15
8
Max Polhill
9
Blaire Crutchley
10
Andy Herrmann
11
Kelsey Abrahamsen
$45
12
Kyle Hays
$15
13
Kyle Jonson
$15
14
Bri Hemming
$20
15
Brett Scott Jr
16
Elisabeth Couch
17
Madison Crockett
18
Jamilah Ousley
19
Toby Shepherd
20
Tyler Satter
$15
21
Trevor Gates
22
Kolby Crowell
23
Jacob Mullen
$15
24
Jordan Kent
25
Kara Lieber
26
Vince Bachteler
27
Mandy Cramer
28
Alan Vancleeve
29
David Scott
30
Mitchell Barber
31
Andre Calipes
Scratch High Games:
M Douglas 280
Hickok 269
Crowell 267
A Douglas 266
Curtis, Witt 256
Handicap High Games:
Lucas 301
K Hays 275
Gracia 272
Abrahamsen 259
Crockett 252
Round Leaders (5 pts. Each)
Scratch
Handicap
A Douglas
Lucas
A Douglas
Lucas
A Douglas
Lucas
Kent
Lucas
Kent
Lucas
Kent
Gracia
Kent
Lucas
Kent
Lucas
High Female:
M Douglas +116
Couch +34
Cherne +1
Rawsthorne -26
S Boe -101
TOTAL AWARDED THIS EVENT: $1,470