NM-TX INVITATIONAL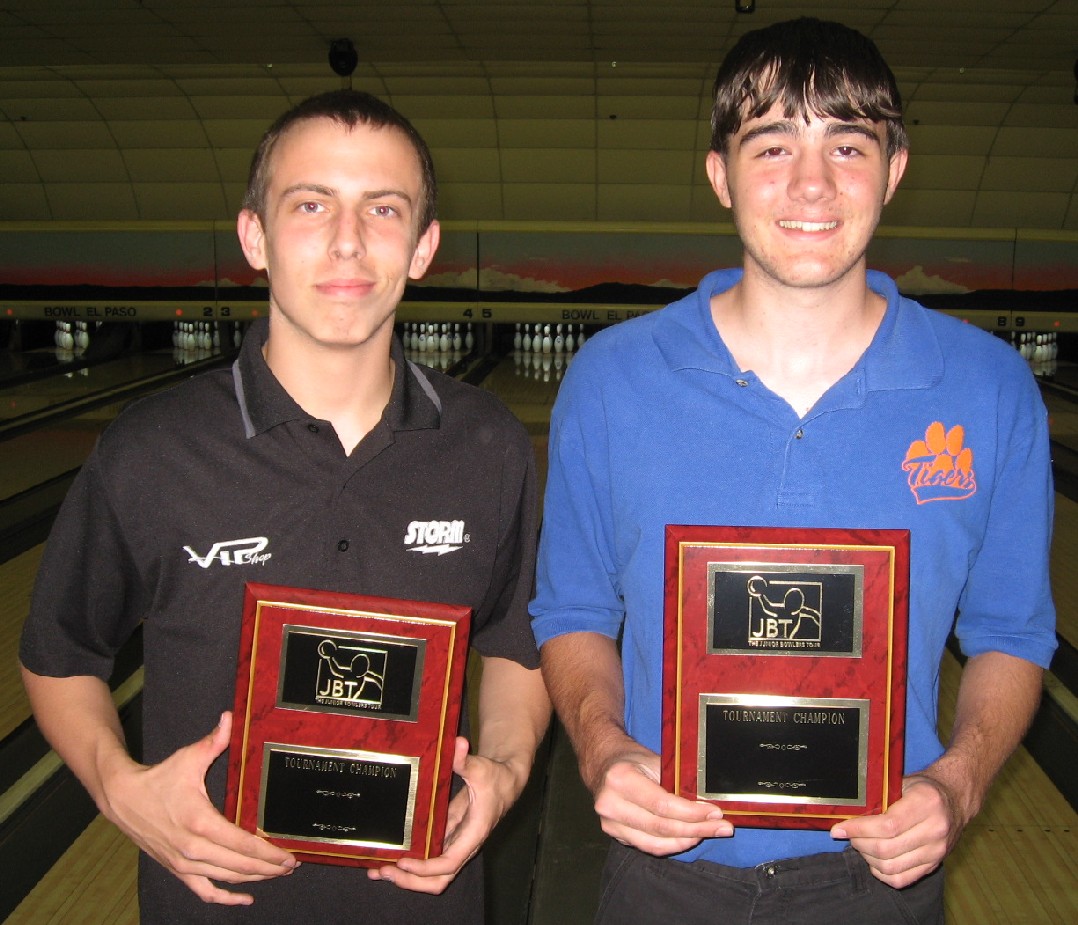 champs Billy Read & Josh Demick
Billy Read and Josh Demick earned $1,000 scholarships each as champions of the 2011 JBT NM-TX Conference Invitational Tournament, hosted by Bowl El Paso.
Read had a slower season than he'd hoped for, but turned that all around with a completely dominant performance all day. He took over the lead in game three of qualifying en route to the top seed, then proceeded to go 8-1 in matchplay to win the title. William Entsminger eventually emerged from the two-loss matches to take on Billy, and needed two wins to take away the title. The always-tough veteran looked good through seven frames, but then Billy strung the last five strikes to finish at an even 200 to force Entsminger to double. William's first shot in the tenth came up high, and locked up the win for Read. The championship was the 6th of Billy's JBT career, and second major, having won the Main Event handicap division back in 2007. Matt Helmick finished third (joining both brothers in the finals for a rare trifecta), early leader Danny Cobine finished fourth, and Sara Vargas turned in an excellent performance to round out the top five.
Demick qualified sixth for matchplay, and after an opening game loss, never tasted defeat again, winning eight in a row to take the title. The last opponent in Demick's way was Kayla Goad, who was eager for a shot at revenge, as Josh and Kayla played a classic title match earlier this year in Lubbock, with Josh squeezing out the high-scoring win. Unfortunately for Kayla, who was the top qualifying seed, she couldn't quite catch up to Demick, and in the end Josh's 212-201 win was good for his second career JBT title, first major, and the $1,000 scholarship windfall. Cerra Strickland finished in third, it was Joey Balistreri in fourth, and Zachary Harvey completing the final five.
The top 20 point scorers now advance to the 2011 JBT Touring Players Championship in August. The NM-TX Conference will start its new season in early September- keep checking the website for all the schedule details and everything else we have in store for 2011-12!
Thanks as always to the crew at Bowl El Paso for hosting our event, which awarded over $6,500 in scholarships to the 63 qualifiers.
NM-TX Invitational- final results and optional scholarship winners
5/22/2011
NM-TX Conference
Scratch Division
rank
name
prize
1
Billy Read
$1,000
2
William Entsminger
$585
3
Matt Helmick
$300
4
Danny Cobine
$200
5
Sara Vargas
$150
6
Riley Dempsey
$200
7
Derek Acuff
$75
8
Chris Brown
$175
9
Curtis Lindeman
$75
10
Ahkeen Williams
$75
11
Paul Carper
$280
12
Joe Lewandowski
$95
13
Caleb Goehring
$50
14
Labriel Leach
$50
15
Josh Helmick
$50
16
Amber Robinson
$50
17
Brandon Gill
18
Rebeca Reguero
$35
19
Kevin Ives
$15
20
Tevynn Laws
21
Aaron Foshie
22
Gregg Kern
23
Nick Lee
24
Jacob Gill
25
Janeyl Carper
26
Ryan Fast
27
Michael Hipkins
28
Seth Jaramillo
Handicap Division
rank
name
prize
1
Josh Demick
$1,000
2
Kayla Goad
$500
3
Cerra Strickland
$300
4
Joey Balistreri
$230
5
Zachary Harvey
$180
6
Ethan Coombes
$100
7
Jake Helmick
$105
8
Cortez Schenck
$130
9
Dale Coffee
$75
10
Luis Cintron
$75
11
Nick Sanchez
$205
12
Jonah Seawright
$80
13
Priscilla Red
$65
14
Steven Acuff
$80
15
Audrey Campbell
$89
16
Lacey Shelton
$140
17
Joe Dominguez
$30
18
Brad Harvey
19
Fernando Delarosa
20
Marina Stever
21
Linzi Martinez
22
KJ Martinez
$30
23
Savannah Carr
$50
24
Aurora Popple
25
Jacqueline Valenzuela
$15
26
Geny Posada
27
Brittany Leiby
$30
28
Brooke Martinez
29
Dillon Farfan
30
Kelly McNeil
31
Kallista Fritts
32
Bryan Nogan
33
Zachary Wojciechowski
34
Katie McNeil
35
Dallas Ehlert
Scratch High Games:
Lindeman 268
Read 247
Read 246
Laws 245
M Helmick 243
Handicap High Games:
Seawright 259
Strickland 251
Coombes 246
Z Harvey 246
Jake Helmick 240
Round Leaders (5 pts. Each)
Scratch
Handicap
Cobine
Strickland
Cobine
Coombes
Read
Z Harvey
Read
Balistreri
Read
Goad
High Female:
Goad -46
Robinson -84
Vargas -92
Reguero -105
Stever -173
TOTAL AWARDED THIS EVENT: $6,945