PACIFIC LANES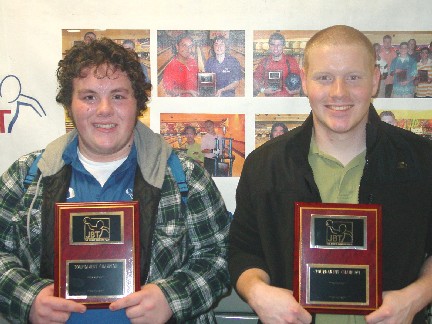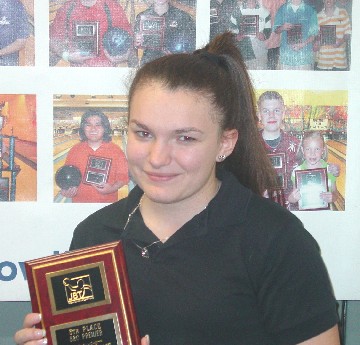 champs John Jordan & Justin Shea; Women's Series champ Katie Beismann
John Jordan and Justin Shea captured their first JBT titles in the exciting debut of the 'oadotat' format at Tacoma's Pacific Lanes.
In 'oadotat', after a five game qualifier and cut to the top 16, bowlers competed in matchplay where the lower seeded bowler needed to win twice to win a match, but the higher seeded bowler only needed to win once, thus 'one and done or two and through'. This makes the 5-game qualifier extremely important, even in the drop-pins format of matchplay, and it showed as the top seeds advanced to the final four in both divisions.
In the scratch division, top seed Anthony Douglas had led since game two, but Jordan stopped him, winning 191-183 and 231-224. Meanwhile, #7 seed Josh Jackson needed both games to stop #12 Eddy Smith 197-211 and 221-183 to advance. Josh and John have similar styles, but after Jackson won the first game to force a decider, it was Jordan who came up biggest in the finals, winning in the deciding game 228-203 for the long-awaited first career title.
In the handicap division, top seed Shea stopped #4 Alan Vancleeve in the first game 212-167 to advance. The other match was a true roller-coaster, as #7 Brett Scott looked fated for elimination when #2 Toby Shepherd marked in the tenth, but Toby guttered on the fill ball, creating a 195-195 tie, forcing a rolloff which Brett won to force a second game. Shepherd had a chance to double to win the second game, but a solid-10 cost him a heartbreaking 229-219 loss, but a thrill for Scott as he advanced to the title game.
Justin had been unable to finish the deal in previous title matches, but this time proved to be different, as Shea won the first game 201-183 for the victory and the first title of his JBT career.
In Women's Series action, Katie Beismann's strike on the first shot of the tenth frame proved to be the difference in a 187-185 tough battle against Sarah Boe for the day's title. Katie now has a shot at a $500 bonus at the Girls Invitational this summer in Las Vegas.
Thanks as always to the crew at Pacific for their great job hosting our Tour. Over $1,600 in scholarships were awarded to bowlers of all ages and averages- want in on the fun? Come on out to the next JBT event, it's that simple!
Pacific Lanes- final results and optional scholarship winners
1/15/2011
Pacific Northwest Conference
Scratch Division
rank
name
prize
1
John Jordan
$225
2
Josh Jackson
$150
3
Anthony Douglas
$80
4
Eddy Smith
$70
5
Nick Bachteler
$75
6
Marshall Kent
$208
7
Dalton Camosso
$40
8
Ryan Jamrog
$30
9
Matthew Bostrom
$80
10
Ryan Showalter
$38
11
Michael Paulsen
12
Jeremy Witt
13
Tyler Stickler
14
Aaron Yoon
15
Tyler Cruz
16
Sarah Boe
$10
17
Tyler Boe
$10
18
Thomas Nute
19
Tristan Curtis
20
Evan Pendergraft
21
Tanner Spacey
22
Josh Mullen
23
Katie Beismann
$25
24
Perry Crowell 12.56 / pi
25
Danaka Heekin
26
Correen Lieber
27
Quinton Miller
28
Payden Stumpf
29
Matt Lewis
30
Ray Nugent
31
Casey Jamrog
32
Makayla Douglas
33
Cameron Weier
34
Cody Pike
35
Zach hemming
36
Brandon Loyear
37
Alex Earle
38
Shannon Dexter
39
Robert Altieri
40
Schrader White
41
Kevin Tindell
42
Tyler Porter
43
Catherine Rawsthorne
44
Shawn Terwillegar
45
Ryan Nikolas
46
Craig Dodd
47
Ricky Leighton
48
Sam Burns
Handicap Division
rank
name
prize
1
Justin Shea
$200
2
Brett Scott
$130
3
Toby Shepherd
$58
4
Alan Vancleeve
$55
5
Bryan Ortiz
$40
6
Khalid Lucas
$35
7
Becky Davidson
$20
8
Kelsey Abrahamsen
$28
9
Zoe Mahn
$45
10
Tyler Satter
$15
11
Austin Gratzer
12
Kara Lieber
13
Makenzie Cherne
14
Bri Hemming
15
Isaac Ortiz
16
Vince Bachteler
$15
17
Ryan Gallagher
18
Trveor Gates
19
Jacob Grimes
$15
20
Nicole Stickler
21
Elisabeth Couch
22
Marina Stever
23
Orion Turnbull
$5
24
Oakley Murphy
25
Xavier Barnes
26
Dylan Odom
27
Andy Herrmann
28
Joseph Herrera
29
Madison Crockett
30
Max Polhill
Scratch High Games:
Smith 269
Showalter 266
Douglas 258
Smith 248
Beismann 247
Handicap High Games:
Shepherd 274
Lucas 265
Vancleeve 258
Shea 243
B Hemming 238
Round Leaders (5 pts. Each)
Scratch
Handicap
E Smith
Vancleeve
A Douglas
Shepherd
A Douglas
Shepherd
A Douglas
Shepherd
A Douglas
Shea
High Female:
Boe -65
Beismann -95
Cherne -101
Heekin -103
C Lieber -103
TOTAL AWARDED THIS EVENT: $1,692