Red Rock Lanes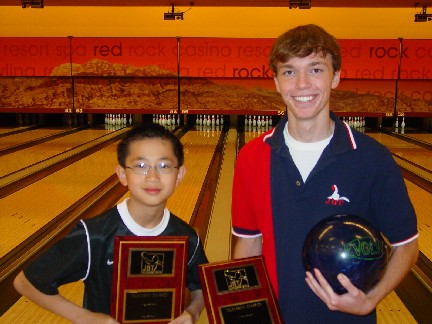 champs Wesley Low & James Gabour
Wesley Low made some JBT history, While James Gabour made some personal history of his own, with exciting wins in JBT Mojave Conference season-opening action at the amazing Red Rock Lanes.
JBT rookie Jakob Butturff opened the scratch division of the stepladder finals with a 220-193 win over Spenser Lilley. Zack Hattori then defeated Butturff 278-222. Brandon Allred then beat Hattori 233-164, to advance to the title match.
Top seed Wesley Low, last season's Southern California handicap division Bowler of the Year, had no trouble with either the transition to scratch, or the challenging Tournament of Champions lane condition, rolling all 8 games over 200 to lead since game two. The title match against the talented veteran Allred was a great one, though. After Low finished with spare-strike in the tenth, Brandon needed a double in the tenth to win. Allred's first shot came in light but struck, and his second was better, but a stubborn 10-pin stood, giving Low the 200-194 win, and the 4th title of his JBT career. At just 13 years old, Wesley becomes one of the youngest scratch champions in JBT history.
The handicap division finals opened with the always-interesting situation of a sibling rivalry, as younger brother KJ Martinez beat big sister Brooke Martinez 196-189. KJ then beat Gabriella Weis 237-212. Newcomer Jhared Gonzalez, who also won the day's Ebonite bowling ball, then beat KJ 236-202, to reach the title match.
Top seed James Gabour had also been leading the event since game two, and this was the second straight season he opened the season as the top seed at Red Rock. Unlike last year, this time he was able to finish the deal, defeating Gonzalez 229-203 for a long awaited first title of the JBT veteran's career.
Thanks to the great crew at Red Rock for hosting our Tour again. Over $1,300 in scholarships were awarded to bowlers of all ages and averages. Want in on the fun? Come on down to the next JBT event, it's that simple!
Red Rock Lanes- final results and optional scholarship winners
9/18/2010
Mojave Conference
Scratch Division
rank
name
prize
1
Wesley Low
$230
2
Brandon Allred
$115
3
Zack hattori
$110
4
Jakob Butturff
$30
5
Spenser Lilley
$30
6
Aaron Foshie
7
Jordan Katz
8
Dallas Leong
$15
9
Gregg Kern
10
DJ Sloan
11
Dan Hansen
$75
12
Eric Hatchett
13
Rebeca Reguero
$30
14
Ian Hanuscin
15
Nick Lamek
16
Riley Dempsey
17
Ryan Howard
18
Jordan Ferrer
19
Donovan Koff
20
Teddy Lucente
21
Brad Hansen
22
Tony Rose
23
Jordan Ono
24
Zach Martinez
25
Jeremy Cardines
26
Marina Stever
27
Justin Givler
Handicap Division
rank
name
prize
1
James Gabour
$315
2
Jhared Gonzalez
$105
3
KJ Martinez
$80
4
Gabriella Weis
$30
5
Brooke Martinez
$35
6
Nicholas Pollak
$15
7
Kennison Andrews
$75
8
Nicholas Vinyard
$30
9
Matthew Dragovich
$30
10
Randi Speiler
$15
11
Jack Parcell
12
Taylor Ray
13
Kyle Andrews
$15
14
Cortez Schenck
$20
15
Ricardo Mendoza
$20
16
Isaiah Cleveland
17
Samantha Meyers
18
Brittany Kolatzny
19
Cerrell Cardines
20
Justin Villa
21
Tyler Ottenschot
22
Vincent Nolan
23
Aubrey Calabrese
24
Dylan Lucas
25
Brian Grupe
26
David Galvan
27
Kenny Herbster
28
Noah Thompson
$15
29
Taylor King
30
Autin Signoretti
31
Aaron Watkins
32
Gray Gubler
Scratch High Games:
Allred 279
Hattori 278
Allred 268
Hattori 266
Lilley 264
Handicap High Games:
Gabour 283
KJ Martinez 277
Pollak 276
J Gonzalez 274
T Ray 265
Round Leaders (5 pts. Each)
Scratch
Handicap
Allred
Schenck
Low
Gabour
Low
Gabour
Low
Gabour
Low
Gabour
Low
Gabour
Low
Gabour
Low
Gabour
High Female:
Reguero -30
B Martinez -64
Speiler -88
Kolatzny -152
Meyers -157
TOTAL AWARDED THIS EVENT: $1,320