SILVA LANES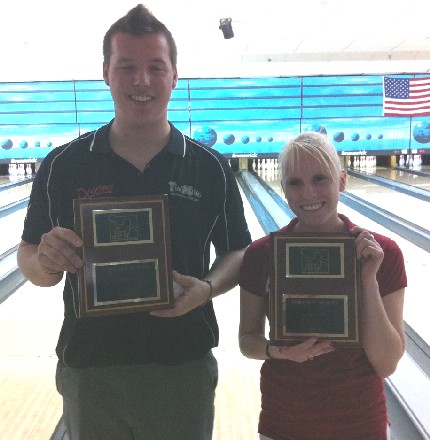 champs Riley Demspey & Linzi Martinez
Riley Dempsey continued his amazing 10-11 season with another win, while Linzi Martinez made her first JBT experience a victorious one, in exciting JBT NM-TX Conference action at Silva Lanes in Albuquerque.
Dempsey climbed the ladder en route to his landmark 10th career title. He began with a 214-189 win over Chris Brown. Riley then snuck by Tommy Crites 230-203, and then beat William Enstminger 242-195 to reach the title match.
Top seed Brian Burkett had been stuck with no JBT finishes higher than third, but guaranteed himself an improvement from that by leading the event. However, he lost the look that had been working so well for him all day, and Riley was able to take advantage for a 200-168 win and the title. Dempsey becomes just the 20th bowler in JBT history with 10+ titles- and his weekend was only just beginning- be sure to read what happened less than 36 hours later two time zones away in the Overnight Marathon results.
A great turnout meant we used our 8-bowler stepladder finals for handicap, and our slogan of 'any age, any average' was again backed up by fact, as averages from 63 to 181 made the finals. Taylor Simpson, he of the aforementioned 63, opened up the stepladder with a 219 game (with pins) that eliminated Martin Montoya and Lindsey Ailport. Brooke Martinez' 220 game then stopped Simpson and Bryan Nogan. Linzi Martinez, unrelated to Brooke, then fired a 227 to beat both Brooke and Austin Eddington to reach the title match.
Top seed Dallas Ehlert had an outstanding day, leading the event from round three to easily grab the top seed. However, in a close game, it was Linzi who came up with the 213-206 win, good for the first title of her JBT career in her first JBT event!
Thanks as always to Silva for being great hosts of our Tour. A big turnout helped us award over $2,000 in scholarships- plenty of tournaments are left, so keep spreading the word to bowlers of all ages and averages that JBT is for them, too!
Silva Lanes- final results and optional scholarship winners
2/19/2011
NM-TX Conference
Scratch Division
rank
name
prize
1
Riley Dempsey
$225
2
Brian Burkett
$125
3
William Entsminger
$85
4
Tommy Crites
$50
5
Chris Brown
$85
6
Ryan Scheer
$45
7
Paul Carper
$35
8
Gregg Kern
9
Tim Crites
$45
10
Cody Mansfield
$135
11
Jacob Wright
12
William Yoder
$30
13
Zach Martinez
14
Amber Robinson
15
Ryan Fast
16
Joe Lewandowski
$30
17
Aaron Raymond
18
Josh Helmick
19
Kevin Ives
20
Janeyl Carper
21
Scott Wiley
22
Roger Johnson
23
Danny Crites
24
Nick Lee
25
Peter Cane
26
Labriel Leach
27
Billy Read
28
Derek Acuff
29
Danny Cobine
30
Tim Baribeau
31
Sara Vargas
32
Jacob Gill
33
Marcos Armijo
34
Ahkeen Williams
35
John Abrahamson
36
Marcus Ortiz
37
Tevynn Laws
38
Michael Conway
39
Austin Mansfield
40
Kyle Madrid
41
Seth Jaramillo
Handicap Division
rank
name
prize
1
Linzi Martinez
$250
2
Dallas Ehlert
$125
3
Austin Eddington
$115
4
Brooke Martinez
$230
5
Bryan Nogan
$70
6
taylor Simpson
$60
7
Lindsey Ailport
$50
8
Martin Montoya
$40
9
Ethan Brandt
$30
10
Katie McNeil
$20
11
Dale Coffee
12
Jennifer Valenzuela
13
Amber Eddington
14
Brittany Leiby
$8
15
Derrick McCoy
16
Parker Simpson
17
Sophie Diaz
$15
18
Dillon Farfan
19
Jacqueline Vanlenzuela
20
Savannah Peyton
21
JacobHelmick
22
brandyn MacPhee
23
Kelly McNeil
24
Jerimiah Cruz
$5
25
Taylor Ledbetter
26
Jonah Seawright
27
Kory Hetmer
28
KJ Martinez
$113
29
Tylor MacPhee
30
Stephanie Barela
$5
31
Randy Newlin
32
Audrey Campbell
33
Ryan Doan
34
Kayla Goad
35
Aurora Popple
36
William Laws
37
Dustin McCoy
38
Cerra Strickland
39
Joey Balistreri
40
Shawna Bellman
$5
41
Kyler Duggins
42
Christian Hererrsa
43
Marcus Maestas
45
Lacey Shelton
46
Nick Sanchez
47
Allison May
48
Cortez Schenck
49
Steven Acuff
50
Fernando Delarosa
51
Micayla Scheer
52
Felishia Sevier
53
Joseph Trujillo
54
Samantha Meyers
55
Zachary Wojciechowski
56
Gerilynn Delegarito
Scratch High Games:
Mansfield 299
Dempsey 260
Brown 259
Burkett 257
Entsminger 255
Handicap High Games:
B Martinez 280
Ehlert 265
Amber Eddington 256
Montoya 254
Ailport, Austin Eddington 248
Round Leaders (5 pts. Each)
Scratch
Handicap
Tom Crites
B Leiby
Scheer
B MacPhee
C Mansfield
Ehlert
C Mansfield
Ehlert
Brown
Ehlert
Burkett
Ehlert
Burkett
Ehlert
Burkett
Ehlert
High Female:
B Martinez -33
Ailport -57
Robinson -67
Carper -85
Vargas -157
TOTAL AWARDED THIS EVENT: $2,028