SILVA LANES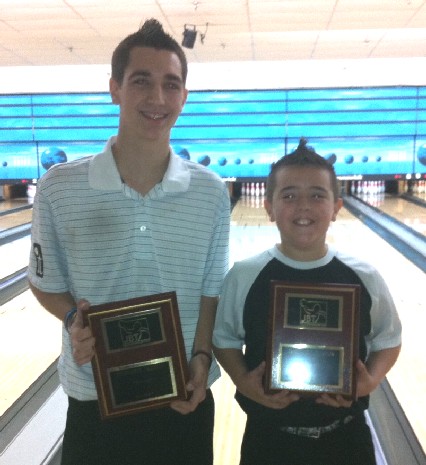 champs Derek Acuff & KJ Martinez
Arizona- and, evidently, mohawks- invaded Albuquerque on Sunday, as Derek Acuff and KJ Martinez captured titles in NM-TX Conference action at Silva Lanes.
Josh Helmick, a handicap star last year, broke through for his first scratch finals, but fell to Zach Martinez 195-178 in round one of the stepladder. Riley Dempsey, the previous day's champion, then beat Zach 206-193. Brian Burkett then ended Dempsey's shot at a doubleheader sweep with a 259-226 win to advance to his second straight title match, avenging his loss to Riley in yesterday's finale.
Top seed Derek Acuff led since game two. After a great year in handicap last year, he's made a smooth transition to scratch this season, making plenty of finals but unable to breakthrough in finals matches. This one went down to the wire, and in the end it was frustration for Brian and jubilation for Derek, as Acuff's 226-224 win earned him his first scratch and fourth overall JBT title.
KJ swept right up the handicap stepladder en route to victory. He began with a 189-166 win over Stephanie Barela. Martinez then beat Lindsey Ailport 189-169, and followed with a 238-167 win over Nick Sanchez to reach the final game.
Top seed Audrey Campbell bowled extremely well all day, leading four rounds to grab the top seeded position. However, KJ is an experienced veteran even at his age, and he avenged a heartbreaking title match loss last week with a confident 247-187 win over Audrey, good for his 3rd career JBT title, and continuing the Martinez dominance of the weekend, with Zach and sister Brooke all making finals, and unrelated Linzi winning the day before!
Thanks as always to Silva for being great hosts of our Tour. A big turnout helped us award over $2,000 in scholarships- plenty of tournaments are left, so keep spreading the word to bowlers of all ages and averages that JBT is for them, too!
Silva Lanes- final results and optional scholarship winners
2/20/2011
NM-TX Conference
Scratch Division
rank
name
prize
1
Derek Acuff
$225
2
Brian Burkett
$125
3
Riley Dempsey
$105
4
Zach Martinez
$135
5
Josh Helmick
$40
6
Tim Crites
$45
7
Jacob Gill
$20
8
Paul Carper
$30
9
Chris Brown
$25
10
Andrew Esparza
11
Kevin Ives
$15
12
Danny Cobine
13
Alex Yoder
14
Cody Mansfield
$105
15
Jacob Wright
16
Gregg Kern
17
Joe Lewandowski
18
Bailey McFarland
19
Labriel Leach
$15
20
Amber Robinson
21
Michael Conway
22
Sara Vargas
23
Tim Baribeau
24
Ahkeen Williams
25
Nick Lee
$15
26
William Yoder
27
Ryan Fast
28
Seth Jaramillo
29
Ryan Scheer
$15
30
Janeyl Carper
$5
31
Billy Read
32
Danny Crites
33
William Entsminger
34
Tommy Crites
35
Sabrina Vargas
36
Matt Grandinetti
37
Kyle Madrid
38
John King
39
Roger Johnson
40
Marcos Armijo
41
Marcus Ortiz
42
Andrew Muro
Handicap Division
rank
name
prize
1
KJ Martinez
$255
2
Audrey Campbell
$125
3
Nick Sanchez
$75
4
Lindsey Ailport
$50
5
Stephanie Barela
$40
6
Cortez Schenck
$30
7
Josh Demick
$50
8
Jaedyn Fuqua
9
Kelly McNeil
10
Katie McNeil
11
Martin Montoya
12
Brooke Martinez
$90
13
Cerra Strickland
$15
14
Kayla Goad
15
Samantha Meyers
$135
16
Amber Eddington
$15
17
Aurora Popple
18
Klarice Medina
19
Jonah Seawright
20
Lacey Shelton
21
Johnny Pacheco
22
Dale Coffee
23
Zachary Wojciechowski
24
Brittany Leiby
25
Christian Hererra
26
Brandyn MacPhee
27
Dillon Farfan
28
Shawna Bellman
29
Fernando Delarosa
30
Sophie Diaz
31
Jacob Helmick
32
Micayla Scheer
33
Steven Acuff
34
Nicole Gallegos
35
Jerimiah Cruz
$5
36
Robert Sample
37
Allison May
38
Joey Balistreri
39
Tylor MacPhee
40
Robbie Garcia
41
Ben Stedman
42
Matt Vargas
Scratch High Games:
D Acuff 289
Lewandowski 276
Dempsey 254
Martinez 249
Martinez 246
Handicap High Games:
S Barela 278
Ailport 274
Campbell 261
Sanchez 261
Goad 259
Round Leaders (5 pts. Each)
Scratch
Handicap
J Gill
Campbell
D Acuff
Ailport
D Acuff
Ailport
D Acuff
Ailport
D Acuff
Campbell
D Acuff
Campbell
D Acuff
Campbell
D Acuff
Campbell
High Female:
Ailport +118
Goad -25
McFarland -63
B Martinez -89
Robinson -94
TOTAL AWARDED THIS EVENT: $2,005