SPLITS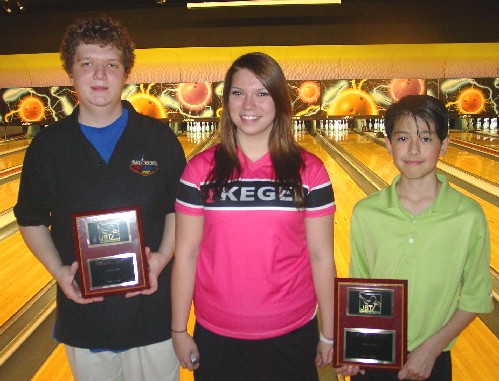 champs Cameron Weier & Cortez Schenck with Women's Series champ Makayla Douglas
Cameron Weier avenged the previous day's loss, while Cortez Schenck continued his tour-wide tear, in exciting Pacific Northwest Conference action at Kelso's Splits.
In our popular 'survivor' format, equal numbers of bowlers are put on a pair after a 5-game qualifying round. The low score from each pair is eliminated, and the process starts over until only one person remains standing. In the scratch division, 24 survivors were eventually whittled down to eight. In that round, Ryan Showalter eliminated Evan Pendergraft 246-225, Catherine Rawsthorne ousted Josh Mullen 211-196, Cameron Weier beat Tanner Spacey 203-160, and Tyler Cruz beat Jordan Ferrer 203-170, still giving the Nevada bowler his sought-after Pac NW top-5.
In the ensuing semifinal matches, Weier beat Showalter 259-212, and Cruz stopped Catherine's fine run 248-181 to set up the title match. Cameron lost to Marshall Kent in the previous day's title match, but this time stayed in control the entire time, defeating Tyler 213-177 for the 9th title of his excellent JBT career.
18 handicap survivors were carved down to six, and in the round of six, Bri Hemming beat Wesley Tobin 210-178, Schenck ousted Toby Shepherd 246-190, and Brittany Arndt, home from college, eliminated Arizonan Marina Stever 204-191. This left three bowlers, and in the ensuing three-way round, Schenck's 224 and Hemming's 196 eliminated Arndt, with 181, to set up the championship game. Hemming, who has come oh-so-close to JBT victory a few times in the past, stayed close with Cortez, but in the end he was too much. His 219-203 win was good for his third JBT victory in three states in the last three months- wow!
Makayla Douglas captured his first career JBT Women's Series title with a 204-186 win over Marina Stever in the Women's title match. Makayla now has a chance to parlay that into a $500 bonus at the JBT Girls' Invitational this summer in Las Vegas.
Thanks to everyone at Splits for a great job hosting a JBT event for the first time. Over $1,800 in scholarships were awarded to bowlers of all ages and averages- if you want in on all this fun, just come on out to the next JBT event, it's that simple!
Splits- final results and optional scholarship winners
3/13/2011
Pacific Northwest Conference
Scratch Division
rank
name
prize
1
Cameron Weier
$250
2
Tyler Cruz
$135
3
Ryan Showalter
$145
4
Catherine Rawsthorne
$75
5
Jordan Ferrer
$60
6
Josh Mullen
$50
7
Evan Pendergraft
$100
8
Tanney Spacey
$30
9
John Jordan
$35
10
Anthony Douglas
11
Matt McGill
12
Eddy Smith
$25
13
Nick Bachteler
14
Makayla Douglas
$25
15
Brandon Loyear
16
Tanner Bouwens
17
Tyler Boe
$15
18
Patrick Hickok
19
Jacob Miller
20
Tristan Curtis
21
Perry Crowell IV
$60
22
Tyler Stickler
23
Zach Hemming
$30
24
Schrader White
25
Correen Lieber
26
Cody Pike
27
Sean Chesterfield
$25
28
Carlton Johnson Jr
29
Kranky Katie
30
Riley Demspey
$30
31
Aaron Foshie
32
Robert Altieri
33
Eric Larce
34
Thomas Nute
35
Travis Smart
36
Josh Jackson
37
Makenzie Cherne
38
Michael Kincy
39
Alex Earle
40
Shawn Terwillegar
41
Sam Burns
42
Jeremy Witt
43
Courtney Couch
44
Sarah Boe
45
Quniton Miller
46
Robert Rundquist
47
Michael Paulson
48
Darren Stanley
49
Leea Haworth
50
Gabe Bogner
51
Donnie Whipple
Handicap Division
rank
name
prize
1
Cortez Schenck
$335
2
Bri Hemming
$100
3
Brittany Ardnt
$60
4
Marina Stever
$65
5
Wesley Tobin
$40
6
Toby Shepherd
$30
7
Vince Bachteler
8
Khalid Lucas
$15
9
Max Polhill
10
Angel Reyna
11
Kjerstin Richards
$8
12
Tyler Satter
13
Alan Vancleeve
14
Jacqui Binam
$15
15
Jaeger Krause
16
Becky Davidson
17
Andy Herrmann
$28
18
Zoe Mahn
19
Kelsey Abrahamsen
20
Ryan Gallagher
21
Madison Crockett
22
Kyle Hays
23
Kara Lieber
24
Elisabeth Couch
25
Austin Gretzer
26
Jacob Mullen
27
Ben Martin
$15
28
Jacob Grimes
29
Jessica Bubnich
30
Devin McCardle
31
David Scott
32
Kyle Jonson
33
Luke Jordan
34
Jerin Applegarth
35
Connor Gracia
Scratch High Games:
Weier 289
Ferrer 267
Spacey 259
McGill 258
Weier 258
Handicap High Games:
Schenck 246
V Bachteler 246
Schenck 244
Tobin 242
Stever 235
Round Leaders (5 pts. Each)
Scratch
Handicap
Hickock
Vancleeve
Hickock
Mahn
Hickock
Herrmann
Cruz
Stever
J Jordan
Stever
High Female:
Douglas -23
Stever -56
Rawsthorne -94
C Lieber -96
Beismann -111
TOTAL AWARDED THIS EVENT: $1,801