Strike Zone at Sunset Station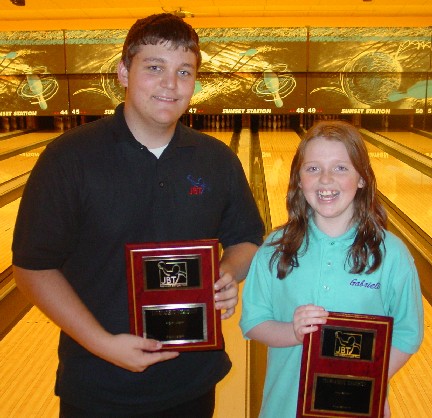 champs Joe Lewandowski & Gabriella Weis
Joe Lewandowski and Gabriella Weis each picked up JBT victories in exciting Mojave Conference action at Strike Zone in Henderson.
Teddy Lucente opened up the scratch division stepladder finals with a 206-187 win over all-conference points leader Riley Dempsey. Eric Hatchett, fresh off of lots of TV time at the T of C, then edged Lucente 221-213. Lewandowski then turned the tables on Eric, winning by a 204-201 margin to advance to the title match.
Top seed Zack Hattori took the lead away from Joe, who had dominated the day, with a big 748 semifinal set which included the front nine twice. Lewandowski has also been admittedly shaky in some of the more pressure situations so far in his JBT career. All that seemed to add up to a perfect situation for Zack, but that proved to not be the case this time, as it was Hattori who struggled, while Lewandowski made enough excellent shots on a tricky Boardwalk pattern that forced most bowlers to the edge of the lane that a late gutterball was inconsequential. The 204-181 final score was good for the second title of Joe's JBT career, while Hattori was denied in his quest to join the elite 10+ titles club.
Lindsey Ailport, who qualified for the finals by just one pin, opened up the handicap stepladder with a 203-167 win over first-time finalist Michael Liebenow. Randi Speiler then edged Ailport in a thriller, 187-186. Brooke Martinez left no doubt as to the semifinal winner, smashing a 242 scratch game in a 268-172 win over Speiler to reach the title match.
Top seed Gabriella Weis was leading a JBT event for the first time, looking to join her big brother as JBT champs. After a good start, both bowlers began to struggle in the later frames, and in the end Weis had enough left for a 204-181 win and the first title of her JBT career.
Thanks as always to the crew at Strike Zone for hosting our Tour. Over $1,400 in scholarships were awarded to bowlers of all averages. Want in on the fun? Come on out to the next JBT event, it's really that easy!
Strike Zone- final results and optional scholarship winners
1/30/2011
Mojave Conference
Scratch Division
rank
name
prize
1
Joe Lewandowski
$215
2
Zack Hattori
$170
3
Eric Hatchett
$50
4
Teddy Lucente
$50
5
Riley Dempsey
$35
6
Dan Hansen
7
Chase Nadeau
8
DJ Sloan
9
Jordan Ferrer
10
Curtis Lindeman
$15
11
Jakob Butturff
12
Cameron Weier
$60
13
Derek Acuff
14
Zach Ford
15
Joshua Liebowitz
16
Alesha Pannier
17
Jordan Ono
18
Ian Hanuscin
19
Veronica Schleicher
20
Donovan Koff
21
Katie Barbee
Handicap Division
rank
name
prize
1
Gabriella Weis
$200
2
Brooke Martinez
$100
3
Randi Speiler
$75
4
Lindsey Ailport
$40
5
Michael Libenow
$30
6
Jack Parcell
$20
7
Joe Gerencser
$50
8
Elijah Lomotan
9
Douglas Csanyi
$35
10
Samantha Meyers
$65
11
Jeremy Cardines
12
Krysta Nadeau
13
Aubrey Calabrese
$30
14
KJ Martinez
15
Austin Signoretti
16
Cortez Schenck
$90
17
James Gabour
18
Nicole Gallegos
19
Kayla Goad
20
Steven Acuff
21
Cerrell Cardines
22
Aaron Watkins
23
Brittany Kolatzny
24
Andrew Guba
25
Kevin Mette
26
Matthew Dragovich
27
Nicholas Pollak
28
Vincent Nolan
29
Nathan Hanuscin
30
Jhared Gonzalez
31
Brandon Duffy
32
Drew Stern
Scratch High Games:
Hattori 279
Lewandowski 277
Sloan 270
Nadeau 269
Lewandowski 266
Handicap High Games:
Liebenow 276
B Martinez 268
Weis 245
Gerencser 245
Watkins 242
Round Leaders (5 pts. Each)
Scratch
Handicap
Ferrer
Liebenow
Lucente
Gabour
Lewandowski
Speiler
Lewandowski
Weis
Lewandowski
Weis
Lewandowski
Weis
Lewandowski
Weis
Hattori
Weis
High Female:
K Nadeau -78
Speiler -92
L Ailport -121
B Martinez -131
Goad -144
TOTAL AWARDED THIS EVENT: $1,420