TEXAS STATION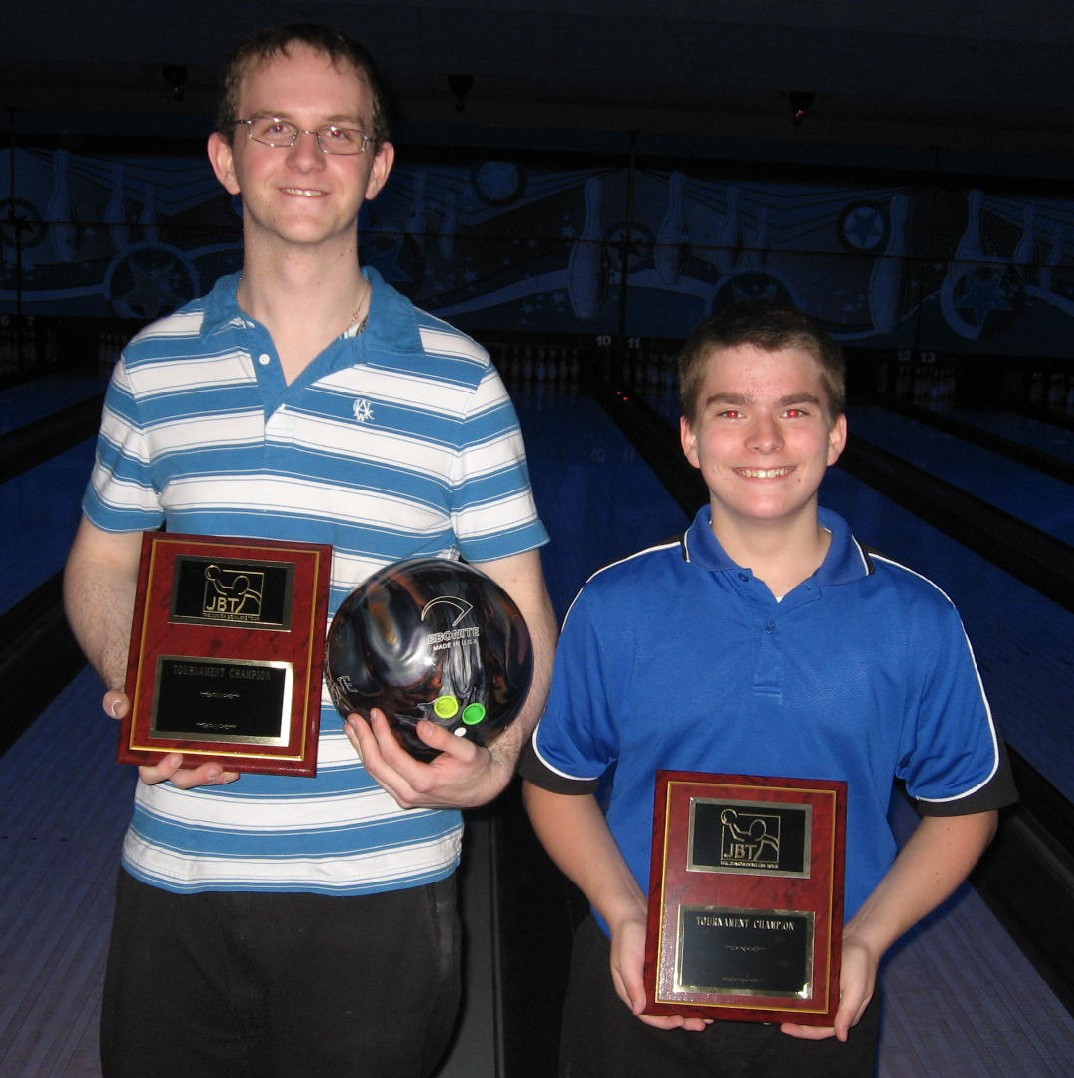 champs Cameron Smith & Jack Parcell
Cameron Smith and Jack Parcell persevered through a challenging sneak preview of the 2011 Main Event scratch lane condition to capture JBT titles in exciting Mojave Conference action at Texas Star Lanes.
Eric Hatchett opened up the scratch division stepladder finals with a 200-188 win over Zack Hattori. Hatchett then snuck by Brad Hansen 203-194. Dallas Leong then stopped Hatchett's run 191-165 to advance to the title game.
Top seed Cameron Smith struggled on a tough shot last week, but came alive today to nab the top seed. The title match was very well bowled by both players. After a solid-9 in the 11th frame to finish at 205, Smith needed any spare-strike to win. After converting the 2-8, Smith regrouped and threw a perfect strike for the thrilling 205-204 win and the 22nd title of his terrific JBT career.
Luke Jordan, down from Washington for the Invitational weekend, opened up the handicap division stepladder finals with a 210-173 win over Donovan Koff. Jordan then snuck by Alexis Atkin 217-215, and followed with another close win, this time 195-191 over Justin Villa, to climb to the title game.
Top seed Jack Parcell was below the Invitational cut line going into the day. His clutch performance all day erased that trouble, and he was able to take it all the way and become a JBT champion by defeating Jordan 212-172 in the title game. He followed this up with an 17th place finish in the Invitational the next day, earning just enough points to sneak into the 20th and final spot for the TPC- what an amazing weekend for Parcell!
Thanks as always to Jerry Francomano and the staff at Texas Star for another terrific job hosting our event, which awarded over $1,600 in scholarships to bowlers of all averages.
Texas Star Lanes- final results and optional scholarship winners
5/14/2011
Mojave Conference
Scratch Division
rank
name
prize
1
Cameron Smith
$300
2
Dallas Leong
$130
3
Eric Hatchett
$60
4
Brad Hansen
$50
5
Zack Hattori
$50
6
Cameron Weier
$75
7
Labriel Leach
8
DJ Sloan
9
Kris George
10
Nick Lee
11
Riley Dempsey
12
Jordan Ferrer
13
Curtis Lindeman
14
Kaitlin Mayall
$65
15
Tony Rose
$45
16
Mark Myers
17
Joe Lewandowski
$15
18
Teddy Lucente
19
Dan Hansen
20
Wesley Low
21
Zach Martinex
22
Aaron Foshie
$45
23
Ryan Warshefski
24
Mark Curtis
$15
25
Rebeca Reguero
26
Derek Acuff
27
Jakob Butturff
28
Jason Pappas
29
Jordan Ono
$15
30
Ryan Campbell
31
Josh Liebowitz
32
Kyle Karpovich
33
Justin Koehly
Handicap Division
rank
name
prize
1
Jack Parcell
$200
2
Luke Jordan
$145
3
Justin Villa
$90
4
Alexis Atkin
$65
5
Donovan Koff
$40
6
Matt Dragovich
$40
7
Brittany Kolatzny
8
Tyler Ottenschot
$45
9
KJ Martinez
$30
10
Brooke Martinez
$30
11
Cerrell Cardines
12
Kayla Goad
13
Blake Kalaf
$15
14
Kennison Andrews
$10
15
Megan Carlson
$45
16
Dylan Lucas
17
Samantha Meyers
18
Taylor Ray
19
Brian Grupe
20
Cortez Schenck
21
James Gabour
$15
22
Valry Swaim
$30
23
Marina Stever
24
Mark Hugelmaier
25
Kevin Mette
26
Drew Stern
27
Kyle Andrews
$15
28
Savannah Carr
29
Aaron Watkins
30
Isaiah Cleveland
31
Brandon Duffy
32
Veronica Schleicher
33
Steven Acuff
Scratch High Games:
Smith 255
Lucente 247
Lindeman 245
Dempsey 243
Leach 237
Handicap High Games:
Andrews 278
Villa 256
B Martinez 240
Ottenschot 239
Parcell, Cardines 239
Round Leaders (5 pts. Each)
Scratch
Handicap
Lucente
Ottenschot
Lucente
Villa
B Hansen
Villa
Weier
Villa
Smith
Villa
Leong
Parcell
Leong
Parcell
Smith
Parcell
High Female:
Mayall -16
B Martinez -116
Goad -133
Kolatzny -147
Reguero -148
TOTAL AWARDED THIS EVENT: $1,680