TRIANGLE BOWL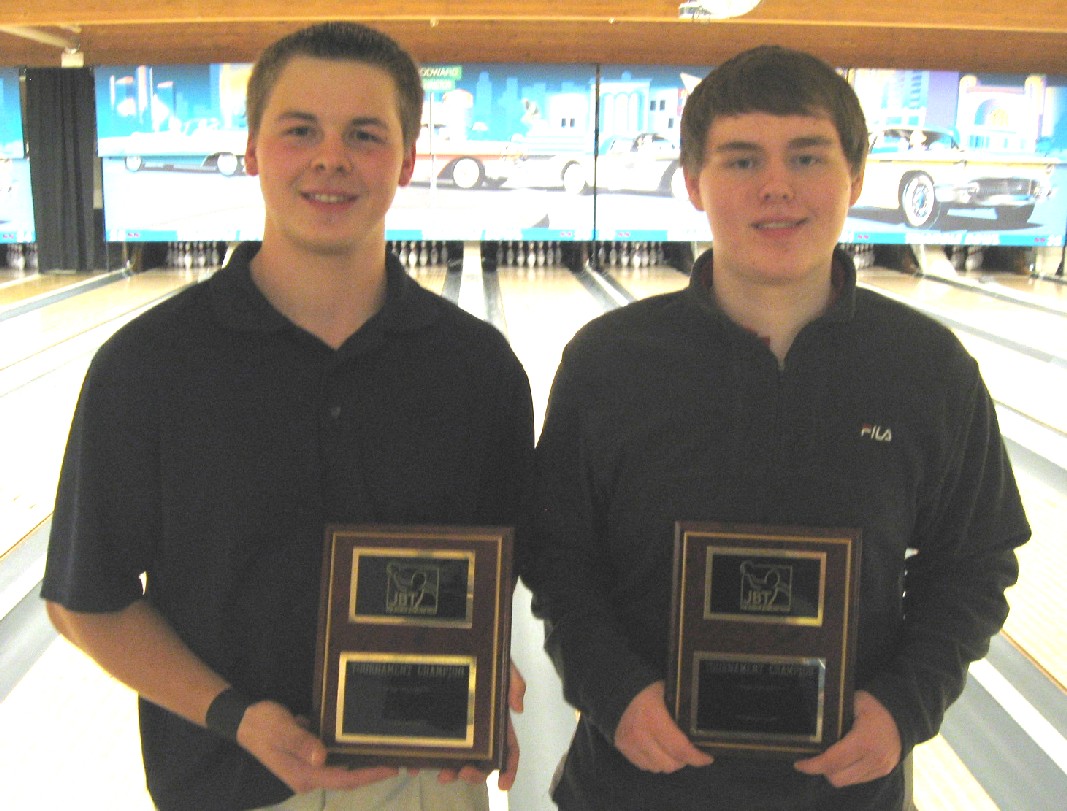 champs Tanner Spacey & Thomas Nute
Tanner Spacey and Thomas Nute wrapped up the JBT Pacific Northwest Conference regular season with exciting wins in terrific action at Longview's Triangle Bowl.
Current points leader Perry Crowell IV opened up the scratch division stepladder finals with a 202-195 squeaker win over Makayla Douglas, who is on a roll in the spring swing. Spacey then stopped Crowell 226-189, and followed with a 234-207 win over John Jordan to advance to the title game.
Most of the top players made the Kegel Route 66 pattern seem easy as they carved out hook and hold on the oily pattern, and none better than top seed Marshall Kent, going +403 on the pattern. Spacey, meanwhile, tried to win his first title just last month in Milwaukie, but had a problem with his thumb slug that erased those hopes. There was no such bad luck for Tanner here, though, who showed a new confidence in a commanding 234-204 win, good for the first of what could very well be many titles in his JBT career.
The handicap division had a weird scoreboard, with the top 5 finishers way ahead of the rest of the field (6th place finisher Khalid Lucas was over 150 pins behind!). The ultra-high pace of just those five was illustrated by Kara Lieber, who led most of the day, but a 190 game eight effort dropped her all the way from 2nd to 5th. She righted the ship in game one of the finals though, beating Connor Jackley 264-191, and earning an exemption in the next day's Invitational in the process! Andre Calipes, returning to form after "ca-lipping" his hair much shorter, then beat Lieber 224-214. Arizona powerhouse Cortez Schenck then crushed Calipes 269-181 to advance to yet another title match in his amazing 2011.
Top seed Thomas Nute bowled in the handicap division to consolidate his standing for the TPC, and obviously made the right choice. He also had the high game of the entire tournament with a 299 (leaving a solid-8) during qualifying, and rode that momentum to the #1 spot. However, the whole Tour knows by now that "Tez" is a tough customer. This time, though, Schenck ran into some over-under problems on the changing lane pattern, and Nute was able to just keep it on cruise control, easily winning the game 262-177 to capture the 4th title of the talented lefty's JBT career.
Thanks as always to the staff at Triangle for a top-notch job hosting our event, which awarded over $1,300 in scholarships. The field is now set for the Pac NW Invitational, where over $6,000 in scholarships will be earned by the 2010-11 qualifiers. Be sure to check out the results on this website and youtube!
Triangle Bowl- final results and optional scholarship winners
6/11/2011
Pacific Northwest Conference
Scratch Division
rank
name
prize
1
Tanner Spacey
$200
2
Marshall Kent
$105
3
John Jordan
$70
4
Perry Crowell IV
$65
5
Makayla Douglas
$40
6
Jordan Ferrer
$30
7
Aaron Foshie
$125
8
Eddy Smith
$60
9
Nick Bachteler
10
Quinton Miller
11
Tyler Cruz
12
Courtney Nikolas
13
Anthony Douglas
14
Josh Mullen
15
Tristan Curtis
16
Zach Hemming
$30
17
Alex Earle
18
Tyler Boe
19
Shay Thompson
20
Cameron Weier
21
Tyler Stickler
22
Rebeca Reguero
23
Michael Paulsen
24
Ryan Nikolas
25
Evan Pendergraft
$15
26
Patrick Hickok
$15
27
Jeremy Witt
28
Schrader White
29
Andrew Heritage
30
Nick Devlin
$15
31
Catherine Rawsthorne
32
Darren Stanley
33
Brian Monette
34
Tyler Emerick
35
Correen Lieber
$50
36
Sam Burns
37
Leea Haworth
38
Brittany Yoke
39
Kyler Crevier
Handicap Division
rank
name
prize
1
Thomas Nute
$215
2
Cortez Schenck
$250
3
Andre Calipes
$60
4
Kara Lieber
$50
5
Connor Jackley
$40
6
Khalid Lucas
$30
7
Mitchell Barber
$20
8
Nicole Stickler
9
Kolby Crowell
10
Connor Gracia
11
Robert Altieri
12
Toby Shepherd
13
Kevin Obrist
14
Hannah Abney
15
Averie Bogner
16
Becky Davidson
17
Jaeger Krause
$15
18
Cassidy Gray
19
Bri Hemming
20
Ryan Gallagher
21
Zoe Mahn
22
Vince Bachteler
23
Luke Jordan
24
Tre Manning III
25
Tyler Satter
26
Kelsey Abrahamsen
27
Jake Mullen
28
Brittany Arndt
29
Gabe Bogner
30
Marina Stever
31
Kyle Hays
32
Kjerstin Richards
33
Aaron Althoff
34
Alexa Lanning
Scratch High Games:
Kent 276
Crowell 269
Curtis 268
Kent 267
N Bachteler 263
Handicap High Games:
Nute 313
Nute 289
Schenck 279
Schenck 268
K Lieber 277
Round Leaders (5 pts. Each)
Scratch
Handicap
Kent
K Lucas
Kent
K Lucas
Curtis
K Lieber
Kent
K Lieber
Kent
K Lieber
Kent
Nute
Kent
Nute
Kent
Nute
High Female:
M Douglas +95
C Nikolas +26
K Lieber +13
R Reguero +3
A Bogner -56
TOTAL AWARDED THIS EVENT: $1,330