WEST SEATTLE BOWL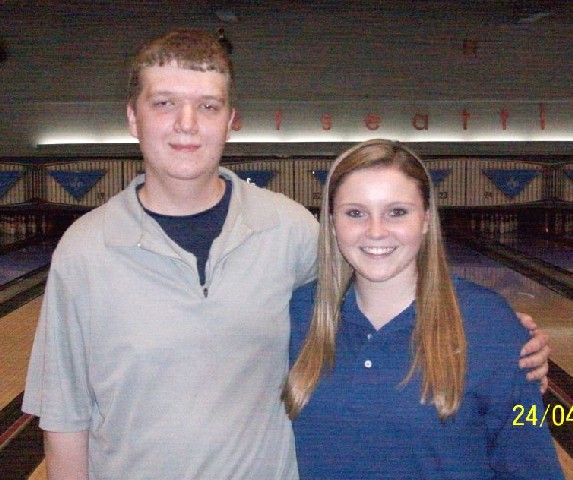 champs Cameron Weier & Bri Hemming
Cameron Weier doubled his fun by sweeping the weekend at West Seattle Bowl in perfect(*) fashion, while Bri Hemming finally broke through for her first win, in very exciting JBT Pacific Northwest Conference action.
Tyler Boe has numerous scratch top-5 finishes outside his home conference, but finally made one here, and in successful fashion opened the scratch stepladder with a 213-198 win over Tyler Cruz. Boe then rolled past Perry Crowell IV 224-204, but nobody had yet beat Cameron Weier this weekend, and Cameron kept that streak alive with a 224-204 win over Boe to reach the title match.
Marshall Kent dominated the tournament en route to the top seed, and if a Weier-Kent rematch wasn't a juicy enough storyline, the scratch bowlers were using the 'mulligan' format, where bowlers literally got 'do-overs' to strategically use throughout the day. Cameron and Marshall both wisely saved up their mulligans, with Weier having three and Kent having two going into the title game. On the demanding USBC Nationals pattern, the two 10-time champs put on a show, and with the aid of a few mulligans both bowlers ended up with the front nine strikes. With his mulligans exhausted, Kent struck on his first ball, then left a crushing solid-7 on the second ball, finishing with 288. Cameron then stepped up and flushed all three in the tenth (with three chances on the last ball but needing only one) for an "imperfect" 300, but an exciting and impressive one nonetheless, and the title, the eleventh of his JBT career, regaining the Pac NW lead in that category from- who else- Marshall Kent.
Jessica Bubnich and Jake Mullen created some excitement of their own in the handicap stepladder with a 226 tie in match one, forcing a rolloff won by Jessica. Hemming then took over, defeating Bubnich 234-197, and following with a 176-159 win over Kyle Hays to advance to the title match.
Top seed Ryan Gallagher had an excellent tournament, leading since the fifth game, but struggled in the title match. Fortunately for Ryan, Bri struggled as well, but in the end she had just enough left to pull out a 165-149 win, finally capturing the first title of her JBT career after quite a few close calls.
Thanks as always to the great staff at West Seattle for hosting our Tour. Over $1,400 in scholarships were earned by bowlers of all ages and averages- want in on all the fun? Check out our schedule and come on down to the next JBT event, it's really just that simple!
West Seattle Bowl- final results and optional scholarship winners
4/24/2011
Pacific Northwest Conference
Scratch Division
rank
name
prize
1
Cameron Weier
$225
2
Marshall Kent
$200
3
Tyler Boe
$70
4
Perry Crowell
$120
5
Tyler Cruz
$60
6
Josh Mullen
$40
7
Makayla Douglas
$30
8
Ryan Showalter
$15
9
Nick Bachteler
10
Tanner Spacey
11
Patrick Hickok
12
Michael Paulson
13
Tristan Curtis
14
Sarah Boe
15
Jesse Covington
16
Schrader White
$15
17
Sean Chesterfield
18
Quinton Miller
19
Robby Davidson
20
Tyler Stickler
21
Catherine Rawsthorne
22
Anthony Douglas
23
Katie Biesmann
24
Alex Earle
25
Brian Monette
26
Correen Lieber
27
Dalton Camosso
28
John Jordan
29
Evan Pendergraft
$15
30
Robert Altieri
31
Jeremy Witt
32
Leea Haworth
33
Thomas Nute
34
Sam Burns
$5
35
Josh Jackson
36
Jared McNeal
37
Ricky Leighton
38
Katryn Comeau
39
Courtney Couch
40
Zach Hemming
Handicap Division
rank
name
prize
1
Bri Hemming
$215
2
Ryan Gallagher
$130
3
Kyle Jonson
$90
4
Jessica Bubnich
$50
5
Jacob Mullen
$40
6
Khalid Lucas
$30
7
Vince Bachteler
$20
8
Zoe Mahn
$45
9
Max Polhill
10
David Scott
$5
11
Elisabeth Couch
12
Becky Davidson
13
Kolby Crowell
14
Tre Manning
$30
15
Sam Tse
16
Mitchell Barber
17
Luke Jordan
18
Kevin Ildefonso
19
Kyle Hays
$15
20
Jacob Fukuyama
21
Ben Martin
22
Kara Lieber
23
Kelsey Abrahamsen
24
Oakley Murphy
25
Nicole Stickler
26
Molly Camosso
27
Toby Shepherd
28
Jamilah Ousley
29
Andre Calipes
30
Tyler Satter
31
Alan Vancleeve
32
Connor Gracia
33
Jacob Grimes
Scratch High Games:
Weier 300
Kent 288
T Boe 258
Crowell 256
Weier 256
Handicap High Games:
Gallagher 268
D Scott 252
B Hemming 251
Jake Mullen 249
Bubnich 247
Round Leaders (5 pts. Each)
Scratch
Handicap
Kent
D Scott
T Boe
E Couch
Kent
R Gallagher
Kent
K Jonson
Kent
R Gallagher
Kent
R Gallagher
Kent-Crowell
R Gallagher
Kent
R Gallagher
High Female:
S Boe -51
M Douglas -81
Rawsthorne -98
Beismann -113
Bubnich -118
TOTAL AWARDED THIS EVENT: $1,465