AZ BAKER SHOOTOUT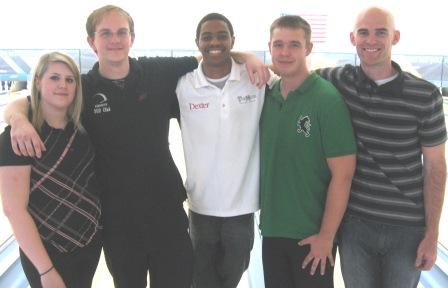 champs Alexis A5kin, Cameron Smith, Jeremy Glover, Matt Jones, & Ken McElvaney
Two bowlers finally captured their first career JBT titles, while three others continued their dominance in the team format, in the AZ Baker Shootout hosted by AMF Christown Lanes.
After 12 Baker team games, the field was cut to the top 12 teams for best 2-of 3 matchplay. The top seed was the self-named "Lazy But Talented" team, and while we don't know about the lazy part, we see the talented part all the time out of them. However, the #5 seeded "Ahh Pressure" felt none of it as they ousted the lazy but talented ones in the round of four. In the other semifinal match, #2 "It Gets Real In The Field" swept #11 "Off Constantly" 2-0 to set up the final match.
"Ahh Pressure" (Courtney Dutton, Bruan Weyrauch, Chris Weyrauch, Rachel Carr, Adam Jackson) was a veteran team (except for newcomer Jackson) looking for their first win in the Baker format (and the first win ever for former JBT assistant Carr), but their mostly-Californian opponents proved to be too much. In two quick games, It Gets Real got themselves the championship. For Ken McElvaney and Matt Jones, it was the second Baker win in seven days, having been on the winning So Cal team last weekend. It was the 27th win of Cameron Smith's wonderful JBT career, while Jeremy Glover and Alexis Atkin finally tasted JBT victory for the first time.
Thanks very much to all the adult bowlers and JBT alumni who came out to bowl with today's JBT players, as well as Pat Cook and the whole team at Christown for hosting us. And- happy birthday Dad! Over $1,400 in scholarships were earned at this extremely fun event- want in on the fun? Check out our schedule at www.bowljbt.com and come on out to the next JBT event, it's that simple!
Arizona Baker Shootout- final results and optional scholarship winners
12/11/2011
rank
name
prize
1
It Gets Real In The Field
$500
Cameron Smith ($167)
Alexis Atkin ($167)
Jeremy Glover ($167)
Ken McElvaney
Matt Jones
2
Ahhh Pressure
$360
Courtney Dutton ($120)
Brian Weyrauch ($120)
Adam Jackson ($120)
Chris Weyrauch
Rachel Carr
3
Lazy But Talented
$180
Nick Lee ($60)
Kristen Lee ($60)
Lanndyn Carnate ($60)
Mike Armstrong
Matt Jones
4
Off Constantly
$180
Kyle Karpovich ($70)
Jake Bryan ($60)
Blake Kalaf ($60)
Rick Karpovich
Roger Morsch
5
Sweep the Leg!
$100
Cortez Schenck ($34)
Aaron Foshie ($34)
Brooke Martinez ($34)
Chris Klerk
Ed Smaglik
6
ASU Past Present & Future
$100
Ben Canfield ($34)
Daniel Barrs ($34)
KJ Martinez ($34)
Savahna Porter
Curt Elam
7
Bowlers Zone
Mark Curtis
Kylee Bonneville
Greg Garbera
Tim Simonis
Samantha Sickles
8
The 5th Wheel
Dori Jaffess
Jory Koizumi
Shane Valleau
Chad Miyashiro
Dominic Luna
9
Team 22
Riley Dempsey
Jim Dempsey
Craig Spencer
Nicole Shephard
Zachary Lewandowski
10
Terabowl
Derek Iozzio
Justin Penwell
Megan Carlson ($5)
Rane Lacona
Tim Crosswhite
11
4 Good Bowlers & Steven
Ron Hatfield
Josh Blanchard
Staven Acuff
Marina Stever
Savannah Carr
12
We're Going Sheet… Again!
Curtis Lindeman
Derek Acuff
Joe Lewandowski
Shelby Dempsey
Chad Swiman
13
ASU FTW
Tyler Epperson
Dave Roppel
Krista Day
Kris Maglunog
Anthony Tripi
14
East Infection
Zach Herbert
Kyle King
Taylor King
Bryanna Caldwell
Randy Cote
15
Team 25
Myles Hamilton
Chris Varholdt
Danny Varholdt
Zachary Rapp
Kelvin Douthard
16
Matt's Cool
Kayla Goad
Marguerite Evans
Lindsey Ailport
Mark Myers
Matt Herbert
17
Big W
Robert Douglas II
Robert Douglas III
Klauren Douglas
Dakota Thompson
Paul Wells
18
Back In Black
Joe Reguero
Taylor Knight
James Roqueni
Justin Givler
Kyle Jones
19
Team 7
Joey Sorce
Jordan Hastings
Andrew Dorsey
Travis Roach
Mark Hastings
20
Honeybadger Don't Give A Split
Mark Hugelmaier
Valry Swaim
Brian Hirsch
Maura Swaim
Corbin Hirsch
21
Team 23
Nick Armstrong
Jim Stoutmeyer
Jim Fish
Matt Sart
Zach Cotsonas
22
Team 27
Jeff Weyrauch
Preston Fukumizu
Amber Ress
Susan Sickles
Justin Pruznak
23
The Vipers
Stan Bunce
Crystal Bunce
Kyle Bunce
Cierra Chamot
Michael Chamot
24
Moto Fill
Carter O'Neal
Kristen O'Neal
Jennifoer O'neal
Dennis Bolan
McKenna Ferris
25
Daddies & Daughters
Stacey Lamb
Ashley Lamb
Ryleigh Rickli
Aaron Rickli
Lyle Lamb
TOTAL AWARDED THIS EVENT: $1,440