BIG ROCK BOWLING CENTER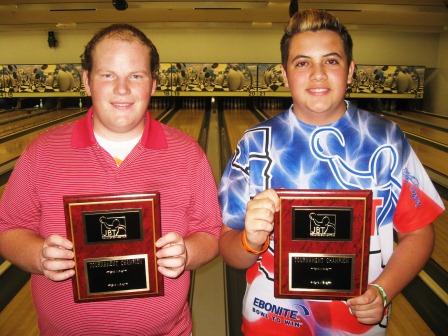 champs Aaron Johnston & Zac Frias
Aaron Johnston and Zac Frias survived high scoring opponents en route to JBT titles in exciting New Mexico-Texas Conference action at Espanola's Big Rock Bowling Center.
After five games, the top 16 bowlers in each division advanced to the 'oadotat' rounds, where the higher-seeded bowlers needed to win one game to advance, while lower seeds need to win two games, puting a huge emphasis on the qualifying rounds, even though pins are dropped in matchplay. Only #13 Danny Cobine won in scratch round one as a lower seed, ousting #4 Cameron Smith. #5 Mason Edmondson stopped Danny in the next round though. Edmonson in turn was defeated by top seed Johnston 278-235 in one semifinal, while #2 Joe Lewandowski snuck by #3 Wendy Shelton, making her second straight open scratch finals 199-194, to set up a 1 vs 2 title match.
Needing to win twice, Lewandowski looked to be in trouble in game one, but struck out for 247. Needing a strike to win, Johnston rung a 10-pin and then struck on the fill for a 247 tie. Joe won the ensuing rolloff 10-9 to force a second game. Joe started off with the front 5 in game two, but Aaron stayed with him with spare-five bagger himself. A crucial ninth-frame open from Joe gave Aaron all the room he needed, as he went of the sheet from the eighth frame for an eventual 268-265 win in a thrilling two-game match.
Top handicap seeds fared well also, with #13 being lucky for Parker Simpson, who upset #4 Jeremiah Martin. In the round of eight, #8 Kory Hetmer came up with a huge win to oust #1 Nathaniel Duran, while #2 Elizabeth Romero rolled on with a win over Kyler Duggins. #6 Lindsey Sanchez stopped Romero's fine run in the semifinals, beating her twice to get to the final match. She'd face #5 Zac Frias, who stormed past Hetmer (his league teammate) 260-223 in the other semi.
Zac, the higher seed, remained in control the whole title match, winning game one 235-219 for the first title of his JBT career.
Wendy Shelton completed a dominant performance by defeating Sabrina Vargas 214-203 for the three-event sweep of the Women's Series on the weekend (to go with the two regular top five finishes)!
Thanks as always to the staff at Big Rock for a great job hosting our Tour. Over $1,600 in scholarships were earned by bowlers of all averages and ages- you can still get in on the unique fun of JBT this season, just check out our schedule and come on down!
Big Rock- final results and scholarship winners
4/29/2012
Scratch Division
rank
bowler

prize

1
Aaron Johnston
$380
2
Joe Lewandowki
$155
3
Wendy Shelton
$65
4
Mason Edmondson
$40
5
Curtis Lindeman
$30
6
Tyler Albracht
$20
7
Nick Lee
8
Danny Cobine
9
Cameron Smith
10
Derek Acuff
11
Riley Dempsey
$15
12
Matthew Synnett
$30
13
Josh Helmick
14
Chris Brown
15
Marcos Armijo
16
Ahkeen Williams
17
Holden Luke
$5
18
Eric Sanford
19
Dallas Ehlert
20
Tom Crites
21
Tim Crites
22
Aaron Foshie
23
Josh Herschmann
24
Cortez Schenck
25
Sabrina Vargas
26
Michael Conway
27
Braxton Williams
28
Dale Coffee
29
Mike Romero
30
Tyler Satter
31
Nick Sanchez
Handicap Division
1
Zac Frias
$200
2
Lindsey Sanchez
$100
3
Elizabeth Romero
$60
4
Kory Hetmer
$65
5
Nathaniel Duran
$75
6
Josh Demick
$60
7
Kyler Duggins
$58
8
Parker Simpson
$15
9
Jeremiah Martin
10
Steven Acuff
11
Jacqueline Valenzuela
12
KJ Martinez
$30
13
Isaac Duran
$30
14
Tristen Martinez
$45
15
Cody Romero
16
Kallista Fritts
17
Katie Rush
$20
18
Adel Wahner
19
Jennifer Valenzuela
20
Derrick McCoy
21
Austin Thompson
22
Allie May
23
Priscilla Red
$53
24
Sophie Diaz
25
Linzi Martinez
26
Amber Synnett
27
Kristie Rush
$5
28
Lacey Shelton
29
Brandon Heckler
30
Stephanie Barela
$30
31
Cerra Strickland
32
Alexis Atkin
33
Taylor Simpson
$15
34
Jonah Seawright
35
Zachary Wojciechowski
36
Olivia Silva
37
Trevor Thompson
38
Taylor Williams
39
Joey Balistreri
40
Jake Helmick
41
Gerilynn Delegarito
42
Michael Briceno
43
Audrey Campbell
High Games
Scratch
Handicap
1
Smith 299
Acuff 291
2
Johnston 288
C Romero 288
3
Dempsey 279
Demick 281
4
Lewandowski 279
N Duran 267
5
Johnston 278
I Duran 262
High Female
1
Shelton +195
2
Sabrina Vargas -3
3
Wahner -50
4
E Romero -51
5
Red -66
Round Leaders
Scratch
Handicap
1
Cobine
E Romero
2
Johnston
N Duran
3
Johnston - Smith
N Duran
4
Johnston
J Demick
5
Johnston
N Duran
TOTAL AWARDED THIS EVENT: $1,633