BOWLIUM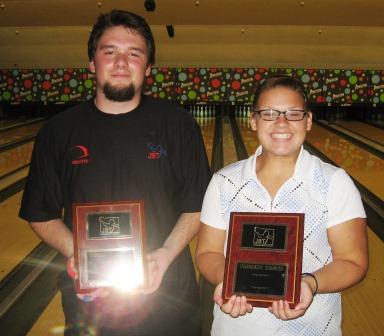 champs Justin Sims & Shauna Schultz
Justin Sims finally broke through for his first JBT title, while Shauna Schultz put on a spare clinic to claim her third, in exciting JBT Southern California Conference action at Montclair's Bowlium.
The scratch division used our nervewracker format, with matches tied at 1-1 going directly to a one-shot rolloff. That combined with a very challenging pattern led to some real grindout matches, none more exciting than the Adam Dubia-Jordan Ferrer round one match, which went to four rolloffs before Adam survived 8-6. In the semifinals, everyone struggled, but Sims escaped from Curtis "Y U no win" Lindeman, while Mark Myers lofted his way to a 199-198 game two win and sweep of Bobby Hornacek, who is always tough in matchplay formats.
Myers had been adjusting his two-handed game constantly to adapt to the tricky shot, but Sims developed the same good look that carried him to the Palm Springs title match in February, except this time the carry was in his favor, and he cruised to the sweep over Myers for the title, the long awaited first of his JBT career.
Nick Condon relieved his parents by making the finals, then beat Julian Zavala 203-177 to win round one of the handicap stepladder finals. Nick then got past early-rounds leader Peter Hugelmaier 201-164. Alyssa Tucker, a winner earlier this season, then bet Hugelmaier 209-181 to advance to another title match.
Top seed Shauna Schultz is a big fan of Bowlium, having won the So Cal Invitational here, and found herself atop the standings in Montclair again. She appeared to be in control against Tucker, until Alyssa caught fire at the end, rolling six of the last seven strikes to force Shauna to mark. After sparing 10-pins in the last two frames, Schultz left another one in the tenth, and calmly converted it for the exciting 240-231 win, and the third title of her JBT career.
Tucker's frustration continued in the Impact Bowling Women's Series title match, as Ashley Dunn came up with a nice game to defeat Tucker and capture her third Women's Series title, qualifying her for the 2012 Girls TPC this July.
Thanks to the whole crew at Bowlium for a great job hosting us- the center has been beautifully upgraded- check it out sometime if you're in the area! Over $1,800 was awarded to bowlers of all averages and ages- get in on the fun by coming on down to the next JBT event, it's that simple!
Bowlium- final results and scholarship winners
3/31/2012
Scratch Division
rank
bowler
prize
1
Justin Sims
$240
2
Mark Myers
$135
3
Curtis Lindeman
$100
4
Bobby Hornacek
$75
5
Steven Manier
$60
6
Kyle Karpovich
$40
7
DeeRonn Booker
$30
8
Raheem Johnson
$20
9
Oscar Chan
$15
10
Tyler Stickler
11
Adam Dubia
12
Eric Hatchett
13
Darwin Eusebio
14
Jordan Ferrer
15
Harley Sweigart
$30
16
Ashley Dunn
$60
17
Wesley Low
$45
18
Matt Zweig
$45
19
Keyon Lemus
20
Luke Holley
21
Ben Canfield
$30
22
Bryan Rondeau
23
Luis Perez
$15
24
Kyle Duster
25
Jerome Jordan Jr
$30
26
Aaron Foshie
$15
27
Brittany Kolatzny
28
Ronnie Fujita
$15
29
Terrence Robinson
30
Tyler Satter
31
Karlie Loop
32
Mark Curtis
33
Cortez Schecnk
34
Adam Seligman
35
Chris Tucker
$15
36
Jacob Camacho
37
Parker Brooks
38
Derek Acuff
39
Shane Peck
40
Mark Hugelmaier
41
Cameron Smith
42
Dan Hansen
43
Joe Lewandowski
44
Courtney Brown
45
Kirk Chui
46
Michael Ma
47
Joshua Tajiri
Handicap Division
1
Shauna Schultz
$260
2
Alyssa Tucker
$100
3
Nick Condon
$105
4
Peter Hugelmaier
$40
5
Julian Zavala
$30
6
Jake Bryan
$20
7
Matt Martinez
$15
8
Jozef Corwin
$15
9
Steven Acuff
10
Carol Chui
11
Alexis Atkin
12
Marguerite Evans
$60
13
Megan Carlson
14
Austin Thompson
$65
15
Eric Torrence
$75
16
Kyle DeCew
17
Kennison Andrews
$20
18
Trevor Thompson
$5
19
Valry Swaim
20
Jericho Eusebio
21
Kristen O'Neal
22
Rance Dvorak
23
Greg Adler
24
KJ Martinez
25
Dillon Algustoski
26
Katelyn Corwin
27
Kyli Selley
28
Patrick Dabatos
29
Brooke Martinez
$15
30
Stephanie Zavala
31
Javier Zavala
32
Matthew Green
33
Steven Rose
34
Carter O'Neal
35
Trenton Romleski
High Games
Scratch
Handicap
1
Lindeman 279
Julian Zavala 263
2
Holley 278
A Tucker 261
3
Karpovich 276
Condon 261
4
Manier 252
P Hugelmaier 256
5
Myers 246
A Tucker 252
High Female
1
Dunn -62*
2
A Tucker -69
3
Kolatzny -104
4
Loop -114
5
Atkin -176
Round Leaders
Scratch
Handicap
1
Myers
P Hugelmaier
2
Myers
Condon/ P Hugelmaier
3
Myers
P Hugelmaier
4
Myers
P Hugelmaier
5
Lindeman
A Tucker
6
A Tucker
7
A Tucker
8
Schultz
TOTAL AWARDED THIS EVENT: $1,840