SO CAL DOUBLES CLASSIC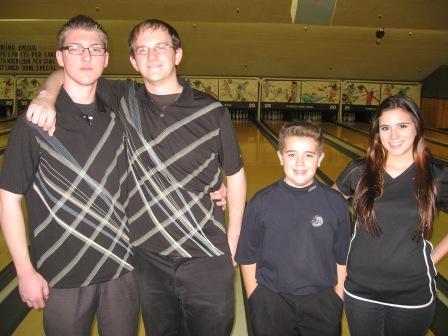 champs James Hawkins / Cameron Smith & KJ Martinez / Brooke Martinez
A day filled with historic events saw a veteran California duo and an Arizona brother-sister outfit win titles at the So Cal JBT Doubles Classic, hosted by Canoga Park Bowl.
Riley Dempsey and Mark Myers, the defending champions of this event, opened the scratch division Baker-style stepladder finals with an unlikely 214-213 win over Kyle Duster and Travis Hewitt, when Hewitt somehow chopped the 4 off a 4-7 in the tenth frame. Steven Manier, who rolled one of five (yes, five) perfect 300s on the day, then teamed with Brandon Kraye for a 219-175 win over Dempsey and Myers. East-coast JBT alumni Rob Piroozshad and DeeRonn Booker then beat Manier and Kraye 199-180 to advance to the title match.
Top seeds Cameron Smith and James Hawkins combine for a ton of JBT titles and a ton of revs, so had to move very deep on the drying out lanes to try and strike. They were able to do so, winning the game 234-198 for the 26th and 9th titles of their JBT careers, respectively.
The high-scoring history was made in the qualifying round, as Piroozshad opened the event with 274-299-300 for an 873, the highest true series ever rolled in JBT competition (Steven Black's 299-300-300 in an Invitational matchplay block remains the nearly unbeatable 3 consecutive game record). Also, an unbeatable record was set by Jeremy Glover and Jared Lawrence, who in game three of qualifying each rolled 300 for a 600 team game, the first to ever accomplish that in JBT competition. Former JBT star Mason Sherman had the other 300 on the day, rounding out the high scoring theatrics on a day that still somehow produced a fairly normal scratch cut and even a slightly low handicap cut- but those who had it, really really had it!
The handicap finals opened with the adult-junior team of Leah Zweig and Julie Stewart defeating Rance Dvorak and Jake Bryan 185-178. Lean and Julie then edged BJ Harlan and Stephanie Zavala 175-169. The semifinal match was also low scoring, with Marguerite Evans and Shelby Dempsey getting past Zweig and Stewart 178-150 to advance to the title game.
Top seeds KJ and Brooke Martinez took over the lead in the last game of round two, and the well-traveled veteran duo stayed in control the whole title game, winning 218-183. The win was the 6th of KJ's career (and the finals was the 27th, tying Steven Acuff for the record), and the long awaited first of his sister Brooke's career.
Thanks to all the adults and alumni who took the time to compete with today's JBT bowlers, and to the team at Canoga for hosting our event. Over $2,600 in cash and scholarships were awarded- want in on all this excitement? Check out our schedule and come on out to the next JBT event, that's all there is to it!
So Cal Doubles- final results and optional scholarship winners
12/3/2011
So Cal Conference
Scratch Division
rank
name
partner
prize
1
Cameron Smith
$150
James Hawkins
$150
$300
2
DeeRonn Booker
$215
Rob Piroozshad
$215
3
Steven Manier
$150
Brandon Kraye
$150
4
Riley Demspey
$80
Mark Myers
$50
$130
5
Kyle Duster
$40
Travis Hewitt
$40
$80
6
Luke Holley
Mason Sherman
7
Wesley Low
$45
Matt Jones
$45
8
Jeremy Glover
Jared Lawrence
9
Cortez Schenck
$90
Aaron Foshie
$30
$120
10
Shane Peck
Terry Henson
11
Bryan Rondeau
Jeff Lewen
12
Kyle King
$30
Ken McElvaney
$30
13
Bobby Honacek
Oscar Chan
14
Justin Sims
Brian Leseberg
15
Curtis Lindeman
Ben Canfield
16
Jacob Camacho
Paul Nilsen
17
Derek Acuff
Kyle Karpovich
$10
$10
18
Dan Patty
Valerie Riggin
19
Isaiah Cleveland
Kayla Goad
20
Justin Villa
Bob Engelhart
21
Kirk Chui
Brandon Turner
22
Matt Zweig
Chad Lane
23
Ronnie Fujita
Willie Thomas
24
Keith Nelson
Ray Stoy
25
Michael Ma
Karlie Loop
26
Courtney Brown
Donna Throop
27
Chris Valenzuela
Fran Brandt
Handicap Division
rank
name
partner
prize
1
KJ Martinez
$150
Brooke Martinez
$150
$300
2
Marguerite Evans
$130
Shelby Dempsey
$100
$230
3
Leah Zweig
$150
Julie Stewart
$150
4
BJ Harlan
$50
Stephanie Zavala
$50
$100
5
Rance Dvorak
$40
Jake Bryan
$40
$80
6
Kylie Shishima
$30
Justine Adams
$30
7
Shauna Schultz
$5
Kyli Selley
$5
8
Alexis Atkin
$60
Steven Acuff
$60
9
Justin Patten
Todd Patten
10
Carol Chui
Elias Torres
$15
$15
11
Trenton Romleski
$120
Vince Wood
$120
12
Justin Pluchino
Drew Stern
13
Austin Thompson
Trevor Thompson
14
Ricardo Mendoza
Victor Mendoza
15
Andrew Svoren
Danielle Looney
16
Megan Carlson
$90
Derek Iozzio
$90
17
Kennison Andrews
$50
Kyle Andrews
18
Adam Seligman
Mike Checky
19
Mark Hugelmaier
Valry Swaim
Scratch High Games:
Manier 300
Glover 300
Hawkins 290
Myers 286
Smith 280
Handicap High Games:
Evans 278
Evans 271
Acuff 271
Bryan 265
Zavala 263
Round Leaders (5 pts. Each)
Scratch
Handicap
1
Booker - Piroozshad
Dvorak - Bryan
2
Booker - Piroozshad
Dvorak - Bryan
3
Booker - Piroozshad
Dvorak - Bryan
4
Booker - Piroozshad
Dvorak - Bryan
5
Booker - Piroozshad
Evans - Dempsey
6
Smith - Hawkins
Evans - Dempsey
7
Smith - Hawkins
Martinez - Martinez
TOTAL AWARDED THIS EVENT: $2,691

Jeremy Glover (300) and Jared Lawrence (300) = 600 team game!

Rob Piroozshad, 274-299-300=873!