Cactus Bowl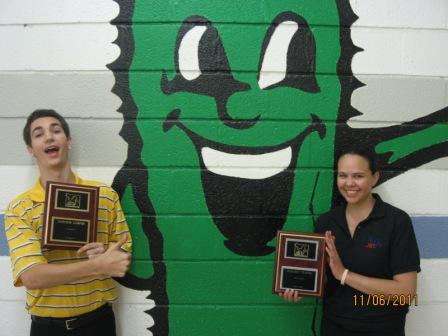 champs Derek Acuff & Kristen Lee with the happy pickle
Derek Acuff and Kristen Lee added to their JBT title collections with big wins at Tucson's Cactus Bowl in exciting JBT Arizona Conference action.
Dominic Luna opened the handicap division stepladder finals with a 235-191 win over KJ Martinez, who retook the all-time handicap top-5 finishes lead from Steven Acuff with the performance. Luna then escaped a thriller with Stan Bunce 216-213, but Andrew Dorsey fired the front seven in the next match to defeat Dominic 266-231 and advance to the title match.
Lee took over the top seed by firing 500 scratch the first two games of the semifinals, and the match with Dorsey promised to be interesting, as they've developed a friendly rivalry since the Cliff Castle event. However, Kristen kept up the same blistering pace, and Andrew was unable to keep up this time, resulting in a big 259-181 win for Lee, and the second title of her JBT career.
Deven Johnston opened up the scratch division stepladder finals with a 243-219 win over Cameron Smith. Amazingly, that was Deven's first win in the stepladder format. He must have decided he liked it, as he followed with a 221-172 win over Lanndyn Carnate, and a 228-195 victory over Riley Dempsey, to reach the title match.
Top seed Acuff completely dominated the tournament, leading by over 100 pins after the semifinals. He had a battle on his hands with Johnston though, easily bowling the best we've ever seen from him. In the end, Derek came up clutch, throwing all three in the tenth to shut out Johnston 224-223, and earning the sixth title of his excellent JBT career.
Jory Koizumi captured the day's Women's Series event with a 226-136 win over Hydeia Pennington. Jory just needs one more win to qualify for the 2012 Girls TPC this summer.
Thanks as always to Dale and the crew at Cactus for hosting our event, which awarded nearly $1,400 in scholarships to bowlers of all averages and ages. Want in on the fun? Check out our schedule and come on down!
Cactus Bowl- final results and optional scholarship winners
11/5/2011
Scratch Division
rank
name
prize
1
Derek Acuff
$200
2
Deven Johnston
$100
3
Riley Dempsey
$95
4
Lanndyn Carnate
$70
5
Cameron Smith
$30
6
Curtis Lindeman
$20
7
Cortez Schenck
$100
8
Aaron Munyon
9
Benjamin Todd
10
Chris McHenry
11
Ahkeen Williams
$15
12
Tim Jacob
13
Tim Crosswhite
$15
14
Joe Lewandowski
$30
15
Aaron Foshie
16
Nick Lee
17
Kyle Karpovich
$50
18
Gregg Kern
19
Derek Iozzio
20
Jory Koizumi
21
Danny Varholdt
22
Kayla Goad
23
Brad Van Sickle
24
Bryan Van Sickle
25
Myles Hamilton
26
Robert Atherton
27
Valerie Riggin
28
Matt Nipper
29
Tristan Carlson
30
Jarrod Davenport
31
Matthew Redmon
32
Marcus Stanley
$5
33
Scott Wilhelm
34
Marina Stever
Handicap Division
rank
name
prize
1
Kristen Lee
$200
2
Andrew Dorsey
$130
3
Dominic Luna
$50
4
Stan Bunce
$55
5
KJ Martinez
$30
6
Cam Lamson
$20
7
Hydeia Pennington
8
Kevin Badke
9
Rashaad Jordan
10
Jerod Walker
$15
11
Jake Hilton
12
Megan Carlson
$15
13
Jake Bryan
14
Ryan Zent
$30
15
Richard Ramirez
16
John Patterson
17
Alex Pellegrino
$30
18
Savannah Carr
$30
19
Jacob DiGiacomo
$15
20
Rachel Stickles
21
Brandon Engers
22
Ryleigh Rickli
$15
23
Laurence Barron
24
Alyssa Williams
25
Sarah Dail
26
Stacey Lamb
27
Kristen O'Neal
$15
28
Steven Acuff
29
Alexis Atkin
30
Cassie Collins
31
Carter O'Neal
32
Nick Condon
33
Dakota Thompson
34
Josh Walsh
35
Cassandra Galvez
36
Corbin Hirsch
$15
Scratch High Games
Smith 279
Dempsey 268
Carnate 259
Acuff 257
Acuff 256
Dempsey 256
Handicap High Games
Luna 320
Lamson 289
Lee 279
Pennington 273
Dorsey 273
Round Leaders
Scratch
Handicap
Carnate
Pennington
Munyon
Pennington
Acuff
Luna
Acuff
Dorsey
Carnate - Acuff
Luna
Acuff
Lee
Acuff
Lee
Acuff
Lee
Women's Series
Pennington -49
Koizumi -54
Lee -69
Goad -71
Carr -131
TOTAL AWARDED THIS EVENT: $1,395