SHAKE, RATTLE, & BOWL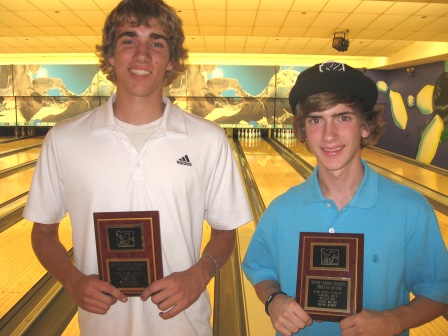 champs Ben Canfield & Carter O'Neal
Ben Canfield and Carter O'Neal opened the 16th season of JBT Arizona Conference action with exciting wins at Cliff Castle Casino's Shake, Rattle, and Bowl.
Jakob Butturff, fresh off some of the best summer tournament results nationwide, picked up right where he left off with a 221-183 win to open the scratch division stepladder finals. Butturff then got by Lanndyn Carnate 242-188, and followed it up with a thrilling 249-245 win over 23-time champion Cameron Smith to reach the title match.
Ben Canfield leapt into the top seed with a big 709 semifinal set, and like Jakob, had yet to win a JBT title despite a solid '10-11 season. The match turned out to be a classic, with Canfield throwing the back four to force Butturff to strike on his first shot to win. When Jakob left a 3-pin, it sealed Ben's 216-209 win and the first title of his JBT career.
Savannah Carr has a habit of starting seasons strong, and did it again with a 196-185 win over newcomer Devin Callahan to open up the handicap division stepladder finals. Dakota Thompson then defeated Carr by a big 252-203 margin, and followed that up with a 189-171 defeat of Andrew Dorsey to advance to the championship game.
Top seed Carter O'Neal had been at or near the top of the leaderboard all day long, and the man with the no-thumb, dual-spins delivery (watch the video!) stayed in control the whole match. In the end, O'Neal won teh game 223-204 for the first title of his JBT career.
Courtney Dutton edged top seed Jory Koizumi 181-178 to capture the day's Women's Series event, earning 1 of the 3 wins needed to qualify for the All-Conference Women's Championship next summer.
Thanks as always to the crew at Cliff Castle for a great job hosting us. Over $2,000 in scholarships were awarded- if you're 21 and under and want in on all this fun, check out our schedule and come on down to the next JBT event, it's that simple!
Cliff Castle- final results and optional scholarship winners
9/3/2011
Scratch Division
rank
name
prize
1
Ben Canfield
$215
2
Jakob Butturff
$130
3
Cameron Smith
$175
4
Lanndyn Carnate
$110
5
Mark Myers
$40
6
Curtis Lindeman
$30
7
Tyler Porter
$20
8
Daniel Barrs
9
Peter DiPasquale
10
Jory Koizumi
11
Mark Curtis
$30
12
Tim Crosswhite
$15
13
Anthony Tripi
$30
14
Cortez Schenck
$110
15
Aaron Raymond
16
Justin Givler
17
Jordan Hastings
$15
18
Courtney Dutton
19
Aaron Yamamoto
20
Chelsea Zemelka
21
Derek Acuff
22
Danny Varholdt
23
Aaron Foshie
24
Zach Martinez
25
Kayla Goad
26
Kyle Karpovich
27
Marina Stever
28
Matt Zweig
$30
29
Randy Kettelhut
30
Mark Hugelmaier
31
Robert Douglas
32
Michael Bonkowske
33
Nick Lee
34
Sam Amaral
35
JD Sweet
Handicap Division
rank
name
prize
1
Carter O'Neal
$225
2
Dakota Thompson
$185
3
Andrew Dorsey
$100
4
Savannah Carr
$115
5
Devin Callahan
$50
5
Morgan Rapp
$40
7
Jerimiah Cruz
$45
8
Corbin Hirsch
$20
9
Allison May
$20
10
Joey Sorce
$15
11
Brandon Ely
$35
12
Megan Carlson
$150
13
Dominic Luna
$15
14
Brooke Martinez
$5
15
Clifford Robbins
16
Treyton Battise
17
Crystalene Pineda
18
Jacob DiGiacomo
$15
19
KJ Martinez
$75
20
Alexis Atkin
21
Maura Swaim
22
Valry Swaim
23
Sarah Dail
24
Marguerite Evans
$5
25
Kristen O'Neal
26
Derek Iozzio
27
Elyi Stocks
28
Alex Pellegrino
29
Adam Lebbs
30
Ryan Breland
31
Sophie Diaz
32
Zachary Rapp
33
Stephen Haanpaa
34
Shauna Schultz
$5
35
Stacey Lamb
36
Lauren Douglas
37
Rachel Stickles
38
William Robbins III
39
Amanda Ely
40
Kristen Lee
41
Cierra Chamot
42
Kevin Badke
43
Candace Gardner
44
Steven Acuff
45
Michael Chamot
46
Stan Bunce
$5
Scratch High Games
Carnate 278
Butturff 267
Crosswhite 267
Smith 266
Raymond, Smith 248
Givler 248
Handicap High Games
Dorsey 277
Cruz 274
Pineda 272
Carr 271
Callahan 266
Round Leaders
Scratch
Handicap
Crosswhite
Pellegrino
Carnate
C O'Neal
Carnate
B Martinez
Carnate
C O'Neal
Carnate
Thompson
Carnate
Thompson
Carnate
A Dorsey
Canfield
C O'Neal
Women's Series
Koizumi +61
Dutton +32
Zemelka +7
B Martinez -1
Goad -14
TOTAL AWARDED THIS EVENT: $2,060