Gold Coast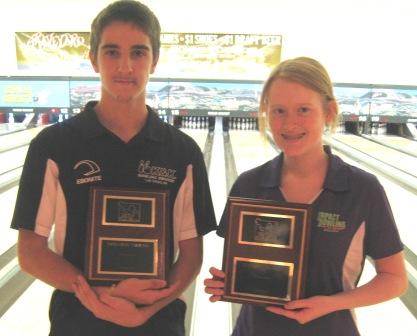 champs Danny Varholdt & Savannah Carr
Arizona bowlers Danny Varholdt and Savannah Carr earned landmark victories in exciting JBT Mojave Conference action at LAs Vegas' Gold Coast Bowling Center.
All-Conference points leader Cameron Smith began the scratch division stepladder finals with a 231-219 win over Mark Curtis. Smith then rolled past current All-Conference Bowler of the Year Riley Dempsey 253-208. Varholdt, a former handicap division Bowler of the Year, then stopped Smith 237-165 to reach his first scratch division finals.
Top seed Dallas Leong led a high-scoring field after eight games to grab the number one seed, but could not keep up the pace of strikes Varholdt was setting. Danny finished off his career day with a 246-227 win, good for his first career scratch title, and third of his JBT career.
Carr was unstoppable in the handicap division finals. She began her climb with a 261-234 win over an impressive rookie, Jessica Kellogg. Savannah was nearly as good in round two, winning 257-216 over Aaron Watkins. The semifinal match was much closer, but she got past James Gabour 220-212 to reach the title game.
Top seed Donovan Koff, at just 12 years old, fired a big 278 scratch game to take over the lead heading into the stepladder, and kept it close against Carr, but Savannah was just not to be denied, as the veteran won the match 236-227 to claim the second title of here JBT career, both coming at Gold Coast, two years apart.
Savannah wrapped up her dream day with a 231-214 win over Randi Speiler to capture the day's Women's Series title, the first of three she needs to qualify for the 2012 Girls TPC this summer in Vegas.
Thanks as always to teh terrific crew at Gold Coast for hosting our event. Over $1,300 in scholarships were awarded to bowlers of all averages age 21 & under- want in on the fun? Just check out our schedule and come on down, it's as simple as that!
Gold Coast- final results and optional scholarship winners
11/19/2011
Scratch Division
rank
name
prize
1
Danny Varholdt
$200
2
Dallas Leong
$160
3
Cameron Smith
$60
4
Riley Dempsey
$45
5
Mark Curtis
$20
6
Derek Acuff
7
Kyle Karpovich
$15
8
Eric Hatchett
9
Oscar Chan
10
Zack Hattori
$45
11
Cortez Schecnk
12
Jakob Butturff
13
Jordan Ferrer
14
Mark Myers
15
Mark Caparas
16
Joe Lewandowski
17
Marina Stever
18
Derek Iozzio
19
Ryan Warshefski
20
Nick Pollak
21
Courtney Schultz
22
Dan Hansen
23
Douglas Csanyi
24
Michael Ma
25
Jason Pappas
Handicap Division
rank
name
prize
1
Savannah Carr
$245
2
Donovan Koff
$100
3
James Gabour
$80
4
Aaron Watkins
$65
5
Jessica Kellogg
$30
5
Randi Speiler
$65
7
Ricardo Mendoza
8
Jeremy Cardines
9
Jake Bryan
10
Skyler Moss
11
Steven Acuff
12
Matt Dragovich
$30
13
Tyler Ottenschot
14
Justin Villa
$30
15
David Galvan
16
Talon Hendrickson
$60
17
Brooke Martinez
18
Alexis Atkin
19
KJ Martinez
20
Shauna Schultz
$10
21
Danyella Gonzalez
22
Gabriella Weis
23
Jake Smith
24
Jake Heaton
25
Crystalene Pineda
26
Cerell Cardines
27
Dylan Bock
28
Laurren Takahata
29
Megan Carlson
30
Kylie Shishima
31
Kyli Selley
32
Veronica Schleicher
33
Madison Crockett
34
Collin Deppe
35
Joe Gerencser
$5
Scratch High Games
Iozzio 289
C Smith 288
Leong 279
Hatchett 276
Curtis 268
Handicap High Games
Koff 303
Speiler 282
gabour 278
J Cardines 277
Bryan, Speiler 276
Round Leaders
Scratch
Handicap
Iozzio
Carr
Schenck
J Cardines
Curtis
Koff
Curtis
Carr
Curtis
Speieler
Leong
Speieler
Varholdt
Gabour
Leong
Koff
Women's Series
Speiler +89
Carr +70*
Stever +33
C Schultz 0
B Martinez -62
TOTAL AWARDED THIS EVENT: $1,275