KEARNY MESA BOWL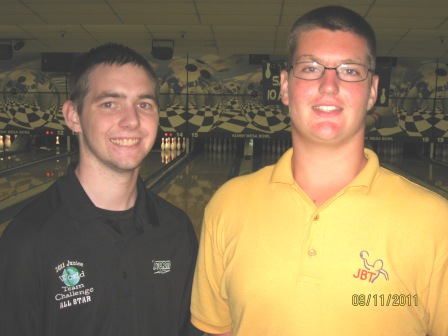 champs Mark Myers & Harley Sweigart
Mark Myers and Harley Sweigart survived the 'oadotat' format to capture JBT titles in exciting Southern California Conference action at San Diego's Kearny Mesa Bowl.
'Oadotat' is an acronym for 'one and done or two and through': After a 5-game cut to the top 16, matchplay began, with the higher seeded bowler needing only one win to win matches, while lower seeds had to win twice. This makes the pinfall in the first five games extremely important, even though pinfall is dropped for matchplay. As a direct result, 14 of the first 16 matches were won by higher seeds, with only #15 Valry Swaim and #11 Wesley Low pulling off the upsets.
In the scratch division final four, #4 Steven Manier won twice to beat top-seeded Kyle Holder, while #2 Myers took out #2 Cameron Smith in the first game. This set up a title match where Steven needed to win twice, and he came through in game one 187-181 in a weird game where neither bowler struck on the left lane. The deciding game was also low scoring, but Mark remained in control the whole time for the eventual 202-191 win, and the seventh title of the defending Bowler of the Year's career.
In the handicap division final four, #4 Megan Carlson took two games to defeat newcomer #8 Trenton Romleski, while #3 Sweigart dismissed #7 Vincent Nolan in the first match. Harley kept on a roll in the finals, controlling the first game en route to a 223-188 win, and the second title of his JBT career. Megan's runner-up finish was the best of the veteran's career.
Karlie Loop defeated Valerie Riggin 192-185 for the day's Women's Series event, the first of three wins she'll need to get into the Women's All-Conference Championship next summer. Riggin's second consecutive runner-up finish still gave her a good early lead in the female points race.
Thanks as always to Kearny Mesa for hosting us. Over $1,600 in scholarships were awarded- want in on all this fun? Come on out to the next JBT event, that's all there is to it!
Kearny Mesa- final results and optional scholarship winners
9/11/2011
Scratch Division
rank
name
prize
1
Mark Myers
$200
2
Steven Manier
$175
3
Kyle Holder
$70
4
Cameron Smith
$75
5
Valerie Riggin
$80
6
Billy Dacanay
$40
7
Kyle Karpovich
$60
8
Wesley Low
$35
9
Darwin Eusebio
10
Shane Peck
$60
11
Travis Hewitt
$50
12
Curtis Lindeman
13
Skyler Johnson
14
Bobby Hornacek
15
Riley Dempsey
$15
16
Mark Mansfield
17
Jordan Ferrer
18
Nick Vinyard
19
Karlie Loop
20
Oscar Chan
21
Harold Hill
22
Derek Iozzio
$15
23
Derek Acuff
24
Justin Sims
25
Adam Dubia
26
Ashley Dunn
27
Bryan Rondeau
28
Brittany Kolatzny
$15
29
Ronnie Fujita
30
Foster Phandanouvong
31
Kyle Duster
32
David Fritz
33
Cortez Schenck
34
Luke Holley
35
Matthew Zweig
36
Courtney Brown
37
Anthony Cruz
38
Aaron Foshie
39
Michael Ma
40
JD Sweet
$15
41
Jacob Camacho
42
Mark Hugelmaier
43
Alex Bissett
44
Kirk Chui
45
Tyler Wolff
46
Matt Miller
Handicap Division
rank
name
prize
1
Harley Sweigart
$305
2
Megan Carlson
$100
3
Vincent Nolan
$50
4
Trenton Romleski
$40
5
Austin Thompson
$30
6
Jarred Eusebio
$20
7
Kennison Andrews
$50
8
KJ Martinez
$120
9
Valry Swaim
10
Steven Acuff
11
Alexis Atkin
12
Kyle DeCew
13
Nick Condon
$10
14
Jake LaChappa
15
Trevor Thopmson
$30
16
Jamie Spector
17
Shelby Demspey
18
Peter Hugelmaier
19
Shauna Schultz
20
Eric Demo
21
Chelsea Houston
22
Kyle Andrews
23
Austin Hopkins
24
Justin Patten
$15
25
Jenny Phandanouvong
26
Brooke Martinez
27
Randi Speiler
28
Kyli Selley
29
Leah Zweig
30
Carol Chui
31
Marguerite Evans
32
Justin Holder
Scratch High Games
Smith 290
Holder 279
Ferrer 269
Peck 268
Rondeau 264
Handicap High Games
A Thompson 302
Sweigart 274
P Hugelmaier 269
A Thompson 266
Sweigart 263
Round Leaders
Scratch
Handicap
Smith
A Thompson
Myers
A Thompson
Smith
A Thompson
Smith
A Thompson
K Holder
A Thompson
Women's Series
Riggin +123
Loop +36 *
Dunn -11
Kolatzny -19
Brown -50
TOTAL AWARDED THIS EVENT: $1,665