KEYSTONE LANES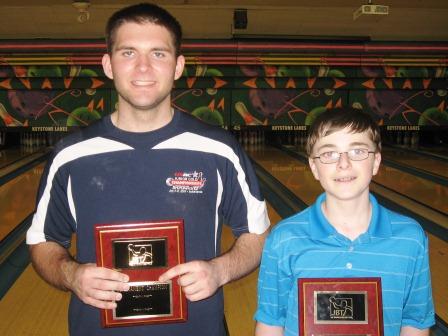 champs Ronnie Fujita & Greg Adler
Ronnie Fujita survived large fields to capture JBT titles in exciting Southern California Conference action at Norwalk's Keystone Lanes.
In our survivor format, after a cut to the top 50%, bowlers compete in low-bowler out matches on each pair, creating do-or-die moments all day long throughout the center. Eventually 24 scratch survivors were chopped down to six. In those matches, Chris Tucker made his first top-3 by ousting Steven Manier 242-179, Aaron Foshie (a U of A bowler) beat Ben Canfield (an ASU bowler), and Ronnie Fujita came up with the high game of the tournament in a 276-177 stomping of Eric Hatchett (who still qualified for the Invite with the 5th place finish).
In a closely contested semifinal round, Foshie's 204 and Fujita's 194 edged Tucker's 182, advancing Aaron and Ronnie to the finals. In the last match, it was all Team Fujita, as Ronnie strung the strikes again on what had been a low-scoring pattern, winning the game 241-197 for the 3rd title of his JBT career.
Twenty-four handicap survivors were also carved down to the final six, and in that round, Kennison Andrews eliminated northern California's Patrick Dabatos 189-178, Adler stopped Reigh Abaoag 218-196, and in a high scoring thriller, BJ Harlan beat Rance Dvorak 254-231. In teh ensuing round of three, Andrews (204) and Adler (199) advanced, while Harlan (174) bowed out in third.
Adler, in his rookie JBT season, struggled through most of the title match, but the veteran Andrews was unable to close the door with open frames of his own. Greg was able to take advantage of the extra chances with a good late finish, winning the match 217-183 for the first title of his JBT career.
Marina Stever defeated Stephanie Zavala 186-182 in a competitive Impact Bowling Women's Series title match to earn her Tour-leading sixth women's title of the season.
Thanks as always to the staff at Keystone for a great job hosting a packed event, which awarded over $2,300 in scholarships to bowlers of all averages and ages. Want in on all the excitement? There's still plenty of events this season- check out our schedule and come on down!
Keystone Lanes- final results and scholarship winners
4/1/2012
Scratch Division

rank

bowler

prize

1
Ronnie Fujita
$255
2
Aaron Foshie
$190
3
Chris Tucker
$125
4
Steven Manier
$110
5
Eric Hatchett
$80
6
Ben Canfield
$60
7
Wesley Low
$250
8
Mark Curtis
$20
9
Derek Acuff
$15
10
Raheem Johnson
11
Mark Myers
12
Nick Vinyard
13
Adam Dubia
14
Joe Lewandowski
$60
15
Joshua Tajiri
16
Cortez Schenck
$45
17
Kirk Chui
18
Oscar Chan
19
Jerome Jordan Jr
20
Jordan Ferrer
21
Parker Brooks
22
Matt Zweig
23
Marina Stever
24
Cameron Smith
25
Harley Sweigart
26
Mark Hugelmaier
27
Kyle Duster
28
Jacob Camacho
29
Miguel Garcia
30
Justin Sims
31
Bryan Rondeau
32
Courtney Brown
33
Luke Holley
34
Curtis Lindeman
35
Tyler Satter
36
Michael Ma
37
Chelsea Houston
38
Kyle Karpovich
$5
39
Luis Perez
40
Brittany Kolatzny
41
Ashley Dunn
42
Tyler Stickler
43
Karlie Loop
44
Shane Peck
45
Dan Hansen
46
Bobby Hornacek
47
Alex Bissett
Handicap Division
1
Greg Adler
$225
2
Kennison Andrews
$210
3
BJ Harlan
$125
4
Rance Dvorak
$120
5
Patrick Dabatos
$70
6
Reigh Abaoag
$50
7
Antone Beeks
$40
8
Kyle DeCew
$30
9
Javier Zavala
$20
10
Jacey Opiana
11
Austin Thompson
$65
12
KJ Martinez
13
Nick Condon
14
Kyle Andrews
$45
15
Brooke Martinez
$75
16
Julian Zavala
17
Stephanie Zavala
18
Eric Torrence
$30
19
Shirniece Beeks
20
Alexis Atkin
21
Frank Aldrete
22
Carter O'Neal
23
Kyli Selley
24
Steven Acuff
$15
25
Davis Schneider
26
Megan Carlson
$30
27
Trenton Romleski
28
Valry Swaim
29
Adam Bright
30
Trevor Thompson
31
Matthew Green
32
Roman Vos
33
Marguerite Evans
$30
34
Jake Bryan
35
Peter Hugelmaier
36
Austin Hopkins
37
Kylie Shishima
38
Marc Atangan
39
Sydney Haynes
40
Kristen O'Neal
41
Justin Patten
42
Shauna Schultz
43
Angel Mireles
44
Sarah Schneider
High Games
Scratch
Handicap
1
Fujita 276
Adler 294
2
Ferrer 269
A Beeks 287
3
Fujita259
Dvorak 284
4
Stever 258
KJ Martinez 275
5
Curtis 256
Julian, S. Zavala 275
High Female
1
Zavala (+10)
2
Stever (-19)*
Round Leaders
Scratch
Handicap
1
Stever
A Beeks
2
Curtis
Aldrete
3
Curtis
Dvorak
4
Low
Dvorak
5
Low
Harlan
TOTAL AWARDED THIS EVENT: $2,375